The city of Austin, Texas welcomed Blenders Eyewear graciously to SoCo last weekend during its Austin grand opening, which True Hollywood Talk attended as it debuted its new, exclusive product line of F1 sunglasses — Blenders Eyewear x Oracle Red Bull Racing Collection — in partnership with Oracle Red Bull Racing.
From ice-cream outside to a power-smashing DJ and booze booth, Blenders staff from San Francisco and Austin were as lively as an F1 race itself, attending to the fairly compact traffic of people coming in and out and trying on the new F1 sunglasses collection. Blenders fans could even get a nice photo sesh in front of the Blenders x Oracle Red Bull Racing step-and-repeat banner, featuring Max Verstappen.
With three of the brand's reimagined sunglasses styles — Millennia X2, Meister X2, and Exposé, the new Oracle Red Bull collections allows F1 racing fans and consumers to turbocharge eye fashion by capturing the nostalgia and revival that Formula One racing has brought to Gen-Zers and Millennials.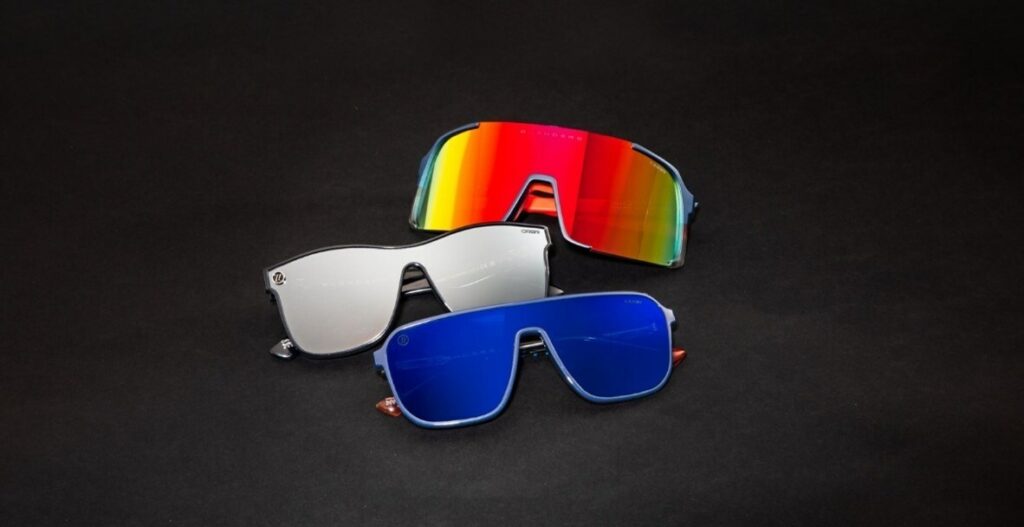 The Collection's design is fueled by the World Championship F1 racing team's signature colors and livery design with more than superior durability, marking a continuation of Blender Eyewear's official sponsorship with Oracle Red Bull Racing, which runs through 2025.
Last September, Oracle and Red Bull Racing announced their partnership in addition to the new team name and the Team's new car — the RB18, for the 2022 season.
Blenders Eyewear, a leading California eyewear brand that launched in 2012, manufactures sunglasses, snow goggles, and prescription eyewear.
"Red Bull has been one of my favorite brands since I was a kid, and a brand I always dreamed of one day partnering with. That dream came true, and I'm beyond thrilled to unveil our exclusive collection launching in partnership with the Oracle Red Bull Racing team. We've always made it our mission to provide disruptive eyewear styles, which are proudly worn by athlete enthusiasts all over the world. Whether you're in the fast lane or simply looking to fuel your fit, these new styles set the pace."

Chase Fisher, Founder and CEO of Blenders Eyewear
Its Austin grand opening certainly had South Congress energized and ready to play, as both Blenders fans and F1 / Oracle Red Bull Racing enthusiasts were excited and rockin' the new product line of Blenders shades.
"Our Team is seen in their Blenders sunglasses trackside and worldwide and we are thrilled that our partnership with Blenders Eyewear is set to continue with an exciting new product launch. We like to stand out in the pit lane and Blenders allows us to do that. We are all about bringing the noise and breaking the norm as a Team and to have new products means that not only, can we continue this bold approach at circuits all over the world, but fans can be part of the moment too."

Christian Horner, Oracle Red Bull Racing CEO and Team Principal
And if you haven't become addicted already to the Netflix docudrama, "Formula 1: Drive to Survive," it's definitely a hidden gem that will have F1 fans on the edge of their seat, while converting over some new fans who probably didn't care about F1 until now.
The docuseries gives a behind-the-scenes look at the drivers and races of the Formula One World Championship, beginning with the 2018 World Championship for its first season.
The second season of Drive to Survive covered the 2019 World Championship, which premiered on February 28, 2020 during the initial onset of the COVID-19 pandemic. The entire season did an incredibly beautiful job capturing the real-time adjustment by F1 and its drivers to the global lockdown that had every F1 team, including its staff, working from home for the first time.
Season 3 premiered in March 2021, covering the 2020 World Championship, followed by Season 4 that premiered in March 2022 and covered the 2021 World Championship.
Last May, the Netflix series was renewed for a fifth and sixth season, which we can expect to cover the 2022 and 2023 World Championships, respectively.
You can purchase a pair from the Blenders Eyewear x Oracle Red Bull Racing Collection on the Blenders website, with each having a price point of $89 USD.