"Never assume anyone is doing great."
A beautifully captured message behind the dark comedy series "Everyone Is Doing Great," which just premiered a teaser of its second season during this year's ATX TV Festival in Austin, Texas.
Launched twelve years ago by Emily Gipson and Caitlin McFarland, ATX TV Festival is an annual festival in Austin, Texas that has since developed into a year-round event that is entirely focused on the television medium via its most engaging programming that brings together industry leaders and fans every June for a four-day event that consists of panels, premiere screenings, and late-night events.
For all you "One Tree Hill" fans, the series, which first debuted in 2018, was created by James Lafferty and Stephen Colletti, following the characters of Jeremy (Lafferty) Andrea (Alexandra Park), Seth (Colletti), and Izzy (H2O: Just Add Water's Cariba Heine) whose everyday lives come together after the end of a successful TV show.
The dark comedy follows Seth and Jeremy, two famous actors who starred together on a fictional mega-hit vampire TV series called Eternal. However, five years after the show ended, both characters begin to lean on each other as they start to navigate the everyday challenges of reacclimating to the real world – from fame and clout to love, heartbreak, trauma, and substance abuse.
The second season of "Everybody Is Doing Great" was greenlit for production in February, according to an initial report from Variety.
By all accounts, the show mirrors the IRL experiences, including the success and fame that surrounded Lafferty and Colletti after coming off "One Tree Hill," a massively successful and long-running show fueled by the paparazzi and the devout fan base it created, and re-entering the acting world.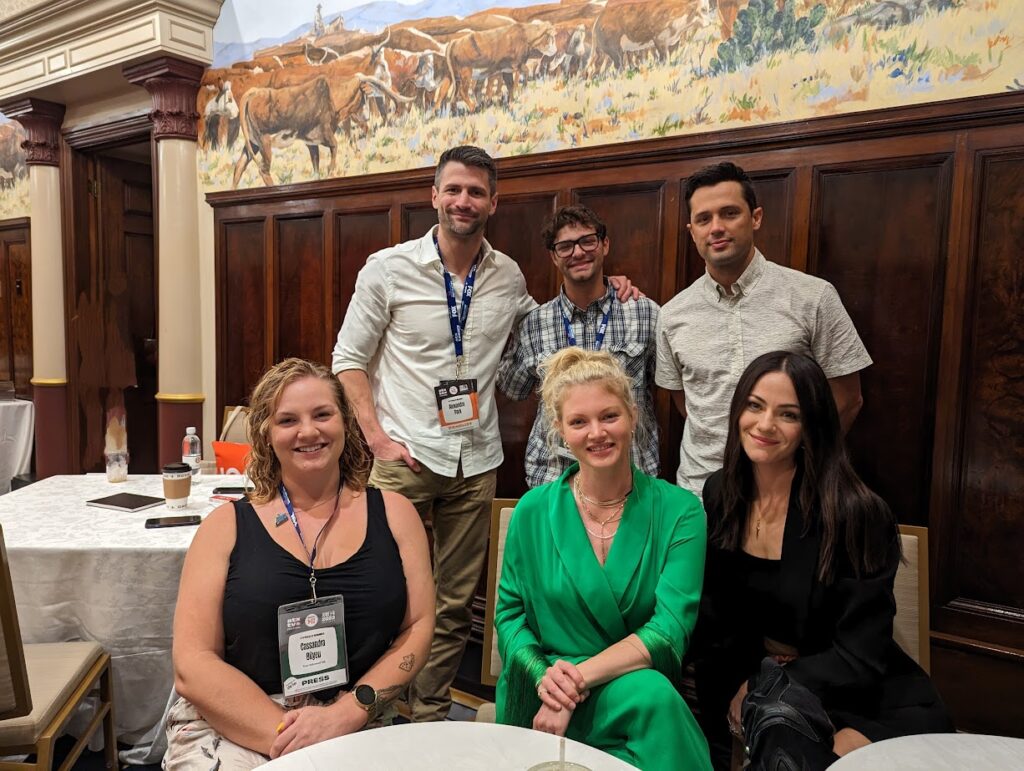 Lafferty, who starred on the teen drama from 2003 to 2012, was joined by Collettti in 2007, came together to put together something that they could write and make themselves that reflected enough of their life experiences as they looked back to their lives during the "One Tree Hill" era.
The stars of "Everyone Is Doing Great" sat down with True Hollywood Talk during this year's ATX TV Festival 2023 in Austin, Texas to talk about the upcoming second season of their dark comedy series.
With the series, Lafferty said that they aren't really setting out to make a clear social message, but instead want people watching to feel like they are also understood.
What's pretty sweet about the underlying creation of "Everyone Is Doing Great," is the fact that all the stars were writers on the show.
"That's what makes this project really fulfilling…we all get to work with our best friends and we get each other up and showcase each other's talents, which is really rewarding," Colletti added.
Addressing Vulnerability and Reality
At the heart of the show is an incredibly strong female dynamic, fueled by Park's and Heine's real-life friendship.
"In a massive way, I think it's really rarer than it should be to see female friendships that are just unconditioned, particularly to actors, where one of the stereotypes is competitiveness," Heine told True Hollywood Talk.
According to Park, that's one of the things she and Heine wanted to put into their characters is how they both "get things done."
"…and how it feels a lot nicer to support and lift up your fellow actors and friends, helping them along, because we've learned to be very vulnerable with each other in real life," Park added.
Both Park and Heine moved to Los Angeles around the same time, coming over from Australia, and not really knowing anyone. Although they both knew each other during their time living in Australia, they weren't as close as they are now – they both learned to lean on each other when they first arrived in LA that has served as the foundation for their relationship today.
"We were forced to be vulnerable with one another, and we wanted to transfer that into Andrea and Izzy so girls around the world can see that and know that you don't need to hold back. You don't need to feel like you're on your own. It's much easier to get through this life when you've got your buddy," Park described.
Playing off the irony of the show's title, the team really wanted to bring out and distinguish the everyday fan perception versus reality.
"That's exactly the reason we made the show, just to debunk that completely – whether it's actors or anybody else. Universally we are all the same and regardless of where we're at and what we're doing, that's the message – stand together with your friends and at least listen to others and recognize them together," Park explained. 
"…just because you're an actor doesn't mean you've got all your shit figured out or you're happy, and sometimes, you know, actors have a much higher scale than us. They may appear to have a certain life on the outside, but never assume that anyone is doing great, because five times out of ten they're not," Heine and Park emphasized.
Hollywood Production Today
Today's digital streaming landscape has unfortunately brought us back to the days of cable subscriptions – the very model we tried to move away from by introducing standalone streaming platforms.
For "Everybody Is Doing Okay," independent production was the spark that sent Season 1 into its massive success with Hulu, but is that still crucial to today's production landscape?
While Lafferty says that they wouldn't go that route again, acknowledging how grateful they were that they didn't have to do it for Season 2, he also believes that these types of elements are crucial to the success of any show, serving as a "viable launchpad" for a multitude of reasons.
"It's an incredible resource in the sense that you can raise funds, but also awareness for your project and build it around it as you're getting it off the ground," Lafferty continued.
"It's a huge undertaking in that you put yourself up there in such a way where people gravitate towards that and want to help the show succeed…and you see that when you meet those people during the crowdfunding process," Colletti added, emphasizing that "there's a path for independent TV that is still being forged."
However, given the ongoing writers strike, any future production on the series has also been paused. Season 1 of "Everyone Is Doing Great" was first distributed by Hulu (U.S.) in January 2021, and through Paramount+ for international audiences – both independently produced.