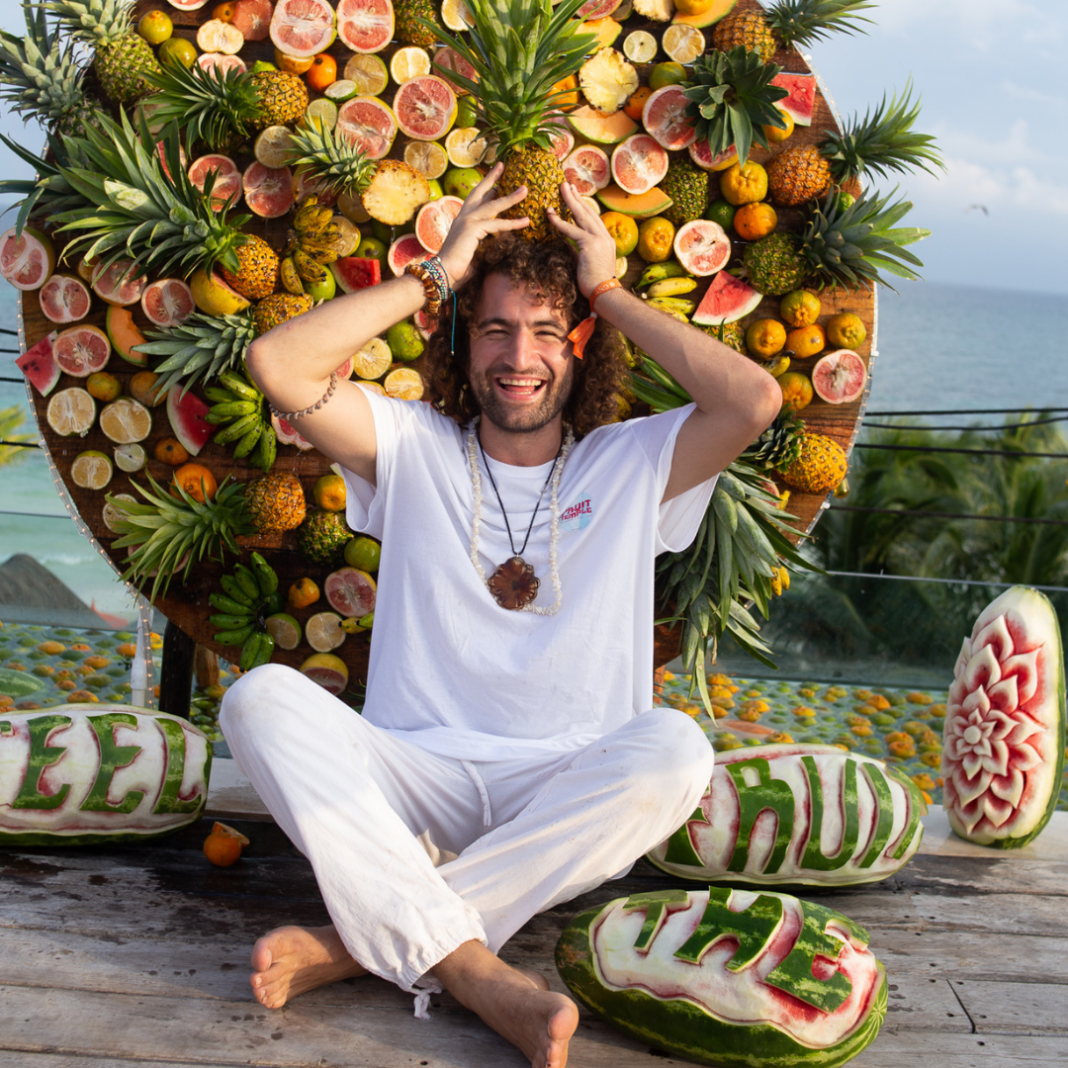 From global art festivals that span across Tulum, New York City, Miami, and Los Angeles, Tulum's award-winning multidisciplinary artist, Alejandro Glatt, is showcasing the power of tropical fruit through his Feel the Fruits movement.
If you haven't seen Glatt and his papayas at events like SXSW, NFT.NYC, and even Miami's Art Basel, you're certainly missing out on the next-generation of spiritual and sensual awakening, which Glatt brings out through his Feel the Fruits installations.
Those new to Glatt's work or even a first-timer to Feel the Fruit are taken through an IRL experiential healing experience that combines meditation with actual fruit (like Papayas!) through energetic interactions that serves as a euphemism for female sexual anatomy.
His newest installation, Papaya Portals, is a golden mirror immersive installation that invites participants to question human origin by awakening our wildest and authentic selves with the flavors, smells, and textures of the fruits Glatt offers as part of the experience.
While Glatt's passion for fruit may seem strange to some, you cannot judge the power of a papaya or a pineapple until you've participated in one of Glatt's out-of-body experiences as he guides event attendees through a very vulnerable, enriching ceremony as they learn to embrace their own sexuality and manifest it in a beautifully produced art ceremony.
His visual arts and permaculture background specializing in fruits has certainly demonstrated his understanding of the fruit growing process, while displaying a clear knowledge of how to manifest an abundance cycle.
During SXSW 2021, Glatt launched his first NFT collection, Crypto Papayas, as more of a social initiative, rather than a mere digital art collection. Ever since, his fruits have been seen at as many Web3 events as he pushes people to connect with nature's resources that we often overlook.
You can follow Alejandro and his movement on Instagram: @alejandroglatt / @feelthefruits / @cryptopapayas.