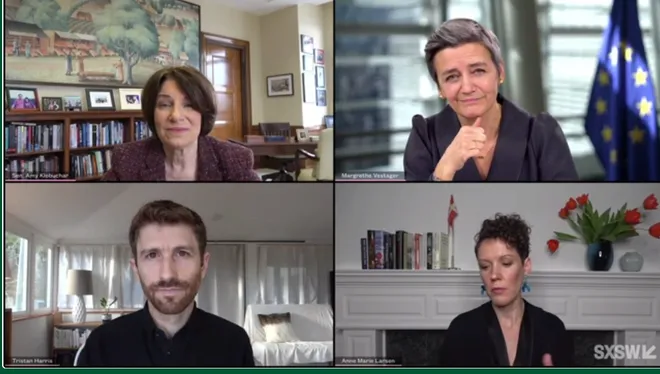 For the second year in a row, SXSW was essentially "stripped" of its soul, forced to occur completely online for this year's conference, making the city of Austin significantly quieter and less "lively" despite its reputation as being the music capital of the U.S.
Last week, U.S. Senator Amy Klobuchar (D-MN) returned to speak at Austin's SXSW 2021 conference about why we as consumers need to rethink our 'social contract' with Big Tech, including social media platforms. Back in 2019, Sen. Klobuchar spoke on a panel entitled "Conversations About America's Future", which included a series of talks that brought together some of the nation's top political leaders whose ideas and vision for the future would help to shape 2020 and beyond. 
In an interview with CBS News at SXSW 2021, Sen. Elizabeth Warren said that Amazon is an example of why major tech companies should be broken up, while Sen. Klobuchar had a different message, this time advocating for increased regulation when it comes to our country renegotiating its relationships with some of the biggest technology companies.
"You can be an umpire, or you can own one of the teams. You can't be an umpire and own one of the teams."

Sen. Elizabeth Warren to CBS News | SXSW 2021
Warren and Klobuchar are two of the many Democratic presidential candidates appearing at the South by Southwest (SXSW) festival in Austin, Texas.
"Our current social contract with big tech needs to be renegotiated," Klobuchar said during last week's SXSW session. "In the U.S., that means setting new expectations and putting new rules of the road in place on privacy and transparency, on political lands, on interoperability and on antitrust. That means updating our laws, and not just talking about it, but doing it."
Joining Sen. Klobuchar on the panel was Margrethe Vestager, executive vice-president of the European Commission and Commissioner for Competition, Tristan Harris, president and co-founder of the Center For Humane Technology, and Anne Marie Engtoft Larsen, tech ambassador for Denmark's Ministry of Foreign Affairs.
The U.S. Needs Help
After listening to the panel, it's clear that Sen. Klobuchar isn't looking to have big tech companies disbanded or destroyed, but rather wants to address what these companies can do better in safeguarding consumer privacy, as well as adhering to antitrust and data laws. But that starts with the U.S. willing to work with other countries, despite the last four years of the Trump presidency working hard to disrupt.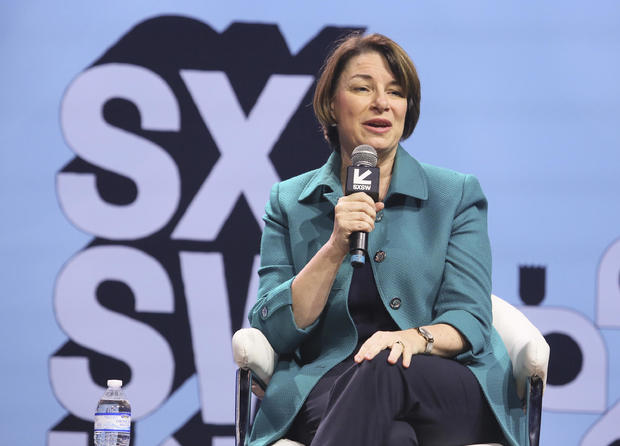 "The goal is to make this work," she said. "The U.S. can't do that alone. We are proud of our companies and the people that work for them, but we know there's major problems."
Changes to California's Privacy Law
With privacy laws like California's Consumer Privacy Act (CCPA) now in place, we are one-step closer to mirroring a stronger cybersecurity framework which we have observed with the European Union for many years. Almost two-years out from its effective date of January 1, 2023, the CCPA remains a moving target for businesses seeking to comply with its vague requirements. Only the California's Attorney General's Office has the power to enforce the CCPA.
Last week, the California Office of Administrative Law ("OAL") approved additional regulations relating to the right to "opt out" of sale of personal information, which are effective immediately. Additionally, OAL announced the appointment of the inaugural five-member board for the California Privacy Protection Agency ("CPPA"), which is empowered to draft regulations supporting the CPRA, , and to enforce the CPRA after it becomes effective.
The recent changes to the CCPA are:
#1 – Notice for Sale of PI Collected Offline: Businesses
Businesses that sell personal information collected offline must provide an offline notice by means such as providing paper copies or posting signs in a store, or giving an oral notice if collecting personal information over the phone.
#2 – Opt-Out Icon
The revised regulations provide that businesses may use an opt-out icon in addition to, btu not in lieu of, notice of a right to opt out or a "Do Not Sell My Personal Information" link.
#3 – Do Not Sell Requests
A "Do Not Sell" request must "be easy for consumers to execute and shall require minimal steps to allow the consumer to opt-out." The change prohibits businesses from using any method that is designed to or would have the effect of preventing a consumer from opting out.
The revised regulation offers examples of prohibited opt-out practices, which include requiring a consumer to:
(A) complete more steps to opt out than to re-opt in after a consumer had previously opted out;
(B) provide personal information that is not necessary to implement the opt-out request; and
(C) read through a list of reasons why he or she shouldn't opt out before confirming the request.
Reviewing Previous Acquisitions to Combat Antitrust 
One of Sen. Klobuchar's arguments is to propose an antitrust bill that would force companies to prove merging with a competitor wouldn't reduce competition or hurt consumers (referring to the legal drama concerning Facebook's acquisition of the messaging app Whatsapp and Instagram).
Klobuchar also leads the Senate Judiciary Committee's antitrust subcommittee, which has called for lawmakers to revisit some of Facebook's purchases, including both Whatsapp and Instagram.
Recognizing the benefits our social media platforms have provided throughout the pandemic, Sen. Klobuchar also added that these "technology companies have helped create opportunities and have played roles in improving education, health care services amid the pandemic, and getting news in real-time."
A New Agenda
But from a legal perspective, there is still a downside to the power these tech companies have. "Government is not any kind of a counterweight to making sure that this technology is used for good and not bad," Klobuchar said. "It also must be a counterweight, when it comes to the monopoly, and what you've seen in the tech area is something that is literally unheard of in our country."
In agreement, Harris, president and co-founder of the Center For Humane Technology, compared our big tech companies to that of "an unregulated marketplace" where companies are able to make more money if they allow this unchecked power to spread. "I think many people are now waking up to the reality that we need a new agenda for technology, and that surveillance capitalism has a business model that does not protect democracy or the people's interests."
Since last year's SXSW conference which was cancelled days before it was scheduled to begin, the city of Austin has certainly begun to recover, witnessing tremendous growth in the tech industry. Hopefully, this pattern will continue as legislators like Sen. Klobuchar continues to push for more oversight in big tech.
"The systems of lawmaking are different, as our legal traditions in the U.S. and Europe, but I do expect that both the European and American approaches will reflect our society's shared values including respect for individual rights, transparency, and fundamental fairness," she said. 
True Hollywood Talk is accredited media for SXSW 2021.