Gavin Brivik is one unique composer that is pushing cinematic scores' boundaries one film at a time. His work includes the Emmy-nominated original series Living Undocumented on Netflix produced by Selena Gomez; as well as countless narrative and documentary short films.
His roots in indie rock and folk music give Gavin Brivik the ability to use a wide variety of classical, electronic, and orchestral instruments to compose songs. After studying at the University of Missouri-Kansas City, Brivik obtained his master's degree in music composition for film and multimedia from New York University. No wonder his hard work pays off in all of these projects!
Gavin Brivik's Work With "Wild Indian"  
Among Gavin's recent cinematic scores is "Wild Indian", starring Michael Greyeyes, Jesse Eisenberg, and Kate Bosworth, which premiered at the 2021 Sundance Film Festival on January 30th as a U.S. Narrative Competition lineup. Throughout the story, we meet Makwa, an Anishinabe boy living an exceptionally rough life. It is common for him to show up at school with bruises that he claims he got while falling, but no one believes him. To escape the stresses of the classroom, Makwa and his only friend, Ted-O love to play in the woods, until the day Makwa brutally murders his classmate. Both boys live very different lives after covering up the crime, however, the truth must be faced by the men as adults for what they have done and what they have become.
When working with "Wild Indian", Gavin had actually completed a few scores but it had taken some time to find the right sound for the film.
"I think a lot of my music is maybe darker and ambient, more like electronic stuff, so we actually thought about going that direction, but it ended up being more casual because we just were discovering that the score was too dark the entire time," Gavin says. "We wanted the first act of the movie, for the viewer to find some sort of empathy for Makwa's character. It's very easy to not like the character, especially when you see what happens throughout the film, especially in Act II and III."
He also explains how he wanted to try to help the viewer understand Makwa's traumatic childhood, leading him to believe that more casual instruments felt more emotional in that way.
"A lot of our inspiration is still hard to distill, so I think it was just trial and error, really," Gavin says. "I think a lot of the film's main themes deal with how trauma affects generations. I think that was a huge part of how we approach a score. Like using a melodic theme that reoccurs but is constantly evolving somewhere to maybe describe how trauma can pass through generations, but maybe it's always different and constantly changing."
Adding onto that, he says the whole process of finding that sound was probably the most challenging aspect of writing the score.
"I had been brought on the project years before, so I was writing music without seeing the film, and that means it didn't end up working," Gavin says. "The music that I ended up writing originally wasn't working, so I did a restart. I think the challenge was just finding the right melodies, sounds, and I think that came with the orchestra, but that definitely took us a minute… it was hard."
Watch the trailer for "Wild Indian" below:
For showtimes and information, visit their page here.
More About Gavin Brivik
Gavin Brivik has worked on a wide range of projects across many different film genres. A few examples of such films are Netflix/Blumhouse Productions' "Cam," which premiered at the Fantasia Film Festival in 2018; and Justin P. Lange's horror film, "Seventh Day.". Gavin explains that he usually draws inspiration from the director at that given time, as they are usually highly involved in the scoring aspect. What he usually receives is some sort of clear direction, as films are visually told just through editing, acting, and cinematography.
"Sometimes, I can just watch a scene and I feel the rhythm of the scene just based on how it's being edited, or how the camera is moving, etc," Gavin says. "But I think with genre always, the film itself usually has that built­in to some degree, and if it doesn't, the director has some sort of idea or other references."
Through Wild Indian, Brivik and the director really like Jóhann Jóhannsson's musical works, which he had scored 'Sicario' and 'The Theory Of Everything'. Meaning, they enjoy that ambient orchestral-type music and that's what they went with.
"With 'Cam', for example, it was very highly synthetic and electronic," Gavin says. "That's just because the film itself's content is all about the digital realm, and reality versus social media and all that and stuff, so I think you know the film kind of help just guide you there if it's done right. I think that's the best part about film scoring is you just get to dip your toes in a lot of different genres. You're not so boxed in and I think film composers can work on something orchestral and then work on an electronic thing or whatever ­ there's so many directions we get to explore."
Among Gavin Brivik's achievements include recently being nominated for the "Discovery of the Year" award at this year's World Soundtrack Awards and being named one of the Society of Composers and Publishers' "Film Composers to Watch". In addition, he has also received the Young International Composer award from the World Soundtrack Award, and the ASCAP Jimmy Van Heusen and Alan Menken Composer Awards. He says he doesn't let the titles get in his head and believes that ASCAP as a musical society has been super supportive, as they are always looking at the "younger in their career" composers.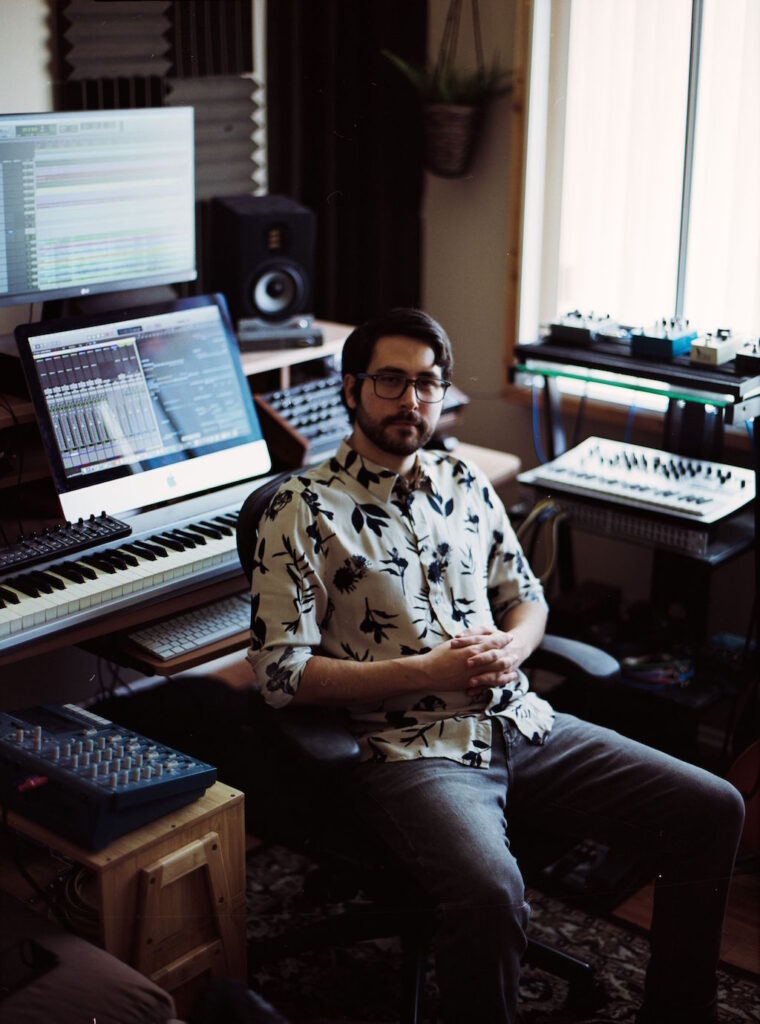 "I just think I'm more grateful that they've just been really supportive and always reached out with each project and congratulated me, Gavin says. "It helps you feel like you're a part of a family, but I also think that's the extent of it. I think all of us are so hard on ourselves, and we won't just let go of that. I'm always trying to get better and I'm so critical of myself, so I don't think any sort of accolades really put that to rest. I think a lot more music and film are testing boundaries ­ people and audiences are just more open to more experimental work."
Follow Gavin Brivik on his social outlets below: