Actress and activist, Kelly Greyson stands apart from the norm in the entertainment industry as she actively continues to positively impact the lives of others on a personal level. As an actress who performs all her own stunts and has overcome some significant challenges in her own life, she is deeply compassionate for the forgotten and the hurting, and she spends a significant amount of time helping those in need.
Her charitable work includes the promotion and preservation of basic human rights, fighting human trafficking, caring for orphans, and those with learning disabilities as well as various veterans' causes. Being a "tomboy", her devotion to physical fitness and health began at a very young age, because she insisted that she could do just as well or perhaps even better than what the boys were doing. Over the course of her life, she enjoyed many different activities including horseback riding, scuba diving, swordplay, track & field, skiing, football, rock climbing, and many more. All of these extremely engaging experiences have led her to become such a powerful influence in the film world.
"I am an athlete – I do hard things in real life, and I want to incorporate that into me," Kelly describes. "Being really authentic in a role is also important to me. You have the natural emotions, the highs and lows, and everything that is part of that character. So to me, it makes it just so much more authentic. Plus, I like challenges! I personally love horses and swordplay is awesome because that's a whole other era and genre. It's just the intensity and physicality. For "Fortress", having it be 'military-like' was cool because I highly respect our military and believe that they are heroes. To be able to embody that character for a little bit and represent people who are given well is so beautiful."
The film "Fortress", which was released at the end of 2021, depicts a luxurious resort as the cover for a sophisticated military complex hidden in the jungle. Starring Bruce Willis, the action cyber-thriller, "Fortress: Sniper's Eye" continues the adventure that began in "Fortress". Weeks after the attack on Fortress Camp, Robert (Bruce Willis) takes drastic measures to save Sasha (Natali Yura), the widow of Balzary (Chad Michael Murray), the man he was once in conflict with. However, Sasha might have devious plans of her own back in the camp's command bunker. Robert might be surprised, however, when a familiar face he thought he'd never see again appears during a new attack.
With the release of the film "Fortress: Sniper's Eye" not too long ago, Kelly Greyson holds a lot of memories and highlights throughout the filming process.
"It's always the people and places primarily, but then also the destinations and locations," Kelly says. "I love action so much, so I get to do all my own stuff, and that is always a next-level experience for me."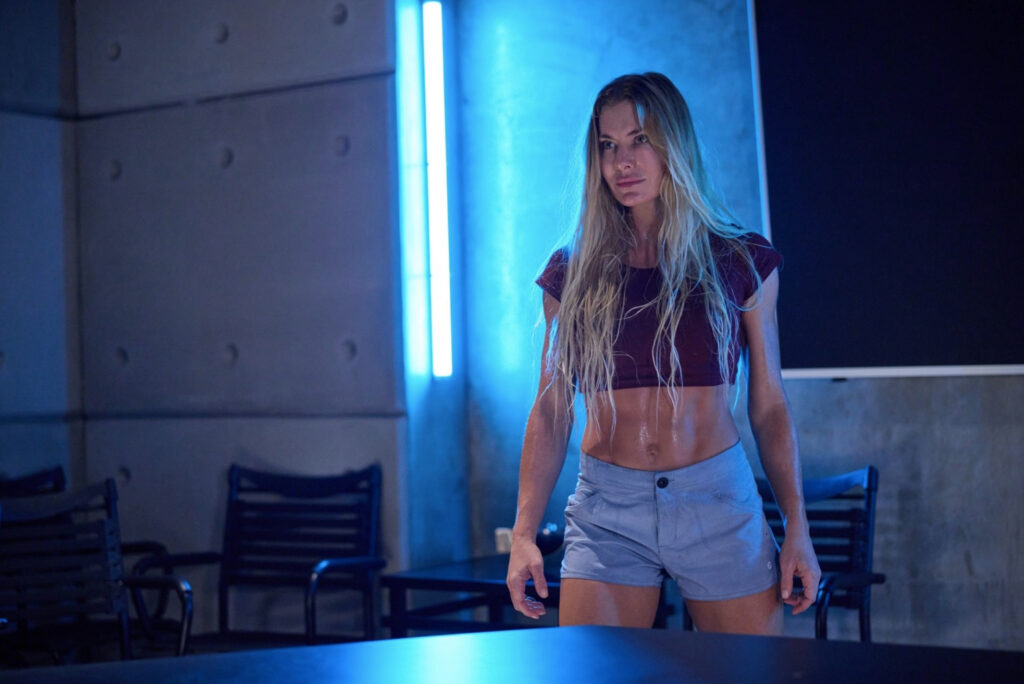 As the past few years have definitely impacted the way the entertainment business runs, there were definitely some challenges that had to be faced during production. The biggest challenge for the actress herself was based on the last couple of years of loss, heartache, and crazy going on in the world with all of the new health protocols implemented by the COVID-19 pandemic.
She explains how it made everybody a little bit on edge when having to execute all of the new health standards onset while trying to authentically remain in a role.
"Every time we take a half a step in one direction, I'm then being handed a mask while still having to remain in character," Kelly explains. "It turned into trying to get so much crammed into such a short period of time. It has been months and months for the same content, and so to cram a huge feature in just two and a half weeks is just so next level. I was so grateful because I was doing all my own stunts and there was zero time for rehearsals, practice, or any of it. I don't have a double, but I had someone training me and also watching the choreography while studying films and recording it again and again. Because ultimately you only receive a very short window when you're dealing with those kinds of time constraints. If I was not ready, then they were going to use the double, and I wasn't going to do that."
With both "Fortress" and "Fortress: Sniper's Eye" under her belt, Kelly Greyson says that she has learned many lessons throughout the filming process. By practicing those lessons every day, she is able to make room for new learning opportunities every day, empowering her to learn more and more.
"I am everybody's best cheerleader, but I always have the new challenge of being a better version of myself," Kelly says. "So the competition never ends for me. I am 100% of the time competing, but only with myself. So I think, yeah there are always takeaways from films. For "Fortress: Sniper's Eye", it was just the intricacies of the new protocols, and that taught me how to be more prepared to cram dialogue that would have taken weeks and hours. Leveling my performance and making sure in between films that I was ready and prepared. That is a general rule for me and that way, I am always ready for the next adventure."
For trailer and showtime information, visit the "Fortress: Sniper's Eye" page here.
Meanwhile, check out Kelly Greyson's social outlets below to stay up to date on her upcoming projects,
on and off the screen!