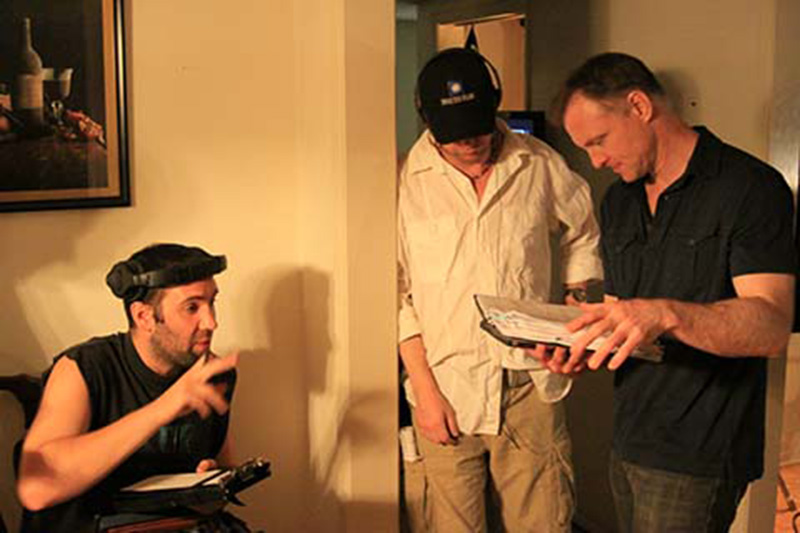 True Hollywood Talks catches up with director Luke Sabis after his win at Idyllwild.
When you were growing up, did you want to be an actor? Become a computer science expert? Write songs and play them in a band onstage in front of hundreds? Write something that brings people to tears? Make movies that are featured in festivals around the world?
Why not all of the above?
That's what Luke Sabis decided to do.
Sabis promoted his feature, Missing Child, over the last year to pick up wins at Boston International Film Festival, Off the Beaten Path and most recently at Idyllwild International. His beginnings in New York–first in Brooklyn, then Queens–he formed the band The Take, and performed his songs at Kenny's Castaways, The Bitter End, and CBGBs and appeared in Off-Off-Broadway productions throughout the Big Apple. Perfectly normal for an artist. But he also was a computer programmer.
Sabis started writing his first film, "Missing Child" in 2009. He wrote, directed, starred, and produced. He drew on his music background to write the whole score and soundtrack, and when they finally had the whole thing committed to celluloid, he edited it.
Through savvy production management, work ethic, and LA networking skills, Sabis finally had a finished product, wrapping in 2014. It premiered at the 2014 Boston International Film Festival, but not just as an also-ran. It won the Special Recognition Award for Directing, which is quite the accomplishment for a part-time actor, full-time programmer's debut. It was then shown at the Beyond the Beaten Path Film Festival, where it proved Boston hadn't been a fluke, and won the award for Best Feature. It moved from there through to Hawaii's Big Island Film Festival and Dances with Films in Hollywood, drawing audiences every time.
And it reviewed well, too. Katie Walsh of the LA Times said, "Frozen in time on the side of a milk carton, kidnapped children never seem to grow up. But what happens to those who do? The thriller 'Missing Child' takes on this aftermath, with several twists up its sleeve. Writer-director Luke Sabis brings some interesting ideas to the well-known genre, exploring the nuances of abuse, spirituality and redemption."
Standing tall after a very successful life-altering gamble, Sabis is looking to prove that this new version of himself is not just a flash in the pan. "Missing Child" hits VOD and DVD distribution soon. Further, he's already begun working on his second feature film, an adaptation of his first short film, "Ghost Tenant," which, in a departure from "Missing Child," will carry the short's more comedic tone, just to prove that Sabis can truly do anything.
So, when tell your kids they can be anything they want when they grow up, make sure they know that you're not being facetious.