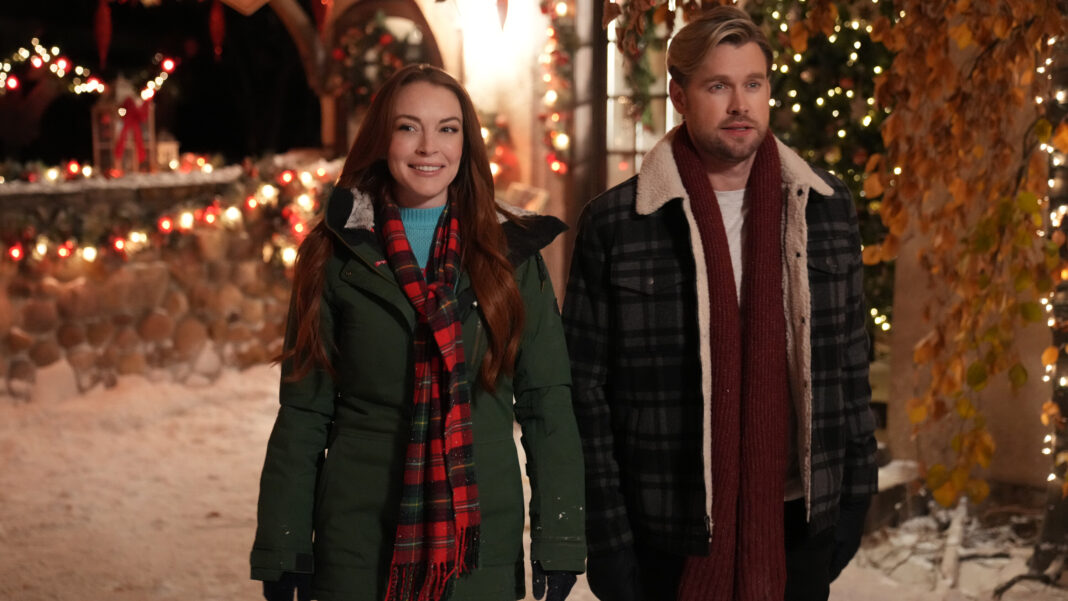 Filmmakers Michael and Janeen Damian chatted with Markos Papadatos about their film "Falling For Christmas."
In this new movie, a newly engaged, spoiled hotel heiress (played by Lindsay Lohan) gets into a skiing accident, suffers from total amnesia, and finds herself in the care of a handsome, blue-collar lodge owner (Chord Overstreet) and his precocious daughter in the days leading up to Christmas. Without giving too much away, it is worth more than just a passing glance.
On directing this film, Janeen said, "It was really fun. It was a joy. It is always so fun to do Christmas movies and romcoms. It was in a beautiful location and we had a great cast and crew. It was a great experience."
They had great words about working with Chord Overstreet in this film. "Chord is great, he has a wonderful sense of humor, and we had a lot of fun with Chord," Janeen said. "Chord had a great voice too," Michael added.
"We hope everyone tunes in and watches it. It's a very special moment in time because it's Lindsay Lohan's return to the big screen and she really delivers a beautiful performance. We had a lot of fun making it and we hope people have as much fun watching it," they said.
Regarding their future plans, they revealed, "We are working on another movie with Lindsay Lohan called 'Irish Wish'. We are just starting the editing process on that, which will come out in the next year, probably."
The digital age
On being filmmakers in the digital age, Michael said, "It is incredible. It has opened up so many more avenues and we are able to do more collaborations. Netflix is a dream to work it, they are supportive, filmmaker-friendly, and they gave us a lot of love."
"It set the stage for us for the whole world to see the movie. It made the Top 10 list in 93 countries," Janeen added.
For young and aspiring filmmakers, Michael said, "Dream big, work hard." "We have been really fortunate to have some amazing mentors in our lives," Janeen added. "Always keep learning."
On their definition of the word success, they said, "Being able to live our dream and being grateful."
Michael shared that he will be making his return on the hit CBS daytime drama "The Young and The Restless" on December 22nd. "These episodes will start airing on December 22nd for the holidays," he said, prior to praising actress Beth Maitland. "I am so proud of her, Beth is such a talent, a fabulous person, and a great singer. She is very special," he said.
Read More: "Falling For Christmas" earned a favorable review from True Hollywood Talk.