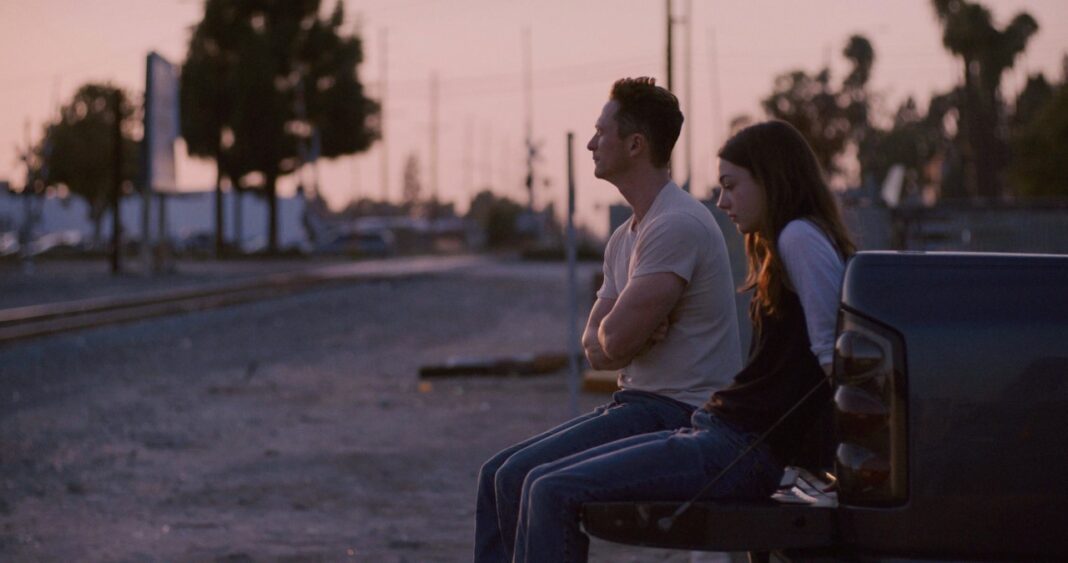 "Palm Trees and Power Lines" is a riveting film starring Jonathan Tucker and Lily McInerny. #Powerjournalist Markos Papadatos has the scoop.
It was eloquently written and directed by Jamie Dack, and this was her first feature film. The synopsis is: a disconnected teenage girl Lea (playerd by Lily McInerny) enters a relationship with Tom, a man twice her age (played by Jonathan Tucker). Lea sees him as the solution to all her problems, but his intentions are not what they seem. Gretchen Mol also plays Sandra, Lea's mother.
"Palm Trees and Power Lines" is a haunting and disturbing portrayal of two complex characters, which tackles on the subject of grooming, exploitation, and abuse; moreover, it is a vivid exploration of the taboo relationship and the power dynamics and power play between a minor female and a man nearly double her age. Dack does not sugarcoat anything, and she tackles this sophisticated subject matter in a raw and unflinching manner.
Both leads are able to foster and grow a relationship, and it is interesting to watch it thrive in in an organic fashion. It is a movie that will certainly keep the audience at the edge of their seats, and it has an explosive plot twist that nobody will see coming. Tucker and McInerny have good chemistry together, and the intensity of their relationship is palpable. It has an eerie vibe to it.
While their characters' age difference may be problematic, on paper, their relationship might seem pure and innocent, so the viewer may easily be lured into a false sense of security as Lea is. The script is compelling and resonant, and it delves beyond the surface to shed a light on abuse, predation, and exploitation.
Most importantly, "Palm Trees and Power Lines" is a film that will leave the audience wanting to ask questions and stimulate discussions about the topics of grooming and sexual exploitation.
Lily McInerny is able to deliver a dynamic and brave performance as the 17-year-old precocious heroine, who is not afraid to be vulnernable. With McInerny, it is evident that a star is born. She is reminiscent of a young Rachel Weisz meets Marion Cotillard.
Tucker is able to pull off some of his best acting work in years as Tom, the older yet seemingly "innocent" heartthrob, who takes an interest and liking in Lea. "Palm Trees and Power Lines" is rich in symbolism, and it ought to be enjoyed for its boldness and authenticity. This movie garners four out of five stars.