From the world of English film director, editor, and screen writer Neil Marshall, the 2019 reboot of Guillermo del Toro's Hellboy is an entirely new concept that brings in the ever-expanding talent of David Harbour (Stranger Things), Thomas Haden Church (Spider-Man 3, Sideways, George of the Jungle), Milla Jovovich (Resident Evil, The Fifth Element), and Vanessa Eichholz (Lost In Space).
Marshall, known for his work on The Descent, brings in the world of Mignola's Hellboy universe, adding new elements that del Toro's universe did not incorporate. Filmed in Bulgaria, Hellboy brought Marshall onto the fiery comic-book throne, who welcomed the challenge of doing something completely different from the Hellboy universe predecessors.
With the strong reviews The Descent brought, Marshall got to know del Toro after meeting at a few conventions, becoming good friends with him. In another interview, Marshall shared that he had "a very brief exchange" with del Toro when his directing on the film became official. Receiving his blessing, Marshall assembled a story from various parts of Mignola's Hellboy universe.
Behind the Camera with Vanessa Eichholz
http://gty.im/1136137706
Making her U.S. television debut in the Netflix Original Series, "Lost In Space," Eichholz is continuing to expand her role and realm of works she steps into, most recently with her role in "Hellboy."
True Hollywood Talk spoke with Eichholz on her role in the 2019 reboot and how she got her start in Hollywood.
True Hollywood Talk: What inspired you to turn your attention to entertainment and film?
Vanessa Eichholz: I've always been drawn to movies and storytelling itself. Growing up, I wasn't allowed to watch much TV, so whenever I got a chance, I treasured it. The idea of getting caught up in another person's world for a bit, while forgetting your own was super fascinating to me."The Little Mermaid" was one of the few movies we had at home, so I watched it daily and recited the entire film and all characters on road trips to Italy in the summertime. Needless to say, my family regretted ever getting that movie for me.
THT: How did you incorporate that inspiration into your early studies?
VE: I took drama classes in school and performed in school plays and musicals. My parents made it very clear that I had to focus on school and good grades and being a child actor was not an option. After high school I was accepted at a drama school in New York City, then finishing my studies at Pepperdine University. I haven't looked back ever since.
The Digital Age
http://gty.im/1182157478
THT: In today's digital age, what would you consider to be one of the more challenging aspects?
VE: Many people think breaking into the industry has gotten easier with the ability to shoot films on iPhones. You can just go out and do your own thing nowadays! The problem is—who is actually going to see it?
While it has gotten easier technology wise, I personally think it has gotten harder to stand out. In the past, competition was typically limited to fellow actors in NYC or LA, whereas now you compete with everyone out there. Self-tapes have made it possible for everyone around the world to submit to casting directors.
At times your followers on Instagram count more than your actual acting ability. You have to be active on different social media channels in order to succeed in today's digital age. Plus, movie stars have taken over TV. Pilot season has turned into offers only season.
THT: Instagram recently just "hid" the "likes" feature from user's accounts. How do you feel about this new announcement and roll-out? 
VE: Personally, I think it is a good idea. There is immense pressure on getting enough likes on every single picture you post. I have a few blogger/influencer friends and they are in a state of panic when they fail to get enough likes right away. The likes define your market value and like most human beings, you always want more.
Comments for example, are a much better way to measure real interactions. Some Instagram influencers have over ten thousand likes on each photo, but only about twenty-five comments. That is when you know something is off.
Social media used to be fun, an outlet to keep in touch with your friends. Nowadays, it has become a really tough business!
THT: With movements like #MeToo in Hollywood and scandals involving Harvey Weinstein taking the industry by storm, what advice do you have for individuals who may encounter instances of traditional bullying or even online-bullying?  
VE: Cyberbullying is horrible! People take their hatred and let it out on someone they don't even know in person. It is easier said than done, but don't let it get to you! Also, I'm very careful about what I share on social media. It is usually limited to business related posts.
THT: Since making your U.S. debut last year with "Lost In Space," what would you consider to be the most exciting part about your career?
VE: I love how quickly your professional life can change in this business. I remember getting a call from my commercial agent on a Friday late afternoon: "Go to Siren studios now! And by now I mean right now!" The only thing I knew was that I was going to audition for a luxurious car commercial, but no other details were given to me at the time.
I was greeted by the wardrobe person who was close to a mental breakdown because no one they had auditioned that day could fit into a leather dress that the character in the commercial had to wear. The dress fit like a glove and I made the wardrobe lady's day. She immediately grabbed me, dragged me downstairs where some of the cast & crew were in the middle of rehearsal and pushed me in front of the director, all eyes on me. It was no other than Gus Van Sant!
On Sunday morning I was on my way to Death Valley to shoot the commercial. Had someone told me that I would work with Gus Van Sant one day just because I was able to fit into a leather dress, I would have never believed them! That's Hollywood!
The 2019 Reboot of 'Hellboy'
http://gty.im/1136083241
While the 2019 film did not bring any cast members from del Toro's universe, the film brought in a new spectrum of talent, including Eichholz, who portrayed "Ilsa Hepstein", a villainess Nazi scientist in the comic book series, as well as in the first "Hellboy" movie.
In the series, Hepstein was recruited by Rasputin for his Ragna Rok project, to which Hepstein displayed extreme devotion and loyalty. She helped to manipulate David Harbour's "Hellboy" into the hands of a vampire she fell in love with during the Second World War. 
With Eichholz's german background, this made it an easier decision for Marshall to cast her for the role of Hepstein. "I got cast on the Netflix show 'Lost In Space,' with Marshall directing," Eichholz explained to us. Marshall's next project was Hellboy, so for Eichholz, it was just one project to the next.
"It is nice when it works out that way," she added.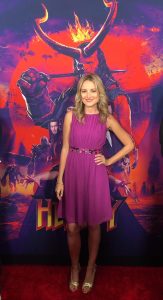 THT: What did you like most about portraying "Ilsa Hepstein."
VE: I was amazed by how popular this evil character is. Aside from being part of the "Hellboy" movie, I was asked to be in a documentary about "Hellboy" creator Mike Mignola. While "Ilsa" didn't play a big part in this movie, it was very important to the filmmakers to interview the actress who played "Ilsa". That is when you know you step into a world that has built a fanbase for so many years—be it through comics or movies! You have big shoes to fill.
The most exciting part was that I got to experience my first stunts and explosions on set. The producers and the camera crew started wearing helmets and eye protection, whereas I was told to just run into the explosion. "Be careful you don't hurt your eyes!" I was told. It definitely freaked me out a bit, seeing everyone around in protective gear. During the first take I ran so fast that the camera didn't even pick me up. Who wants to linger around an explosion, right? I finally calmed down and the second take worked out really well.
THT: Favorite scene in the film, go!
VE: My favorite part is probably the post credit graveyard scene, as I was on set watching how it went down. It was a lot of improvisation and it was the first time Lobster Johnson (Thomas Haden Church) appeared on set. During the shoot, it was a big secret that he was part of the movie. Seeing two very talented actors improvise and act with each other was really fun.
THT: And for the Stranger Things fans, what can you tell them about your experience alongside David Harbour, who is known for his role as "Hopper" in the Netflix Original Series?
VE: It was amazing to be part of a David Harbour movie. Having been a fan of his work ever since Revolutionary Road, it was a great experience to watch him work on set. He is beyond talented!
Unfortunately, David and I did not share any scenes in the movie, but I got to know Thomas Haden Church pretty well, as we did share screen time. He is the most down to earth actor I have ever met! Just really fun to be around.
THT: Did you notice a difference in how Harbour portrayed Hellboy in comparison to his character portrayal in Stranger Things?
VE: David had to spend about three to four hours in make-up every day transforming into "Hellboy"—and it worked. He had taken on a completely different persona. I think you see more of David in "Stranger Things."
Funny enough, David invited the entire "Hellboy" cast & crew to spend Halloween watching "Stranger Things: Season 2" at Nu Boyana Studios. Halloween is an official holiday in Bulgaria, where we shot "Hellboy," so everyone had the day off. It was really fun to see it on the big screen. We all mingled in between episodes and talked about the show. So in a way, "Stranger Things" was a big part of my "Hellboy" shooting experience.
Networking Is Key
As for Eichholz's fans and those looking to penetrate the entertainment industry, Eichholz strongly encourages you to build as vast of a network as you can.
"It is tough to give advice, as success in the entertainment industry comes about in such different ways and sometimes all it takes is a fluke," she shared.
"That being said, unless you are born into this industry, I think building a network while you work on your craft is key. My parents are not in the business, so I had to build everything from the ground up. Persistence, determination, and a good business sense have kept me going to where I am today. Many talented people come to LA only to give up a few months later. It takes years!"
As for what's next on the horizon for Eichholz, she's currently working on a film that is based on a best-selling novel.
"We are supposed to begin shooting in early 2020. It's a very exciting project with a really fun team. That is all I can say at the moment."