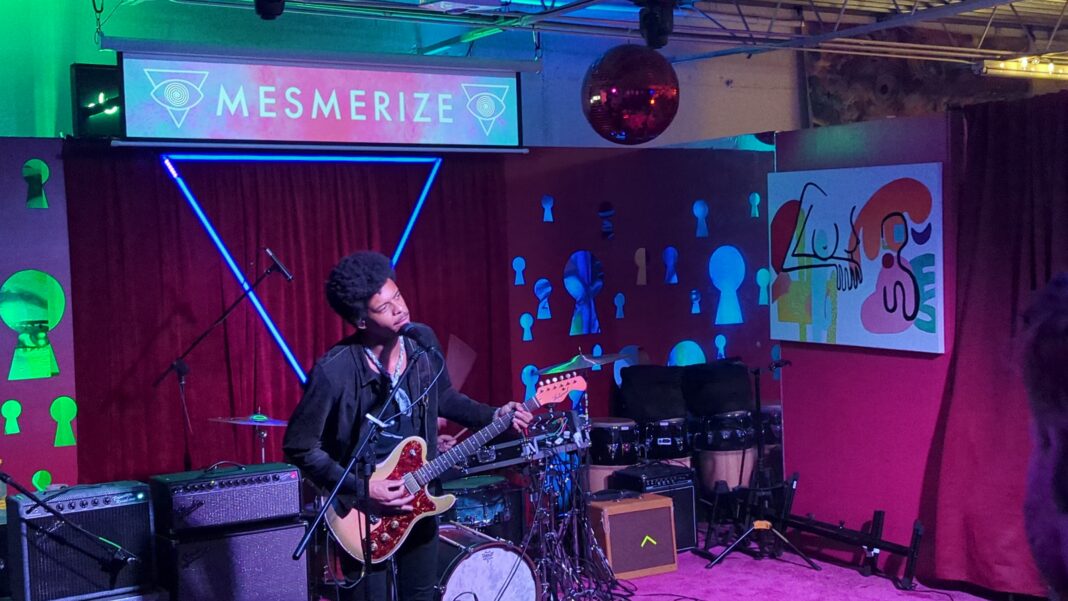 Rising indie rock guitarist, Zach Person headlined "Art Block" over Easter Weekend in Austin, Texas, as part of an electric collaboration between Austin's immersive art experience "Mesmerize" and Almost Real Things Magazine.
Mesmerize, the brainchild of Clay Lillard and Mateo Gutierrez, is an Austin-based immersive art & music series that debuted at the onset of the COVID-19 pandemic with its first-ever event experience – "Enter the Multiverse," which transformed a 2,500 square foot vacant space inside Native Hostel into an experiential journey complete with over 15 art installation rooms. The experience followed the story of "Mesmer," an artist and amateur tinkerer who discovered a secret that we and our universe are not alone.
From June 2020 to May 2021, "Enter the Multiverse" sold over 18,000 tickets and generated a gross revenue in excess of $580,000 during its successful nine-month run, while accommodating Austin's quarantine guidelines.
"ART" is an Austin-based magazine, event series and community promoting collective that provides a free space for artists, musicians, writers, designers, performers, and startups to showcase their project or craft.
The one-night block party included music & comedy performances across two stages – Trupica & Friends B2Bday, Space Trayn, Adriana Rosso, Of The Roses, Phamstar, Easy Compadre!, Mez Data, and Penny Jane – as well as an ART HQ gallery show, art vendors, live murals, fire dancers, screen printers, projection mapping, and more.
Person, 25, who has continued to take Austin by storm, has the undeniable swagger, talent, and grit beyond his years that has enabled him to synthesize a style that truly showcases his musical breadth and depth spanning across blues, rock, indie, and alternative.
Throughout his 45-minute performance on Saturday evening, Person commanded not only the audience, but the entire electric vibes produced by Mesmerize and ART. His growing popularity has landed him on stage performing alongside Skrillex, Thievery Corporation, Future Island, Foo Fighters, Anderson Paak, Beck, HER, and more.
Over the years, Person has credited artists like John Mayer, Eric Clapton, and Steve Ray Vaughan as having inspired his career, even competing on American Idol's 2016 season.
During ART BLOCK, Person teased an upcoming album that will be released in the coming months.