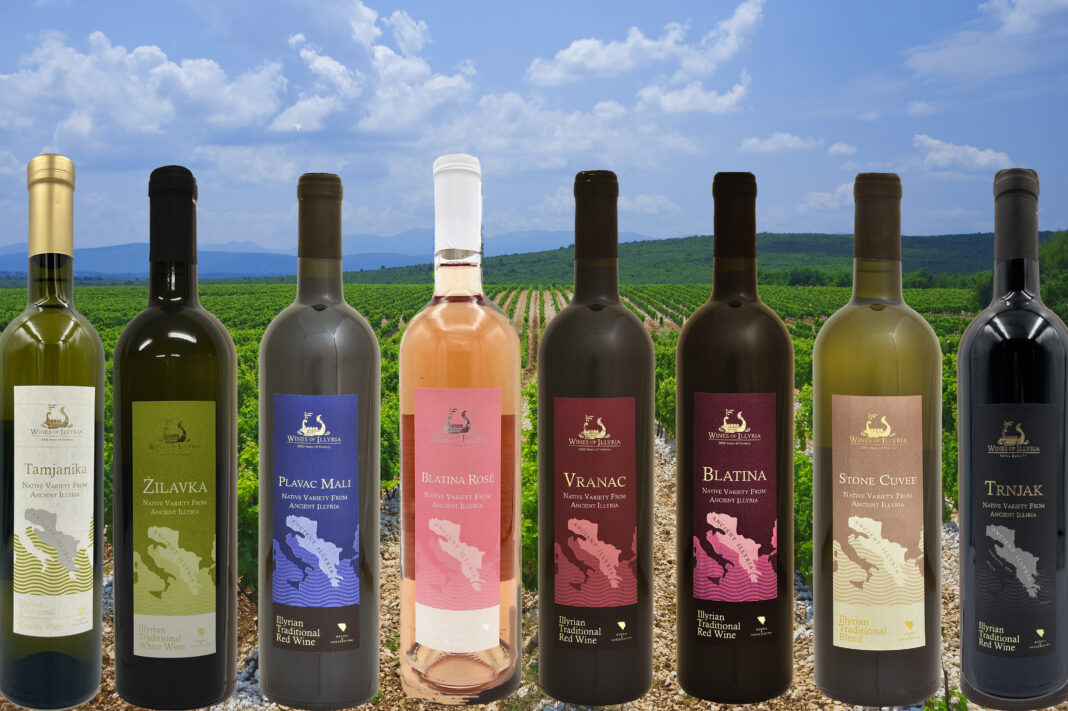 When I was first told to try a "Balkan" wine, I had no point of reference for what I was tasting and was, thus, not super excited about it.
Note *because I also didn't know this*: The Balkan Peninsula is a region encompassing several countries including: Albania, Bosnia and Herzegovina, Bulgaria, Croatia, Greece, Kosovo, Montenegro, North Macedonia, Romania, Serbia, Slovenia and a small chunk of Turkey.
Shortly after sipping the "Blatina" variety, I realized that my apathy, along with my geographical knowledge, was totally misplaced.
In fact, my tastebuds were schooled by the Balkan wines. Several sips made me realize that I had some serious learning to do to better understand these delicious new drinks I was dealing with.
It's not only the taste (which I will detail later), but it's also the fact that I experienced no hangover. I write this, because I tried a *very* healthy variety of Balkan wines and fully expected to feel terrible, but I did not. One of my friends who imbibed an equally healthy amount with me, also did not feel hungover. While this is not scientific, it's a nice nugget to have in your back pocket.
Enter the Balkan wines: Wines of Illyria.
The most effective way to ground the wines is to tell you what each variety is "like," because, as Americans, we obviously cannot function without putting something inside of a box for our brains to comprehend.
If you're a fan of Pinot Noir, an earthy Malbec, and/ or a 10+ year aged Barolo try: Blatina (It's the first one I tried. My tastebuds immediately scolded me for having preconceived notions of something I discarded in my mind, because I was wine-ignorant. Perhaps there's a life lesson in there somewhere?!) 
If you're a Zinfandel zealot try: Plavac Mali. ( It's the offspring of the original Zinfandel- more on this later.)
If you enjoy a nice Cabernet try: Vranac.
If you're into Shiraz and/or a fuller-body Cabernet try: Trnjak.
If you're geared towards more of a warm climate, unoaked white, like a Sauvignon Blanc from California or South Africa, try: Stone Cuvee.
Yes, these wines are hard to pronounce when looking at the names, thankfully, there are simple pronouncers on the back of each bottle. 
The fact that pronouncers were on the labels immediately made me think of foresight and assume that a female had to be a part of this brand. Finally, an assumption I was correct about. Not only is a woman part of the brand, but one very incredible woman is at its helm. Enter Indira Bayer. She's the Founder and Executive Director of Wines of Illyria. Indira was born and spent the first 29 years of her life in the former Yugoslavia. (For my new geography-philes,  the country was situated on the Western Part of Balkan Peninsula.) I was lucky enough to speak with her to learn more about Balkan wines, her history, and her company.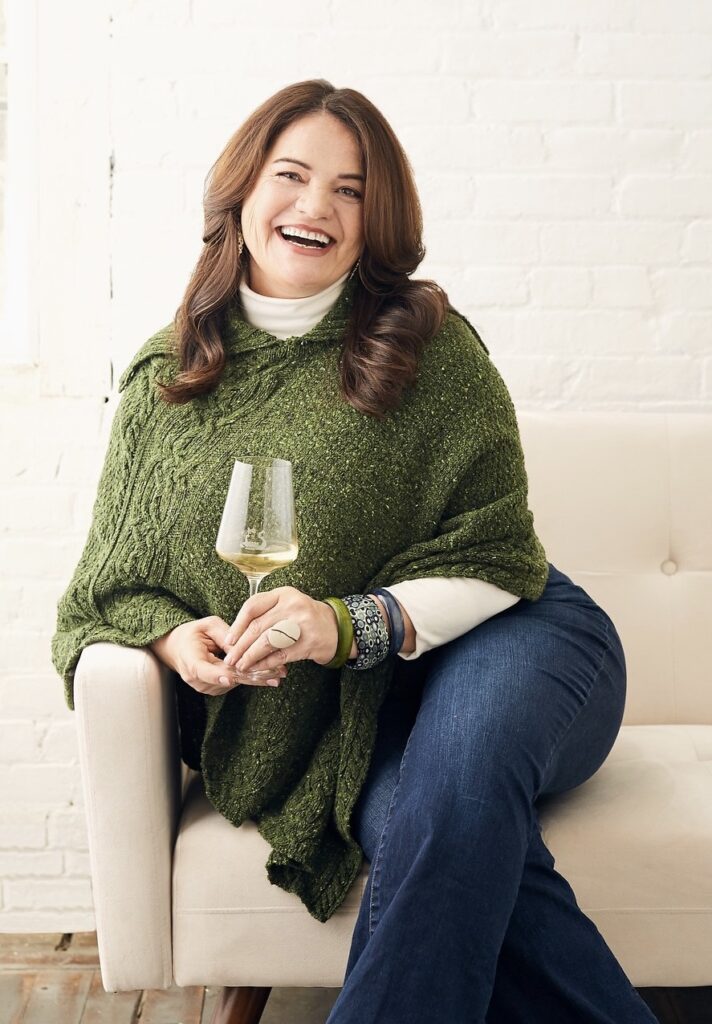 Photo: The indomitable Indira Bayer, the founder and executive director of Wines of Illyria. Credit: Clair Marchand
Emily: 
Why are the Balkans an ideal region for growing grapes?
Indira:
The entire Balkan peninsula has a long and rich history of winemaking, with evidence of viticulture, especially in the Herzegovina and the Dalmatia regions, and it dates back to ancient times. All of these countries are well-suited for grape growing and winemaking due to a combination of factors including climate, soil, and topography.
A diverse range of microclimates, from the cool continental climate of the north to the Mediterranean climate of the south, allows for the cultivation of a wide range of grape varieties, native to these regions, that are well-suited to their specific climates.
Emily:
Was the entire Balkan region always the focus?
Indira:
I started importing wines from Bosnia-Herzegovina first, as I wanted to, by opening the U.S. market and creating demand for wines they produce, curb a brain drain and unemployment as two largest issues Bosnia-Herzegovina was facing about ten years ago.
The unfortunate war of the Fall of Former Yugoslavia (1990 to 1995) devastated all the countries that were part of it, but Bosnia-Herzegovina was particularly hard hit. Its infrastructure, economy, and social fabric were almost destroyed by ethnic cleansing, genocide, and violence. At the time I was working for the U.S. Embassy in Sarajevo, unemployment for youth in Bosnia was 67% and the brain drain was so prominent. I knew the only way to solve these issues would be to develop economic opportunities and jobs. Exporting the products that they produce in Bosnia was just the way. That was the motivation behind creating my business to import wines, as well as helping other Bosnian businesses connect with buyers here in the USA.
Since Bosnia-Herzegovina is a small country (less than 4 million people), promoting the entire region (Balkan peninsula has around 60 million people) makes more sense for such a large market, like the U.S. market.
Importing wines from all Balkan countries will give wine enthusiasts in the U.S. a chance to try multiple varieties. Once these native Balkan varieties become popular, supply shortages will not be an issue.
Vranac, for example, is successfully grown in multiple countries: Bosnia, Croatia, Montenegro, Northern Macedonia, Kosovo and Bulgaria.
Blatina, however, grows only in one river valley in Herzegovina. It is one of the most difficult to cultivate varieties with very limited production.
In my opinion, merchandising signs in wine stores across the U.S, should have BALKAN as the region that will represent Slovenian Malvasia, Croatian Posip and Plavac Mali, Bosnian Blatina, Trnjak and Zialvka, Macedonian Tamjanika, Montenegrin Vranac and Serbian Jagoda all under that umbrella.
Emily:
Your work with these wines to help gain visibility and to empower these economies led you to being named an Honorary Ambassador to Bosnia. What has that meant to you?
Indira:
I embarked on a journey to educate the American public about Bosnian wines, its culture and heritage, and its natural beauties. I have held educational seminars for major corporations and at several universities on the potential of the Bosnia Herzegovina Wine and Wine-Tourism industry to create economic progress in Bosnia.
I have also been supporting cultural institutions here in the U.S. to ensure our diaspora stays in touch with their home country and ensure its culture here stays alive.
I also felt that it's important to bring American travelers and wine enthusiasts to Bosnia-Herzegovina and the region, so I designed a Wine Trip to lead people on a journey of our food, wine and culture in-person.
I neither thought of recognition for what I was doing, nor was I looking for it, but when it came, it felt great. It was a great honor and a testament to my commitment to promote Bosnia and its people to my new country, the U.S., and its open-minded and welcoming people.
The significance of my reward, to me, is even greater as the news about it will encourage other people, particularly young people and women to start their own small businesses and secure economic independence for themselves. That's because small businesses are a key driver of economic growth and job creation everywhere.
The recognition I received hopefully will also send a message to potential investors that Bosnia-Herzegovian has a great potential for investment opportunities. There is so much more work to be done to put Bosnia-Herzegovina and other Balkan countries on the map. 
Emily:
You mentioned young people and the importance of younger generations learning about the impact of small businesses. Your son, Eddie, has taken on this venture with you, truly making your company a family business. What does it mean to work with him? What has surprised you about working with your son?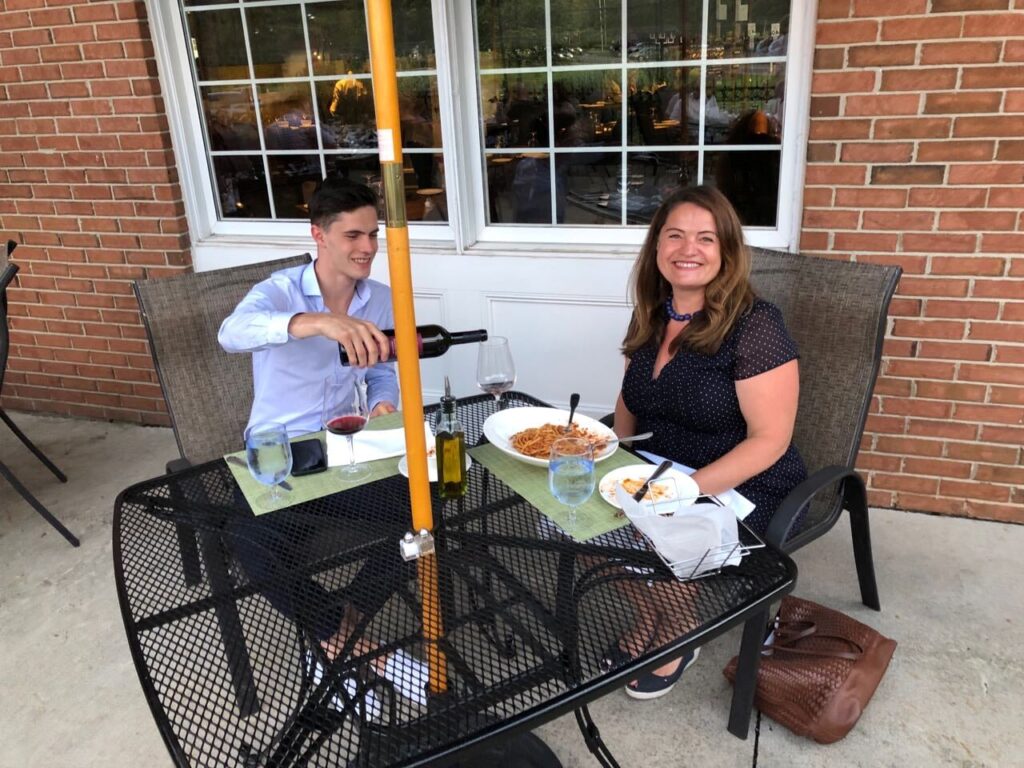 Photo: Mother-son team Eddie and Indira Bayer work together on their company, Wines of Illyria.
Indira: 
What a great feeling that my son feels like a Bosnian-American and believes in my mission to put Bosnia and the Balkan peninsula on the map. He graduated with a marketing degree from Nazareth College in Rochester, New York and decided to help his mom. His vision to bring influencers like him to visit Bosnia and experience the country to write articles and spread the word is exactly what was missing.
He is also planning a series of fun and educational events through the markets where Balkan wines are present in the U.S., in order to educate sommeliers, industry professionals, chefs, bloggers, writers and travel agents. He has education and ideas to bring my small business to the next-level which will in turn accomplish the goal I set seven years ago. I would not be able to do this properly without him
Emily:
(As my eyes well up, knowing the pride she has for Eddie…*sips* some Vranac..and, we are back.)
What is something you learned about the wine business that was unexpected for you?
Indira:
I had no idea the wine business is so competitive. I had no idea it would be so hard to create a buzz about a totally new brand of wines and for the U.S. Market about a new wine producing region. Well, it has been so hard as I quit my job to start this business from scratch and with no money to invest into marketing. The way I have succeeded in finding distribution partners in 20 states is by importing premium quality, naturally-produced wines and pricing them so low to ensure the price is not an obstacle. My pricing strategy is to make 1.00 dollar per bottle of wine, but hopefully sell volume.
The wine industry is definitely a male-controlled business, and even though big chain stores claim they support small businesses and women-owned businesses, that is not a reality. They do not give small companies like mine a chance to even present my products. Typically, boutique wine shops try and always buy my wines as the quality-to-price is so good. My wines are around 25.00 retail with no marketing dollars attached to price.
Emily:
That's a steal for such delicious wines! Can people order the wines directly from the website? How can they find out if any stores near them carry your wines? 
Indira:
Yes, people can order our wines from www.winesofillyria.com but due to so many restrictions in shipping, and our company being only two people, it is easier, for us, to request our wines from your local store and connect us with the store buyer. That way, you can help us get new retail outlets ( stores, restaurants, hotels, wine bars) to carry our wines.
We have built a Google map (RETAIL LOCATIONS tab on our website) with all retailers that ever purchased our wines. Please call them to make sure they still do have our wines and ask them to reorder!