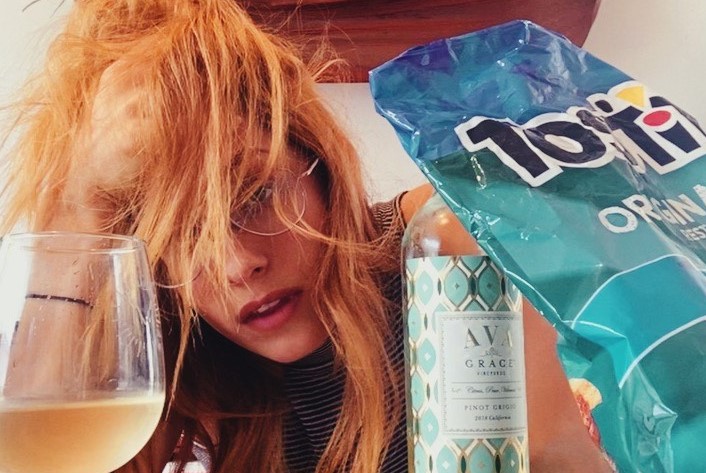 "It's not funny. It's not something to laugh about. But at some point you have to be able to laugh to get through it."
That's Angela Gulner talking about eating disorders, like anorexia and bulimia, both of which she's survived. Gulner's is the story behind BINGE, an unapologetic comedy series about the messy, self-destructive reality of the bulimic experience. For some, it's a welcome chance to air out an under-discussed issue. "How can we heal without laughter?" asks Gulner. "We don't need any more after school specials. This shit is real. It's messy, it's chaotic, and there's some humor in the humanity of it all."
BINGE follows the exploits of Angela, a character played by and based on real life Angela, as she denies, seduces, binges, purges, repents and repeats her way haphazardly through her affliction, with the support of her extremely patient best-friend-slash-business-partner. In real life, Gulner began her decade long journey with eating disorders when she was around 17, although she traces body dysmorphia and shame as far back as age six, around the age when girls first begin to perceive weight shaming. "I was terrified of being fat," Gulner recalls. "Our society has fat shaming and fatphobia built into it. Like many women, I internalized this message that I needed to take up less space, to be small, in order to be loved."
By the end of her first year of college, it was bad enough that she checked into an outpatient treatment program. "By that time it was clear to my parents and everyone what was going on, so I was pretty open about it then," Gulner says of her eating disorder. That openness comes through in the warts-and-all depiction of on-screen Angela, whose brazen chaos is both why the audience loves her, and why they recoil.
After relapsing again, Gulner says she was less open about her struggles, and her disorder peaked after graduate school and her move to Los Angeles which led to a four month stint at a partial-hospitalization clinic for eating disorders. "It was a time of transition. I put a lot of pressure on myself, I was in a new place, I didn't have structure. I'm prone to anxiety anyway, and breaking down calories was one thing I felt like I had control over." Now, years into a life that she describes as "free of addictive cycles," she's spinning that sickness into entertainment gold.
The original pilot, which aired in 2016, has a million and a half views on YouTube and was a hit with audiences. But Gulner and series co-creator/director Yuri Baranovsky couldn't find anyone to pick it up, despite developing and pitching it with MGM Studios. "It's always tough to get a greenlight in television, there are a million reasons people say no. I think many networks thought it was too niche… but it really, really isn't." Gulner says. "The thing is this is something that no one's talking about. Or if they are, it's in this way of kind of tiptoeing around the real rawness and messiness of the situation. There's a massive, untapped audience for eating disorder content that feels authentic — and authentic is not pretty." And she adds that BINGE isn't geared only toward people who have directly experienced eating disorders. "It's meant to validate and support survivors, of course. But it's something anyone can appreciate. We wanted to create something watchable, something that anyone would want to watch just because it's funny and new."
With such a sensitive topic, however, there are some caveats. Gulner says the show could be "majorly triggering" to anyone in the early stages of recovery. The show is graphic in its treatment of vomiting, binge eating, promiscuity and body shame. But Gulner says the eating disorder community responded well to it. "They loved it. They actually were more supportive than I was of the idea that people in recovery should watch it."
Now that we're all stuck inside, Gulner and her partners at Happy Little Guillotine, the production studio behind the magic, have taken BINGE to the next level. They've quarantined their characters so they can continue production from home. Scenes are now shot on the actors' phones, and edited together with breakneck comedic timing, to weave the reality of the COVID pandemic into the characters' lives.
"Like bulimia, COVID is a tragedy that has somehow actually enriched this creative work," Gulner says. So once again, she's spinning pain into comedy gold. Look for new episodes at www.bingetheseries.com and on HLG Studios YouTube Channel: www.youtube.com/TheHLGStudios .