Emmy Award-nominated composer and songwriter, Beau Black takes young listeners and viewers on an eccentric ride with all of your favorite Mickey & Friends characters on Disney Junior's brand new Mickey Mouse Funhouse. With Disney's #1 star, Mickey Mouse and his pals-Minnie, Donald, Daisy, Goofy, Pluto, and Funny, a lovable talking playhouse – this is a new great series parents should watch with their preschoolers! And with Beau Black taking the reigns behind the music, your child will either be glued to the television screen or dancing around in the Hot Dog Hills. 
What's In The Mickey Mouse Funhouse?
Through the course of the series, the six characters embark on adventures in unique worlds that leave a lasting impression on the viewer. It encourages children to explore their creative side, fulfill their dreams and gain lessons about friendship and invention. Plus each of the 22-minute episodes includes a midway break where the viewers can dance!
The overall soundtrack of Mickey Mouse Funhouse is very jolly and distinct from other children's shows. Before the making of the show, Beau Black had been working on another Mickey show which led him to want to make a distinct difference of sound between those two shows. For Mickey Mouse Funhouse, it was all about the wackiness of it.
"It was a good influence because the show is kind of wacky – like the house that they're in and the fact that they go to different worlds," Beau says. "I wanted to do something kind of quirky and take a piece of familiarity from the other Mickey shows and franchises a put a new spin on it. The tough thing about doing this is making it distinct from the other projects that have happened in the past. I have a lot of these old synthesizers – I'm a nerd with these old keyboards. So I got to use a lot of those to make these funky sounds and percussive stuff. What was great about this is being able to use the characters on a lot of the songs in the past. To have the characters sing on everything… that made it a lot more fun!"
While Beau is the music composer and writer for the series, the lyrics were written by Loren Hoskins. As they partner together, they both worked through each song as they were given specifics on what the series should "sound" like and bounce off of those ideas.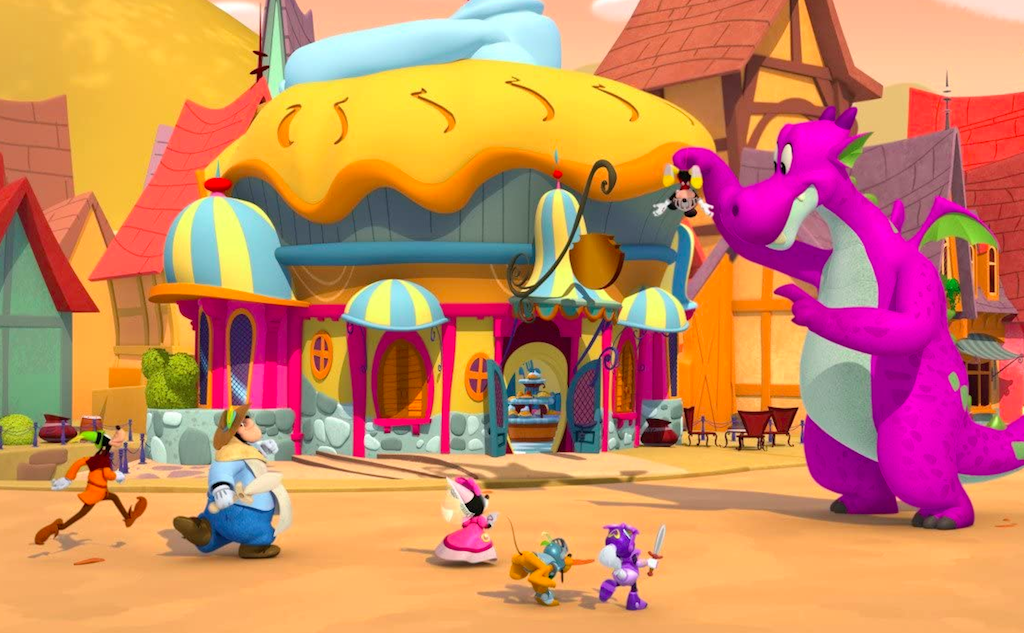 "For example, there is this floaty coaster that shakes them up so we could have specifics and what needed to be hit musically for the theme of let's say, going from one land to another," Beau explains. "Musically, we were just playing around and experimenting with that. Overall, the show has done such a fantastic job with the stories and keeping the audience engaged. It's funny because I also think adults can enjoy it too. It doesn't feel as much as a young children's show as it definitely doesn't leave anyone out, which I thought was just so awesome to see it all come together since the beginning of 2020."
Watch Mickey Mouse Funhouse here.
More About Beau Black
Beau Black has written for numerous Disney Junior shows, including The Lion Guard, Mickey and the Roadster Races, and more! He says that the fun thing about working with all of these shows is that he is encased in a series of worlds, where he can create a sound and expand off of that world.
"The tricky thing, however, about doing those sort of shows is when they expand to approx. three seasons and then next thing you know, you're on the song No. 90 and you're trying to keep the sound fresh," Beau says. "However, they are all very different shows and I've been very lucky with that. Because of that, I've been able to really explore a lot of different music and sounds, which has been a pretty awesome experience."
As a recent father as well, he also adds that being a father himself adds a different sort of perspective on it.
"She's still very young, so she can't really be a fan yet, but it's funny because I'm working on another Disney show that I can't really discuss but by the time it airs, you know, she'll be a little over one," Beau says. "It's really exciting to think that I finally have a little personal edge on this – it makes me even more proud to be doing what I'm doing. Sometimes, it's easy to get really stuck in my own bubble because I'm in a studio working by myself all day long, obviously while still getting to talk to people and stuff. But all of these episodes and all this music is out there throughout the whole world and once in a while, I remind myself that I'm actually doing something good."
Follow Beau Black on his socials below: