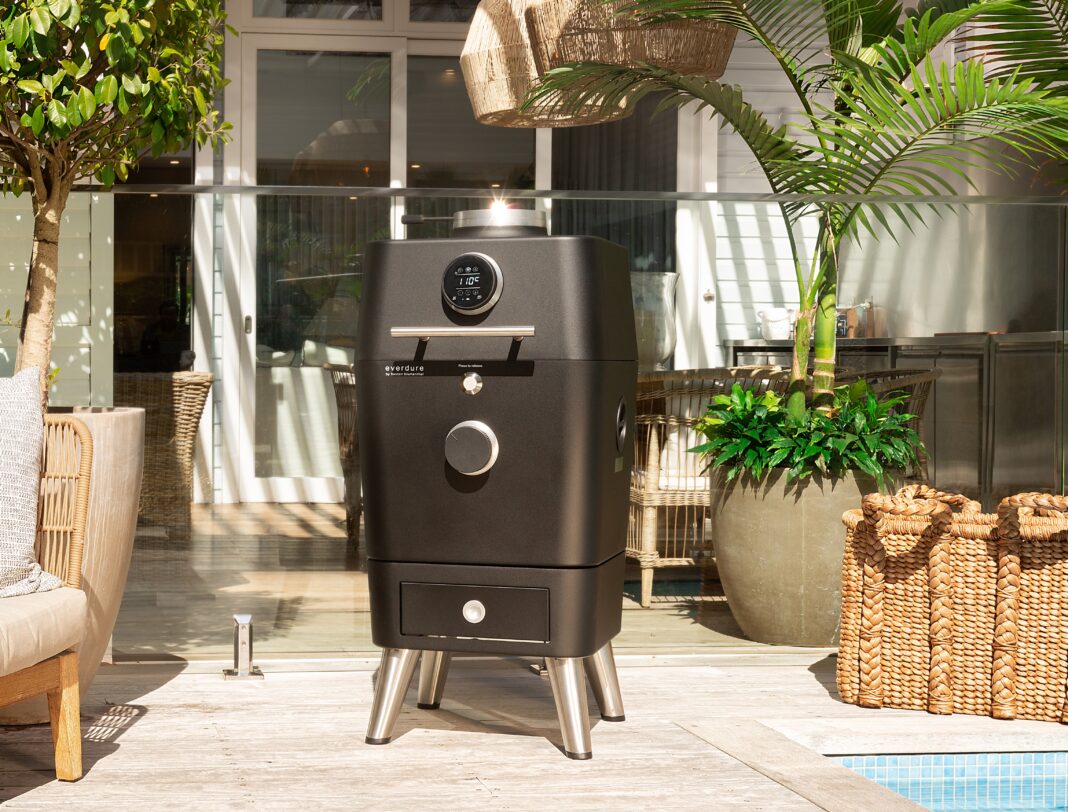 Everdure is a range of world-class grills and accessories with impeccable features that make outdoor cooking a breathtaking experience. Everdure is a trusted Australian brand that has been in the industry for over 30 years. However, the brand became more potent in 2016 due to a collaboration with Michelin Star Chef Heston Blumenthal, where the brand Everdure by Heston Blumenthal was born. Everdure boasts award-winning grill design and innovation, having won numerous International Design Awards since its inception.
Everdure Grills
Everdure's range includes charcoal and gas grills, a mobile preparation kitchen, a knife range, and accessories. Innovation is at the heart of each design.
The FURNACE and FORCE gas grills are made from an easy to clean, die-cast aluminum body that won't rust and are available in a range of modern, stylish colors. They are integrated with flame tamers to prevent flare-ups and burner port clogging to keep your grill safe. These grills are ready to sear in 5 minutes and allow you to master the art of convection cooking thanks to the high hood design, which allows for 360-degree circulation.
The HUB II, HUB & FUSION charcoal grills have a built-in rotisserie system which you can easily set up over the charcoal at three different heights. The Cliplock ForksTM ensures your food is held tight as the rotisserie turns. Then with a touch of a button, the charcoal will ignite in only 10 minutes, thanks to the Fast Flame IgnitionTM System on the 4K, HUB II, HUB & FUSION. If you are looking for a grill to use on the go, the portable CUBE is the perfect companion. It's designed for impromptu grilling away from home. It features an integrated food-grade storage tray, bamboo preparation board, and porcelain enamel firebox, making it easy to use and clean.
The products are available to purchase in Europe, the USA, South Africa, Canada, New Zealand, and Asia.
3 Things You Didn't Know About Grilling
Everdure allows you to enjoy outdoor barbequing without worrying about the climate conditions or heat impacting the grills. All the features mentioned above, confirm how durable the grills are. 
Flavorful Barbeque from the Design
The design of Everdure gas grills (FURNACE and FORCE) allows you to master the art of convection cooking easily. The rising heat bounces off the hood, creating a 360-degree circulation of air and heat around the food. The high hood is designed to enhance airflow, delivering an even cook throughout the grills' entire surface.
The 4K, HUB II, HUB, FUSION, and CUBE charcoal barbeques instill the food with a distinctive texture and taste because of the intense heat and smoke for a more extended period. The meat tends to have a smokier flavor. 
Michelin Star Cooking at Home
Thanks to the design and innovation of Everdure's easy-to-use grills, one can experience Michelin star cooking at home. The thrill of cooking with state-of-the-art products and getting a meal filled with flavors is undoubtedly exciting. With Everdure products, you bring the experience to your home. People want to eat and feel the delicacy, that is the beauty of having a meal that Everdure products serve.
Conclusion
Cooking is the pride and is at the heart of every home. A nice meal brings relaxation, a brightening mood, and influences good health. It would therefore be best to invest in your cooking to keep you healthy and happy. You can reach out to Everdure through their site.
https://everdurebyheston.com/product/4k-bbq/