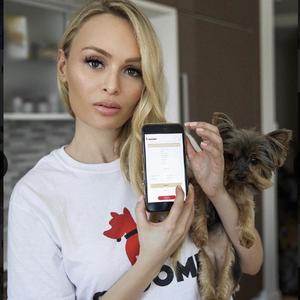 Did you know that Kylie Jenner had a luxury mini mansion built for her pets? Like one that's nicer than most apartments, with AC and all. What about how Mariah Carey spends more than 46 grand every year on keeping her pups groomed? And that's to say nothing of the trips to a dog hotel in the United Kingdom. Okay, so maybe a pet mansion or a $200k dog vacation isn't exactly in the budget, but that doesn't mean you don't love your furry friend. Thanks to GroomIt, you can give your dogs the celebrity care they deserve without the A-List bank account to match. And the best part is, their entire service is hand-tailored to work with even the busiest of lifestyles, so you don't have to put entire days on hold every time your pet gets mildly sick or needs a haircut.
GroomIt's flagship service is its mobile grooming, which puts busy pet parents in touch with the best groomers in the area. Once you've set everything up on the GroomIt app, you get instant booking and on-demand grooming. Then whenever you're ready, they will come to you at your convenience, fully equipped and ready to give your pup or kitty the celebrity spa treatment that they deserve from the comfort of home. A great service to say the least, but lately GroomIt has been ramping up their efforts even more to ensure that you never have to clear your schedule or bank account for conventional pet care again.
Since CEO Anna Zege began her mission to bring on-demand convenience to the pet care game, GroomIt has introduced yet another trailblazer: 24/7 Virtual Vet Care. For just $24 per month, GroomIt offers around the clock vet care advice for your beloved pet. Talk to certified vets and pet experts at any time, day or night, about anything having to do with your pet via video chat or text. You can get a trained opinion at the drop of a hat for any pet care issues you might be experiencing. For GroomIt's professional staff, there is no problem too big or too small, from basic health and dental to behavior and nutrition. Whatever the case may be, GroomIt is there to give you the assurance you need to know your pet is happy and healthy. Plus, it's all remote, which means no more waiting rooms, no inconvenient drop offs, and zero hassle!
Here's the best part about GroomIt's remote pet care service: it's essentially pet insurance that comes with a ton of extra benefits! When you sign up, you'll receive a $3,000 annual fund for emergencies. You pay $0 out of pocket, and you can use your fund at any vet. All you need to worry about is being there for your furry friend. Simply contact one of GroomIt's licensed experts for an instantaneous emergency confirmation, then go to any vet in the U.S. Once your pet's been treated, GroomIt takes care of the payment, done instantly to the clinic at the time of the incident.
So, you get unlimited contact with certified vets and experts, a $3k emergency fund, and the GroomIt team behind you literally every step of the way. What's not to love? The service is designed at its core to save you money on vet bills while giving you the peace of mind that your dog or cat is always protected, no matter what your schedule looks like. What's more, getting started is a walk in the park! You can try GroomIt's virtual pet care service FREE for 30 days no matter where you live in the U.S., and you can cancel at any time.
It even covers up to 6 pets, including those with preexisting conditions! It might not cover someone like Salma Hayek who rescues every stray animal she comes across, but it does insure quite a sizable family. Suffice it to say that GroomIt has you covered at every angle. Gone are the days of clearing schedules to go to the vet or having to wait for appointments at the clinic's convenience. No matter the problem or how jam-packed your schedule may be, GroomIt guarantees that making time for pet care is easy peasy chew-toy squeezy!