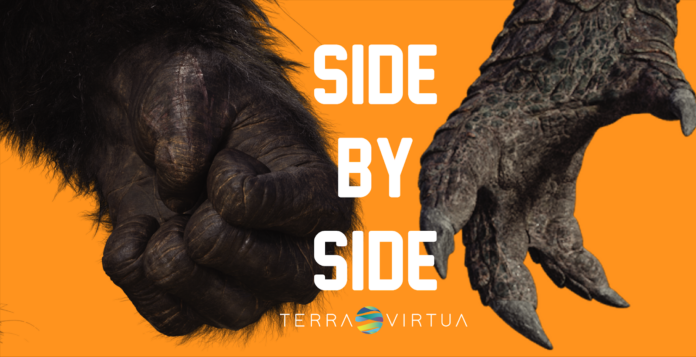 Photo credit: Terra Virtua.
Last week, moviegoers watched as the world's most iconic movie monsters returned to the big screen to battle each other in Warner Bros. Pictures and Legendary Entertainment's Godzilla Vs. Kong; and for those unable to head to the theater, they could watch the film at home on HBO Max. But to celebrate its release and promote the spring blockbuster further, Legendary Entertainment partnered with digital collectibles platform Terra Virtua to create a special NFT (non-fungible token) collection based on the film. Released on the film's premiere day, March 31, it also becomes one of the first NFT drops that coincides with a major movie release.
Back in February, the company announced that it had acquired the IP rights to the film from the production company. Sam Rappaport, Director of Interactive Media at Legendary Entertainment said that "digital collectibles allow fans to interact with their favorite characters in a way never experienced before, and to be working with the pioneers in the industry is truly exciting."
Regarding the Godzilla Vs. Kong partnership, Terra Virtua CEO Gary Bracey said: "This franchise is one of the most recognizable brands in the world; these characters have been on our screens for over 88 years; so to say we're excited about bringing this film pairing on board would be an understatement! And, what's more exciting is that we're also releasing a full VR experience on Oculus Quest, so when we say we're fully immersive, we really mean it!"
The Godzilla Vs. Kong collection at Terra Virtua includes a series of 3D models that replicate life-size versions of these popular characters. With the size of the models, collectors can view them in the Terra Virtua Terradome, made specifically for larger NFT collectibles. Alongside the models are a series of collectible posters, starting at $75 each, as well as soundbites of the characters' roars heard in the film.
Prior to the release of the NFT collection, Terra Virtua came out with a special pre-release item for fans and collectors alike. The platform offered a 2D digital poster with the "One Will Fall" that sold out within 10 minutes of its release, showing the anticipation of the new collection's drop.
For those unfamiliar with Terra Virtua, it's a one-of-a-kind VR entertainment collectibles platform. Users can buy, sell, trade and discover different kinds of NFTs within the Terra Virtua marketplace; they can also create their own customizable space known as the Terra Virtua Fancave, and visit the 3D Terra Art Gallery to become digital art connoisseurs if they like. Along with Godzilla Vs. Kong, the platform also offers collectibles from known films like The Godfather and Top Gun.
The Growth of NFTs in Hollywood
NFTs can be sold, auctioned off or traded just like real-world items, but the best part is how they exist within blockchain technology. This technology allows the NFT to remain 100% tangible and authentic, so you never need to wonder if the items you have are real or not.
The NFT market has created a worldwide boom over the last few months. Somehow, it's created a way for simple, multimedia digital assets like art prints, video clips, and gifs to sell for millions of dollars; we've even seen Twitter CEO Jack Dorsey's very first tweet go up for $2.9 million.
In addition to its overall rapid growth, the world of NFTs made its way to Hollywood as it's become a way for artists to receive a large sum in a short amount of time. Artist Ben Mauro, known for his work with films such as the Hobbit trilogy and Man of Steel, uploaded 12 of his pieces to the VIV3 marketplace; seven minutes later, all of the pieces sold, leaving Mauro with a total of $2 million in sales.
The artist also Beeple sold digital files of his artwork through an auction at Christies for a whopping $69 million. And last month, singer-songwriter Halsey partnered with Nifty Gateway to release an original NFT collection titled "People Disappear Here;" a portion of the proceeds made from its sales went to My Friend's Place, a Hollywood nonprofit resource center that offers comprehensive care for homeless youth, and Carbon 180, a climate-focused NGO dedicated to the mission of creating a world that removes more carbon that it emits.
Several studios are looking into creating their own NFT departments and marketplaces, like UTA. UTA was one of the first agencies to establish its own NFT department and Lesley Silverman, UTA's executive of digital assets, said that they have only scratched the surface in terms of how NFTs will disrupt the marketplace.
"The notion of allowing fans to own a piece of a creative project, and to be able to trade that interest in a free and open marketplace, is an entirely novel premise relative to traditional entertainment."