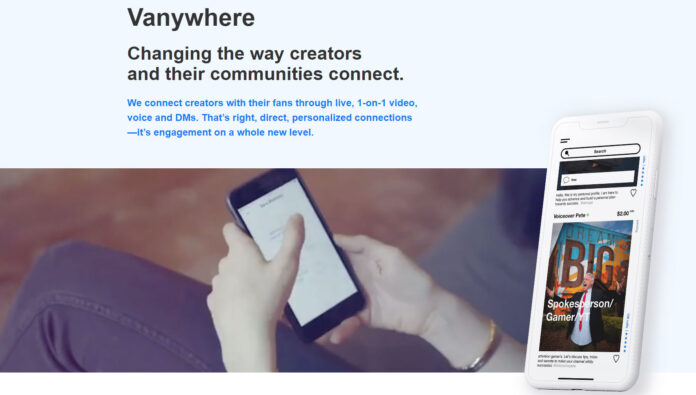 Creator Community Platform Vanywhere Announces Celebrities, Creators and Influencers Can Now Be Paid in Bitcoin
Tech Platform Gives Creators Engagement With Their Fans Through Exclusive content, DMs, Live 1-On-1 Video, and Voice; Mass Personal DMs Also Available
Talent on Platform Already Includes Lindsay Lohan (Actress), Rain Dove (LGBT Community Leader), Chef Rush (Celebrity chef), Danny Bath (professional Soccer Player),Manu Bennett (actor), Igee Okafor (Model), etc.
As Bitcoin soars to all-time highs in recent weeks,Vanywhere, a tech startup that allows direct, ongoing connections between superfans and their favorite creators / celebrities, announced that they can now pay talent using BTC. On the platform, consumers can engage with vetted talent through live 1-On-1 Video, Voice And DMs for a fee, and get access to exclusive content that talent shares on the platform.
As the world's cryptocurrency intrigue continues to climb, and recent celebrity cryptocurrency endorsements continue to gain popularity, offering payment in BTC has quickly become a method of payment for pro athletes and micro-influencers alike. In turn, this will help drive greater mainstream adoption of digital cryptocurrencies as the new normal. Vanywhere wants to make getting paid as a creator as simple as possible and by offering new payment options in BTC, the company highlights a new separation from competitors.
The Safe For Work key categories that consumers engage with talent on the app include coaching, personal finance, actors, business leaders, athletes, food, travel, beauty, and more. There is also a vetting process done by Vanywhere on creators, ensuring the content is clean and acceptable.
"Today, I'm thrilled to announce that our creator, celebrity and influencer talent can now choose to withdraw their Vanywhere wallet balance in USD or bitcoin," said Rami Shechter, founder and CEO of Vanywhere. "We want to keep Vanywhere on the forefront of the industry, amidst today's evolving payment structure, pushing the status quo of digital payments for talent. If our celebrity partners prefer to get paid in bitcoin, all they need to do is share their bitcoin wallet address with us, we convert their earnings into bitcoin, and send over their payment immediately. It's that easy."
Vanywhere focuses on fostering ongoing, meaningful connections between creators and fans rather than simply creating one-off videos or greetings. A monthly subscription allows fans to communicate directly with celebrities who respond to questions with a variety of personalized answers sent through direct messages, including video messages from celebrities themselves.
"The vision of the Vanywhere team and new update highlights the emergence of crypto in more mainstream platforms," said Bill Shihara, Co founder of Bittrex and Vanywhere investor. "Everyone at Vanywhere is excited to see the platform support more ways for users to connect with celebrities the next few months."
Vanywhere can currently be downloaded for free in the Appstore and Google Play. For more information, please visitwww.vanywhere.com.