On May 10, 2020, Justin Bieber tweeted, "#stuckwithumom 10am tomorrow. All the moms and one special dad. Thanks," which immediately went viral.
Little did Hollywood publicist, Miriana Rexrode know that this would change her life and view towards the entertainment industry. Rexrode, who's worked with various Netflix talent, Disney talent, and TikTok stars like fan-favorite Symmone Harrison, woke up that next morning watching herself on Good Morning America as part of "Stuck With U" (Mother's Day edition) of Bieber and Ariana Grande's summertime jam to help fans cope with COVID-19 and being stuck in quarantine.
At Bieber and Grande's request, fans who couldn't attend this year's prom and those who were spending time with their loved ones during the quarantine were asked to submit a video of them dancing to a snippet of the unreleased song.
But how did it happen? Especially because Rexrode never submitted a video.
#stuckwithumom 10 am tomorrow. All the moms and one special dad. Thanks

— Justin Bieber (@justinbieber) May 11, 2020
In a previous interview with CelebMix.com, Rexrode spoke with Hollywood media consultant and brand manager, Andrew Rossow about how Bieber's team, including Scooter Braun, helped pay tribute to Rexrode's father, a respected service member to our U.S. Army, who served with the U.S. Air Force and U.S. Army for 25 years, having retired back in March 2016, David Rexrode, Miriana's father passed away unexpectedly on May 8, 2020, after a short illness at the age of 46.
"My dad was a hero," she told Rossow. "Throughout my childhood, he was gone serving our country, which I always greatly respected and loved about him," Miriana recalls. "When he would come home because he would come home often, he was always so loving and it was so fun. There were a couple of times where he did the military homecoming and surprised me in class. My dad really lived a life of service, both in serving his country, but also serving our family, making sure we had everything we needed and wanted."
When the initial fan video for Stuck With U was released, Bieber and his team put out another tweet asking fans for videos of they and their Mom to possibly add into a special Mother's Day version of the video. And for Rexrode, that's around the same time her dad had just passed away.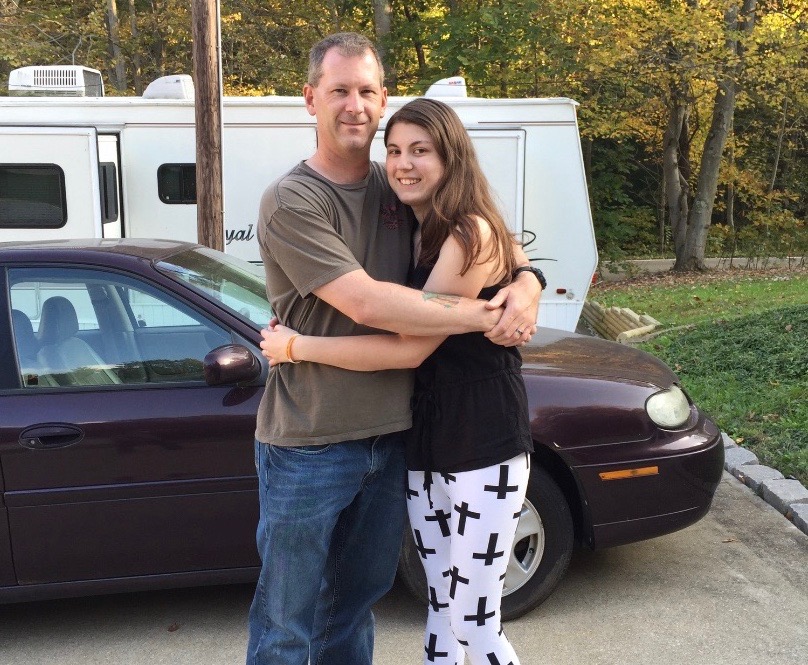 "I had obviously posted the news everywhere because I was in such shock," she told Rossow. "I also put it on Twitter and my post began blowing up. And that's when Justin's manager Scooter and Justin's creative director Alfredo Flores saw it and liked it."
She revealed that when her phone began blowing up with messages, hinting that her dad was who they were referring to, that's when the phone call from Braun came the following morning, alerting her to what they were doing for her and the family.
Rexrode's relationship with Bieber and Braun is interesting in origin. While Rexrode is not officially part of the Bieber and Braun team, they have both followed Rexrode's work for many years.
"…because of the situation, [Justin and Scooter] decided they wanted to include my dad and just one dad in the Mother's Day edition of the music video. Which brought us to Justin's tweet on May 10."
And to Bieber and Braun, Rexrode shares a powerful message to you, hoping you know how much it meant to her and the family:
"I am so grateful to you Justin, Scooter, and team for doing this for me and my family. It has meant alot to us and we are all so very grateful. We all want you to know this. My dad would have loved this too, if he was here. I really appreciate everything you continue to do for your fans and you have the biggest of hearts. You are awesome. As you know I work with many different people in the industry and you are honestly the most giving, caring people and celebrity team I've ever had the pleasure of knowing. Thank you."
Bieber's newest single, "Holy", featuring Chance the Rapper, just released, serving as a tribute to the pain, heartache, and frustration the COVID-19 pandemic has created and how kindness and patriotism can go along way. He also teamed up with Chance the Rapper and Cashapp to give away $250,000 to people in need struggling with the effects of COVID-19.