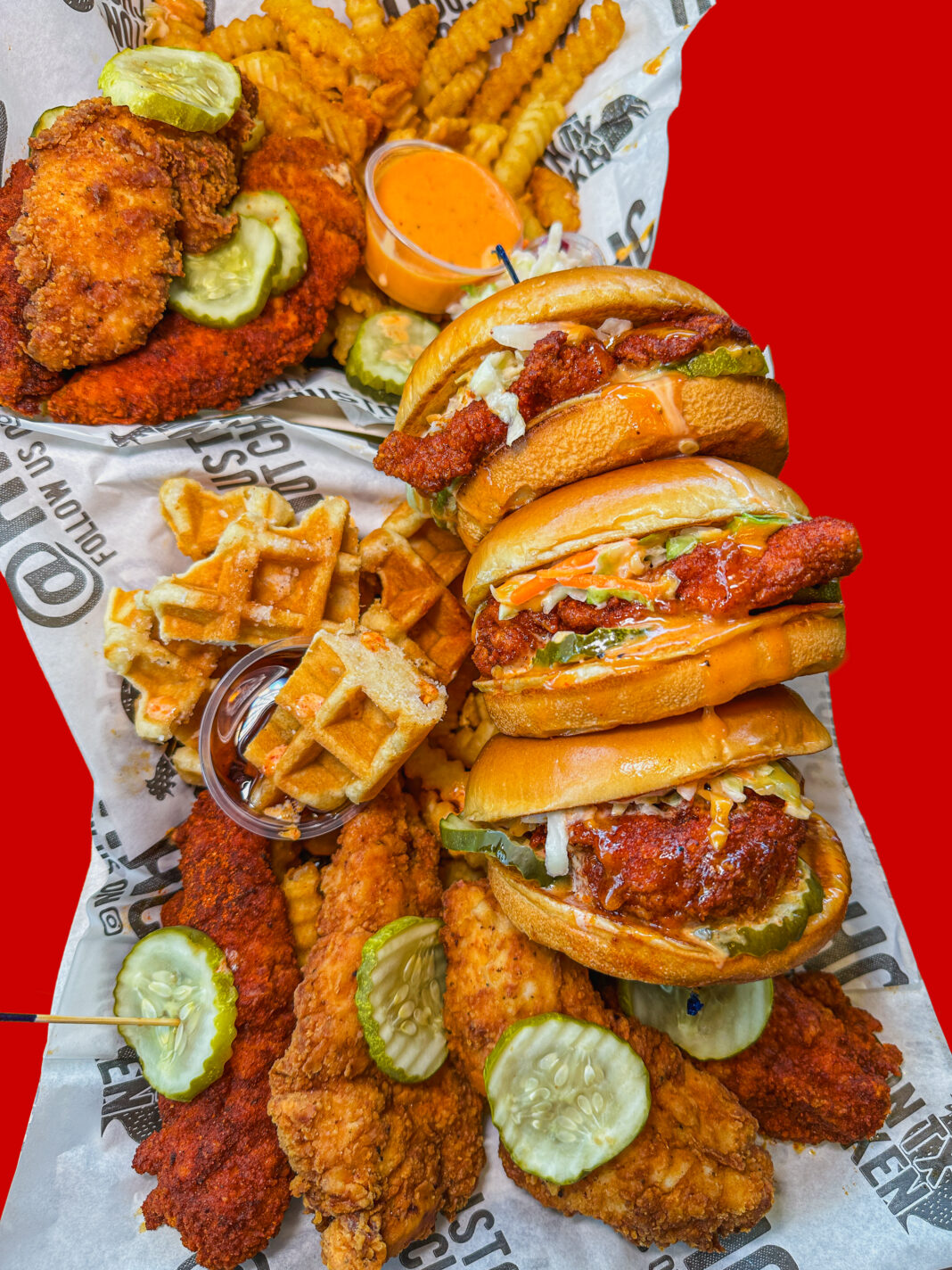 Hey there, flavor adventurer!
We're about to take your taste buds on a wild and spicy ride through a flavor fiesta like no other. Buckle up (not literally, though, this is a food adventure), because we're diving fork-first into the tantalizing world of Houston TX Hot Chicken's 7 sizzling spice levels.
Think of it as a flavorful rollercoaster, where every bite is a twist, a turn, and a thrilling explosion of taste. It's not just about heat; it's about the journey of flavor that starts mild and ends with a fiery bang. So, grab your napkin capes and prepare to become the spice superhero you were always meant to be!
We're not just talking about sprinkling a little spice here and there. No, no! HHC doesn't do things halfway. We're talking about heat that's so intense, it'll make your taste buds break into a spicy dance. And guess what? You're the star of this fiery show.
So, whether you're a heat-obsessed daredevil or someone who likes to tiptoe into the spicy abyss, HHC's got your back. Check out their 7 savory spice levels down below.
No Spice | A Gentle Introduction
For those looking to ease into the world of spice, 'No Spice' is your warm, welcoming embrace. It's like a soft pillow for your palate, where you can savor the pure, unadulterated flavors of HHC's perfectly cooked chicken.
No overwhelming heat here, just the chicken's natural goodness, tender and delicious.
Pairing Suggestion: The 'No Spice' option is all about celebrating the natural flavors of our hot chicken. Complement it with our House Lemonades like Cucumber Watermelon or Strawberry Hibiscus for a refreshing, palate-cleansing experience.
Honey Butter | A Sweet Beginning
But wait, there's a sweet surprise! 'Honey Butter' takes 'No Spice' and adds a touch of honey-infused bliss. The delicate sweetness of honey melts into the warm, buttery notes, all-enveloping that succulent chicken is truly a harmonious blend. If you love the combination of sweet and savory, this one's for you!
Pairing Suggestion: 'Honey Butter' brings a delightful sweetness to your hot chicken. Pair it with a creamy Milkshake like the indulgent Waffle Shake to create a sweet and savory blend that'll leave your taste buds singing.
Mild | A Gentle Warmth
If you've been enjoying the 'No Spice' and 'Honey Butter' options but want to turn up the heat just a smidge, 'Mild' is your perfect transition.
It's like a cozy fireplace on a chilly evening – warm, comforting, and inviting. With 'Mild,' you'll experience a subtle tingle on your taste buds, a hint of heat that enhances the chicken's deliciousness without overwhelming it.
Medium | Where Flavor Meets Spice
Ready to take it up a notch? 'Medium' is where flavor and spice come together in perfect harmony. It's like a well-choreographed dance between your palate and the hot chicken.
The heat level is just right – enough to make your taste buds do a happy jig, but still letting you savor the intricate flavors of the chicken, bun, and sauce. It's a balance that's hard to resist.
Pairing Suggestion: 'Mild' and 'Medium' spice levels provide a balanced heat that pairs wonderfully with our Texas Caesar Salad. The crisp romaine, chopped tenders, and spiced croutons will cool the heat while maintaining the savory goodness.
Spicy – The Bold Kick
Let's start to up the ante!
'Spicy' is your ticket to a bolder flavor experience. It's like a fiery salsa on a warm summer night, where the heat takes center stage. With 'Spicy,' you'll feel the zing, the sizzle, and the exhilarating kick that makes every bite an adventure. The chicken becomes a canvas for the spices to paint their fiery masterpiece.
Pairing Suggestion: When you're diving into the 'Spicy' realm, consider our Loaded Fries. These crispy concertina fries topped with chopped tenders, slaw, and house sauce will add an extra layer of texture and flavor to your spicy adventure.
Liftoff | A Spicy Revelation
Now, for the true daredevils and spice enthusiasts, we present 'Liftoff.' This is where the thrill reaches new heights, and your taste buds are in for an electrifying ride. 'Liftoff' is like a rocket launch, a burst of heat that's intense, bold, and unforgettable.
Houston, We Have a Problem: Beyond the Scoville Scale
Brace yourself, because we're about to enter the fiery, uncharted territory of 'Houston, We Have a Problem.' This isn't just a spice level; it's a culinary legend, a challenge that will test your taste buds, your bravery, and your commitment to the world of hot chicken.
What is 'Houston, We Have a Problem'?
Imagine the heat of a thousand suns concentrated into one deceptively innocent-looking chicken sandwich. 'Houston, We Have a Problem' isn't just a name; it's a warning, a declaration that you're about to go on a spice journey like no other. This level of heat isn't measured in mere Scoville units; it's measured in the number of brave souls who dare to try it.
The Waiver
Yes, you read that correctly.
Before you take your first bite of 'Houston, We Have a Problem,' we'll kindly ask you to sign a waiver. Why? Because this level of spice isn't for the faint of heart. It's for those who seek the ultimate thrill, the kind of culinary adventure that's talked about in hushed tones among the bravest of food enthusiasts.
The Challenge
Eating 'Houston, We Have a Problem' isn't just a meal; it's an experience. But here's the secret: beyond the searing heat, there's a symphony of flavor waiting to be uncovered. It's not just about spice; it's about the taste of adventure, the adrenaline rush, and the bragging rights that come with conquering the unconquerable.
So, are you ready to take on the legend of 'Houston, We Have a Problem'?
It's not just a sandwich; it's a challenge, an experience, and a journey to the outer limits of spice. Sign that waiver, grab a glass of milk (you'll need it), and prepare for a taste adventure that'll leave you with stories to tell for a lifetime.
Pairing Suggestion: For the brave souls tackling 'Houston, We Have a Problem,' prepare for an out-of-this-world spice experience. Cool the flames with our Belgian Waffle, a sweet and fluffy companion that'll tame the heat.
Spice Up Your Life at HHC
There you have it, fellow spice adventurers – a tantalizing taste of what awaits you at Houston TX Hot Chicken. Whether you're a heat enthusiast seeking the ultimate fiery thrill or someone looking to savor a delightful blend of flavors, HHC has a spice level that suits your craving.
So, don't just settle for an ordinary dining experience; embrace the thrill of the spice and elevate your taste adventure with us. Houston TX Hot Chicken is more than a restaurant; it's a culinary playground where every bite is a step closer to flavor nirvana.
Join us in celebrating the art of spice, where each dish is a masterpiece waiting to be savored. From mild to wild, sweet to spicy, we've got a flavor that'll make your taste buds dance with delight.