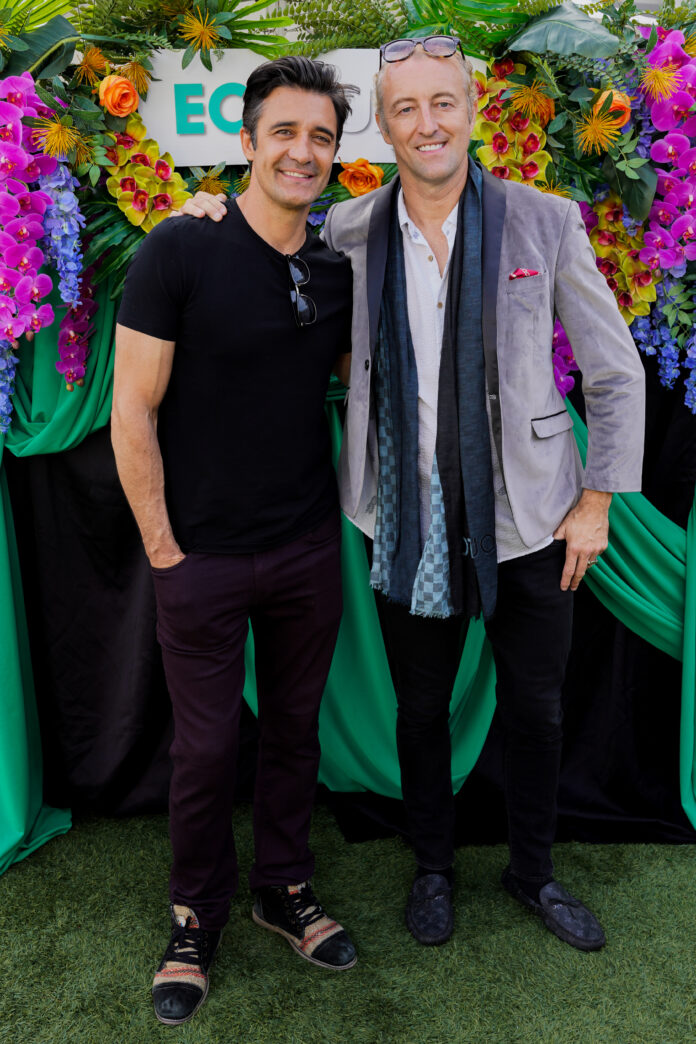 For 16 years, TV/Film producer Debbie Durkin and her ECOLUXE Lounge has honored and celebrated Oscar Nominated stars and filmmakers, bringing them on-site to celebrate their accomplishments with food, drinks, and of course, incredible swag you just can't say "no" to.
This year's ECOLUXE Lounge returned to Beverly Hills at the Beverly Hilton Hotel, in collaboration with KNEKT®TV, which telecasted Durkin's #ECOLUXE Lounge live throughout the Oscar 2022 weekend. 
"We were excited to bring together entertainment industry VIPs and Oscar Nominees to network and celebrate film's biggest night at our 16th annual sustainable ECOLUXE Luxury Lounge," Durkin told True Hollywood Talk.
For the past 5 years, Los Angeles-based live production company KNEKT.TV has been bringing viewers behind the velvet ropes at many charity galas, award shows, and concerts which recently completed the 2022 Los Angeles Fashion Week, making its show available for video-on-demand. 
"It was such a natural fit for KNEKT.TV to align with Debbie's ECOLUXE Lounge this year – cool celebrity success stories and eco-friendly brands in a fun environment; a win-win for viewers to tune in and be inspired!" said KNEKT.TV founder Kent Speakman. Speakman first attended Durkin's ECOLUXE Lounge in the fall during the 74th Primetime Emmy Awards.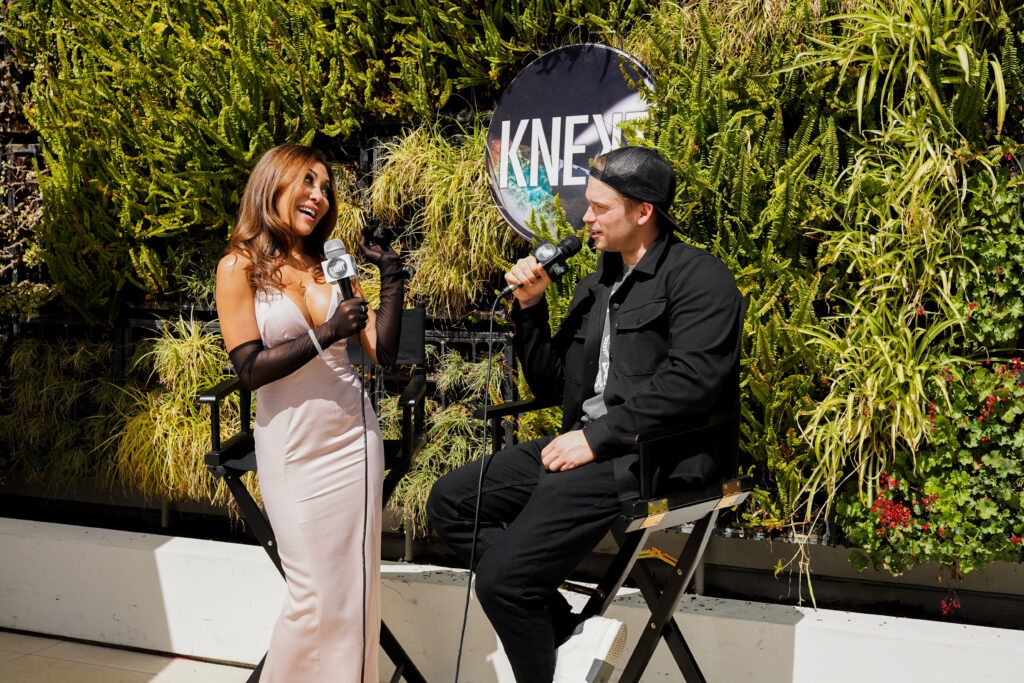 This year's ECOLUXE Lounge featured a menu curated by the Hilton's head ched, in addition to confirmed brands including Palm Springs hotel 'A Place in the Sun,' Prince Caviar, RevealU Skincare, psychic medium Louise Jones, UpGrade Labs, Better/Than Sex (a desserts restaurant), Raised in L.A. Street Art, Dena Burton Collection, Hales Parker Dentistry, charity partner, Wagmor Pets, Organic Spa Magazine, Deux Marie Cosmetics and more.
Excitingly, True Hollywood Talk was asked to attend this year's eco-friendly luxury outdoor walk-through experience, and was received with warm, open arms as it interacted with most of the Lounge's confirmed brands.
Special guest appearances by this year's award winning producers, Robert Fyvolent and David Dinersteinfor ("Summer of Soul," Best Documentary Film), as well as actor Scott Michael Campbell ("Under the Banner of Heaven," "Shameless"), and NFL former wide-receiver Willie Gault.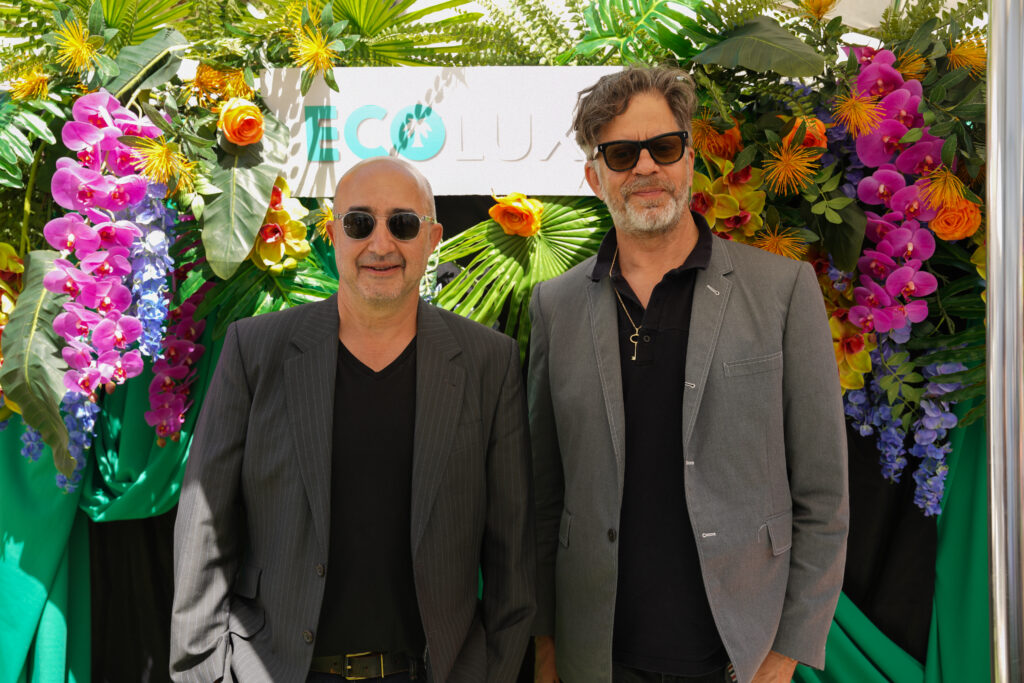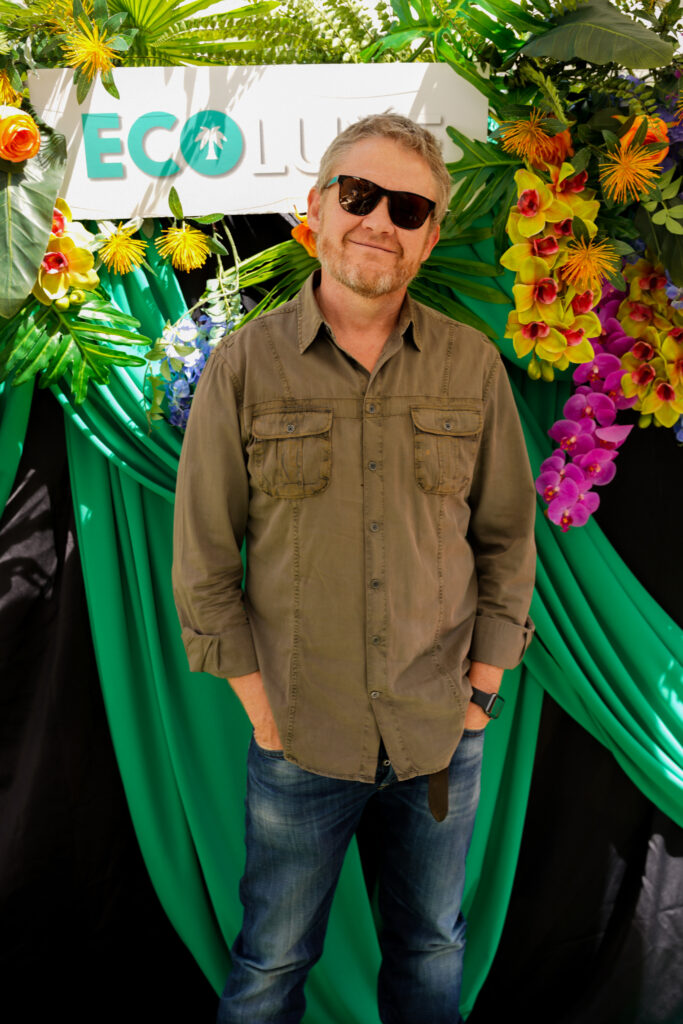 Raised in LA Artwork / Better Than Sex
Raised in LA Artwork gifted ECOLUXE attendees full bottles of champagne in a one-of-a-kind hand-painted artwork bottle. Their posters on display were raffled to lucky guests (from previous art installations adorning the city in front of Paramount Studios) and incorporated The Godfather, Marlon Brando, and The Ricardos all in homage to Being the Ricardos and the new series The Offer (from The Godfather).
They also handed out one-of-a-kind art pieces with an "Oscar" hand out stencil.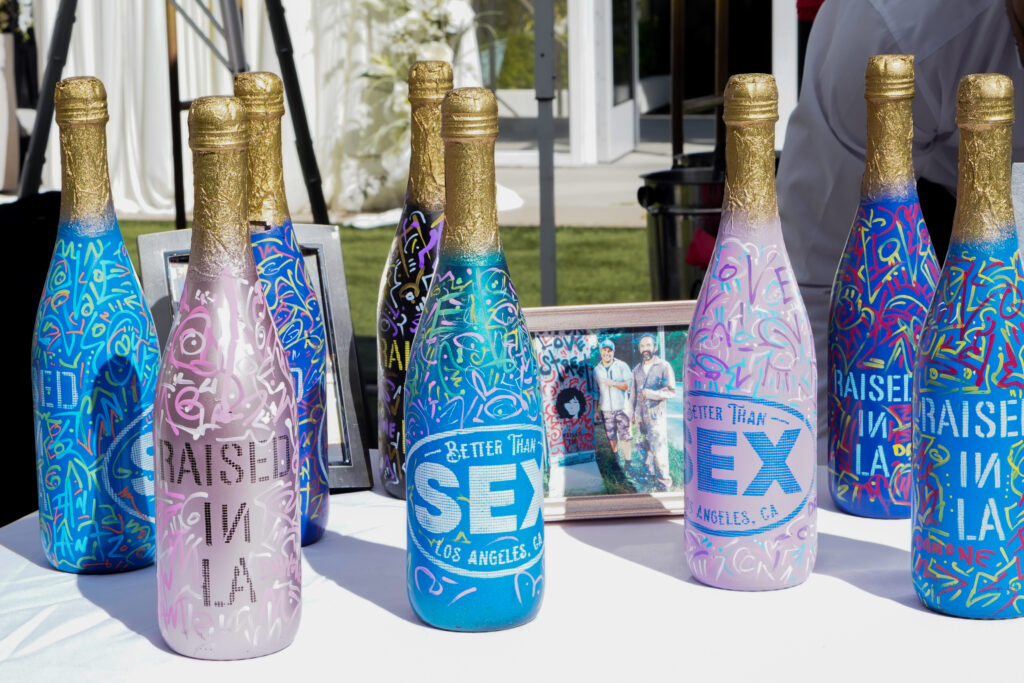 "Better Than Sex" Desserts Restaurant offered a free dessert gift card to their Melrose location, with a gold-dipped chocolate strawberry and champagne tasting. 
Dena Burton Collection
Dena Burton Collections offered gift certificates to her Dena Burton Capsule Collection, bringing ECOLUXE attendees the best feminine and contemporary looks that enhance the wardrobe. Her luxurious garments are designed to take you from weekday to weekend with edgy style. ECOLUXE had 5 gowns on display, in addition to the pillows she was gifting.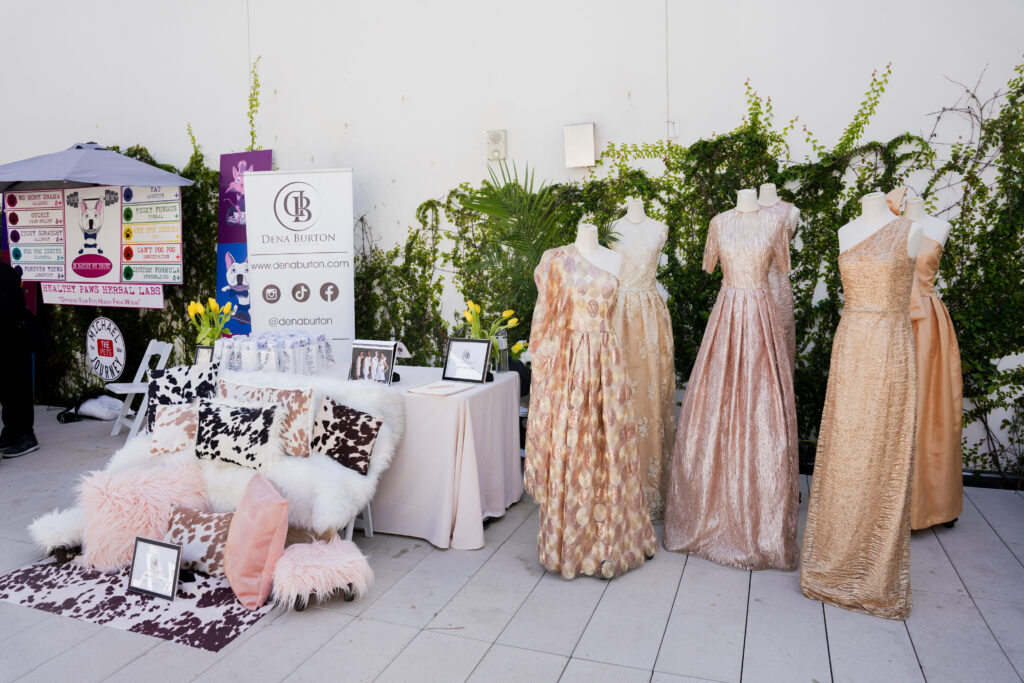 Louise Jones LA Confidante
Louise Jones LA Confidante is a psychic medium who provides spiritual healing-based clarity and entrepreneurial guidance. She works with high achievers to help them become even more brilliant. Based in Belfast, Ireland, LA Confidante delivers world class guidance and energy clearing, taking her clients to new heights of self-freedom and success.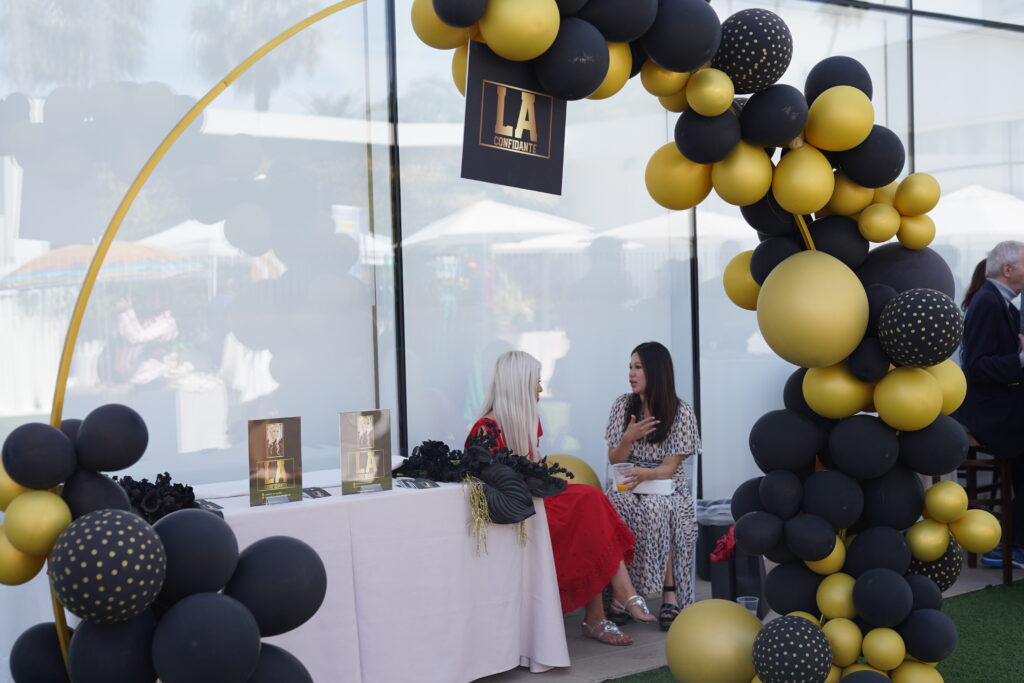 During ECOLUXE, Louise offered sessions of excellence through spiritual healing and clarity on-site, with each session lasting one-hour while hosting a balloon installation, where 3 of those balloons had a "golden ticket" for a free session with her.
Prince Caviar
And can we talk about Prince Caviar, who offered caviar tastings throughout the entire ECOLUXE event? Perhaps the most mouth-watering delicacy at the event (beyond the bottomless flow of champagne and libations) was the caviar Prince Mario-Max was graciously force feeding down attendee's throats.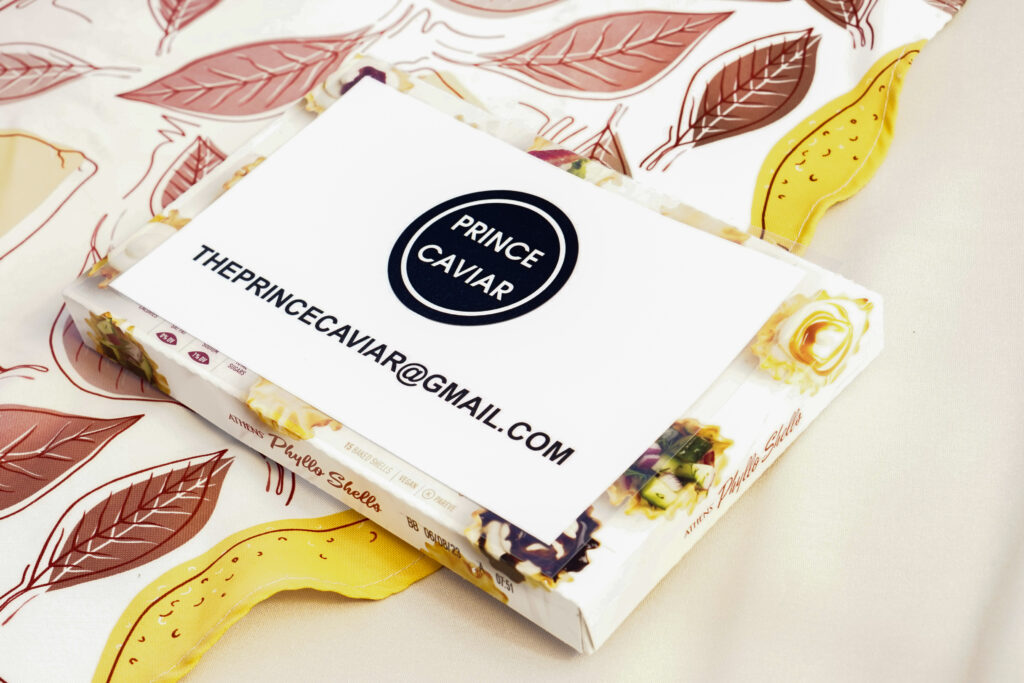 RockNRolla MTV Movie & TV Awards
So, what's next for Durkin as this year's award season continues?
The veteran TV/Film producer is already working on producing her next event – ECOLUXE RockNRolla MTV Movie & TV Awards Lounge, which returns after a 7-year hiatus since it conflicted with the first weekend of Coachella.
"Tatoos, rockers, beach babes, surf gear, summer fashion and travel, delish foods, cocktails and mocktails, music, and more," Durkin revealed ahead of the June 3rd event. The event will take place on Friday June 3, the same weekend the MTV Movie Awards debuts. 
If there's anything we learned after attending this year's 2022 ECOLUXE Lounge, we certainly left Durkin's Oscar weekend event feeling extremely spoiled, wanting more.