After its three-year hiatus, today officially marks one more month until one of the anticipated music festivals in the country rebirths down in the South. The BUKU Music + Art Project is one of the most anticipated music festivals of the year with its rich and diverse music selection, art, culture, and lifestyle. As it is set in the wonderful and mysterious New Orleans, the festival holds its own magic that highlights a variety of music genres while also emphasizing the history that the southern city provides.
BUKU allows attendees to open up their minds and expand their creativity to a whole new level, so they can apply it in all areas of their lives. This is why we have compiled a quirky and outside-the-box ABC's list of everything you need to check out at not just the festival, but in the city as well to spice up your festival weekend. This list isn't your ordinary and typical roundup, this is an atypical roundup that will help you branch out your music taste and senses. You can either take this list seriously or use it as inspiration to guide your festival trip.
But without further ado, check out the ACBs of the BUKU Music + Art Project.
A Hundred Drums
A Hundred Drums' powerful music is characterized by reverberating bass and captivating rhythm. She enables listeners to connect wherever they are with genres varying from experimental hip-hop, psychedelic bass, and authentic hand drums. With debuts on Deadbeats and joining Rezz on some of her shows, you cannot miss her new generational bass signature sound at Buku this year!
Bas
Bas is one of a kind, man. Up to this day, he still maintains his status as one of the world's most respected and distinctive artists by balancing his self-confidence with perspective and a purpose. You might know him in his captivating collaborations with J Cole like "Night Job" and "Tribe", as well as his project Spilled Milk, which featured many different creators like EARTHGANG, JID, B. Lewis, and more. And as a world-class performer whose sold-out tours have taken him all over the world, you best believe he's going showcase one hell of a spectacular and inventive performance at Buku!
CloZee
Now, who could resist this queen? In the world of electronic music, CloZee is an iconic figure with her style of subtle, fluid, and experimental sounds. With breathtaking sets at world-renowned festivals like Coachella and Lollapalooza in 2019, her on-stage presence has moved audiences across the globe. There's no telling what mystical sounds CloZee might present us with at Buku this year!
Dom Dolla
Dom Dolla is an obvious, not-miss! From top-selling hits like "Take It", "Pump The Brakes", and "San Frandisco", a Dom Dolla set will make you feel like you're on top of the world. He has performed at least a hundred shows worldwide over the past few years, including headlining tours in Australia, North America, the UK, and Europe plus appearances at a number of festivals. Watch out, NOLA it's about to get funky up in this place!
Eats (The Foods You Need To Try At The Festival)
We all know New Orleans serves up some fantastic dishes, and that's why you need to try some of the Buku Music + Art Project food vendors this year! Fish tacos, barbecue, vegetarian dishes, and crepes are just a few of the many foods available at the festival. As the vendors for 2022 have not been officially announced yet, you can expect some of the tastiest food options you have ever come across. For full updates on food offerings, visit their Instagram page here.
Flo Milli
If you haven't heard of Flo Milli, you got to get with the program. She's a cheerful and clever artist that can hype up a crowd real quick, as her bubbly and intoxicating energy lights up the room or festival. You can definitely expect an elevated vibe at her Buku performance this year!
Glass Animals
Should I say more? Glass Animals, baby. From "Gooey" all the way up to Dreamland, the dreamy psychedelic band knows just the way to get us into the right feeling. For those who might not be familiar, the band has written and produced with many different genre-specific artists like Joey Bada$$, Flume, 6LACK, Wale, and even Denzel Curry! What should you expect from their Buku set? Nothing but pure magic and bliss. Let their creamy and cosmic sounds just take you to dreamland, no pun intended.
Historic Voodoo Museum
I know what you're thinking – there's a voodoo museum inside the festival??? God, I wish. But this tourist destination spot is a not-miss when you're living it up in New Orleans. This museum displays voodoo artifacts and ritual objects, such as altars, candles, dolls, and paintings, which can be considered to be creepy, but we like to think not. You can also accomplish a walking tour to Marie Laveau's tomb to learn more about the New Orleans Voodoo Queen. They also provide a gift shop that sells voodoo dolls and potions (depending on what you believe, it may or may not work).
"It Don' Madda"
At this point, you're probably confused at whether I'm going to stop talking about BUKU or what the hell am I trying to convey for an "I". Well, in New Orleans, they have their own language as there is a tone, a lilt, and a slang to the language which is distinct to the city and reflects its ethnic heritage. As most of them are probably related to food, the people of New Orleans give meaning to and pronounce certain words in different ways. With this particular saying, for instance, it translates to "It Doesn't Matter", and we've definitely heard that saying in many of our favorite songs. Will you hear it throughout the weekend? Perhaps. At the festival? Potentially. One can hope so.
J. Worra
Someone get me a fan because this set is gonna be H-O-T. J. Worra's sets hold a distinct vibe, as her swagger really takes over the crowd. As well as remixing tracks for GRiZ, Gryffin, Kaskade, and Deadmau5, the technical tones that she showcases carry all the way over to her fashion and art as well… which means you can expect one hell of a performance this year at J. Worra's BUKU set.
KennyHoopla
KennyHoopla provides a signature indie rock and pop-punk vibe, while also incorporating elements from new wave and dance music. His primary hits include "How Will I Rest in Peace if I'm Buried by a Highway?" and "Estella", with much more new music to come. Considering how he incorporates dance, indie, and pop-punk into his music, you can only imagine that his Buku set is going to be incredible.
Lane 8
Ahhh, Lane 8. He doesn't need an introduction to know we love him. But I'm still going to give him one. There is just something about his harmonic and melodic creativity that just aligns so well. His music, indeed, takes you to paradise and the unknown simultaneously. As a leading force in the melodic house scene, Lane 8 has played at iconic venues and shows around the world, such as Red Rocks and Brooklyn Mirage. Can you just imagine what he's going to show us at Buku? I can but also can't.
Mersiv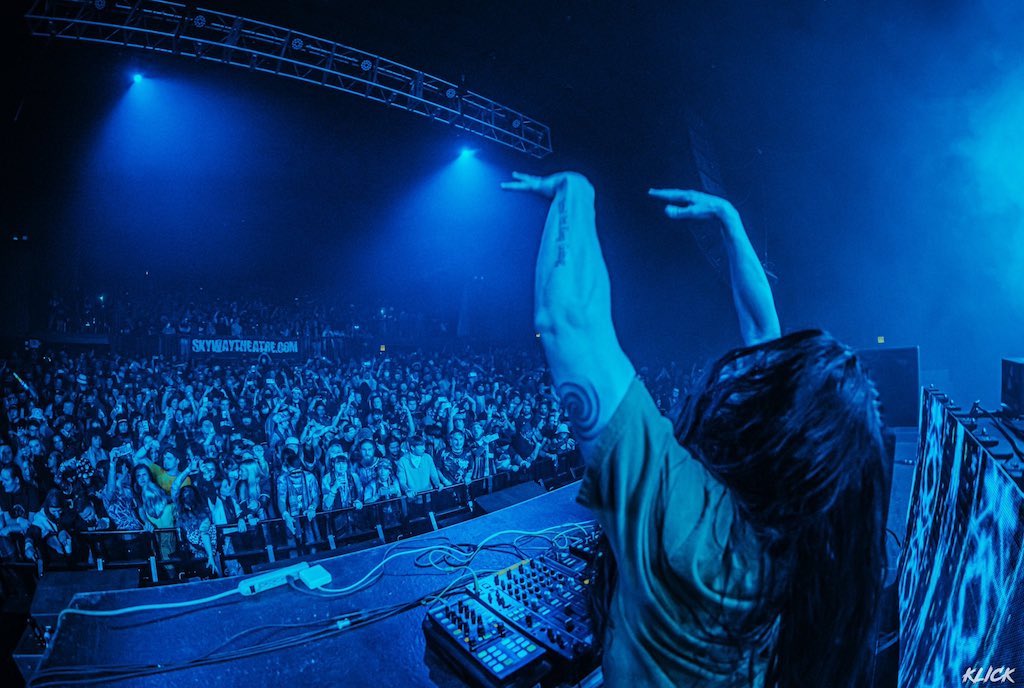 One of the modern innovators and trailblazers in electronic music today is Mersiv, who aims to bring people together with his inventive and experimental sounds. He presents his music as a platform to put his distinctive imprint at the forefront of experimentation, derived from a range of personal experiences. His live sets can definitely second this. Be sure to catch him at Buku, as his performance will take you to another level that you never realized was there.
Neno Calvin
Based in New Orleans, Neno Calvin employs not only a relaxed but also a combative style of rhyming in his music. His lyrics draw you in for more, as he presents a fluid flow in both his music and performances. You definitely need to catch his set at Buku because he's a name you're going to be seeing all around in the future.
Odd The Artist
If you look at the lineup and see the small white text, you can see Odd The Artist. We believe in supporting every artist, especially up-and-comers. Think about it, if we compiled a list that just lists the headliners we all know, it wouldn't make a list very unique. Anyways, go check her out on Spotify, she has some pretty alluring beats and flows going on.
Porter Robinson
Okay, I know this looks hypocritical that I was talking about featuring less big artists and then featuring no other than Porter Robinson. Porter, however, needs to be talked about. He just gives us that certain "Shelter", right? Bad joke, but anyways, his production and lyricism make us think of aural landscapes and places that we've always wanted to adventure off to. His music has the power to bring people to light, and his live performances can definitely align with that same effect. His set at Buku is going to be absolutely magical, as it will definitely take you to a different world.
French [Q]uarter
New Orleans' French Quarter is known for its vibrant nightlife and elegant architecture. It is an area dominated by jazz clubs, Cajun restaurants, and wild bars serving potent cocktails. Additionally, there are quieter streets that lead to the French Market where gourmet food and crafts are sold, and to Jackson Square where street performers perform. Whether you plan on staying in the area or just visiting during your Buku adventure, you best believe you're going to have a solid good time.
REZZ
Hypnotizing. Space mom. That's all you need to know.
$uicideboys
New Orleans group, $uicideboy$ emerged from the underground and fused hip-hop with punk and occult aesthetic that's as appropriate for graveyards as it is for clubs. Their official debut full-length, I Want to Die in New Orleans, was released in 2018, and in addition to earning many gold records, they topped charts around the world. They also produce certain energy while they perform and it's just absolutely intense and intoxicating (in a good way). Prepare to have your world rocked at their Buku set.
Tame Impala
Tame. Impala. That is all. And he's my absolute favorite.
Kali [U]chis
Her last name starts with a U, so we'll just roll with it. Kali Uchis' music elevates you on a whole other vibration, especially with sexy collabs with Tyler The Creator, Thundercat, KAYTRANADA, and more. And her live sets are just something else. So go catch a vibe at her Buku set and come back and tell us how right we were.
Vince Staples
Vince Staples is a man and legend of his own. In today's hip-hop scene, he stands out both for his sound deeply rooted in his west coast roots and the message he conveys. In this way, Staples' music is both self-aware and socially aware while also comical as the success of Prima Donna and Summertime '06 sets the tone of his artistry and what is about to come. Prepare for a wild ass time at his Buku set, as his stage energy projects more uniquely than others.
Wreckno
Wreckno has a personality and sound that you cannot say no to. You definitely know him with his song with GRiZ, "Medusa"… it makes us all feel some type of way, let's be real. Everyone loves him so much that Paper Magazine talks about how he confiscates the thought of competition by putting queer empowerment first. As one of the biggest rising producers, we can't wait for all them ass shaking at his Buku set.
Okay, we might as well change the title to "The ABW's of BUKU Music + Art Project", but either way, I hope you found a little inspiration to add to your festival trip. As you take in New Orleans' beauty and culture, you are bound to be blown away by some of the most eye-opening and breathtaking musical displays and artwork you have ever seen. This festival offers a lot of freedom within its music and art so if you don't leave the festival with a mind full of inspiration, you clearly didn't do BUKU the right way.