A 30-year-old woman who claims she had an extramarital affair with ex-Fox News Anchor Ed Henry says he hired a private investigator to silence her from exposing their sexual jaunt back in 2015, of which Henry was still Chief White House Correspondent for Fox News.
In a bombshell exclusive interview with True Hollywood Talk, the woman brought the latest revelations about Henry, revealing herself on the record as Roxie Marroquin. True Hollywood Talk reviewed text conversations, photos, and video clips which Ms. Marroquin exclusively provided. The ex-Fox News anchor repeatedly sent graphic and threatening messages to Ms. Marroquin.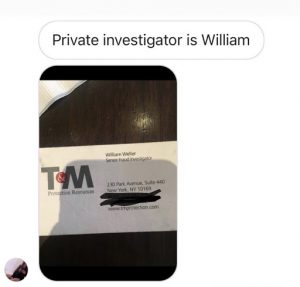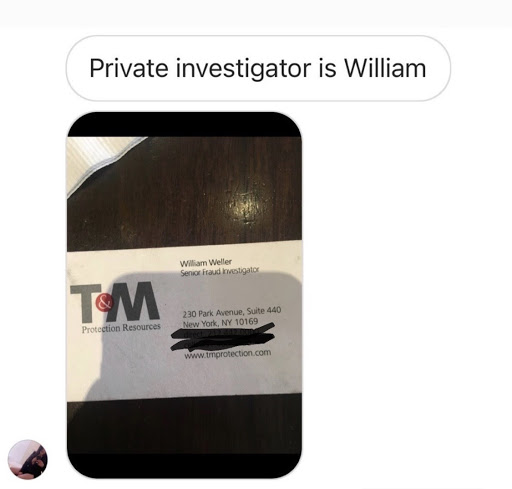 Marroquin, a single mother to her now 10-year-old-son, has kept quiet for five years out of fear for her and her son's safety, after allegedly being instructed by William Weller, a Senior Fraud Investigator with T&M Protection Resources, who she claims was hired by Ed Henry, to silence her. 
"I have nothing to hide…Ed Henry is a sexual predator. I do know that he preys on girls who are very young and very impressionable," Ms. Marroquin said.
Ms. Marroquin first contacted me on October 16, 2020, through direct message on Instagram, alerting me that she wanted her story out there, but "…when [she] tried coming out in 2016, [Henry] sent a private detective while [she] had lunch with [her] son to threaten [her] from exposing his sexual misconduct."
Five years ago, Ms. Marroquin approached In Touch Weekly to share her story, to which they agreed, offering her $6,500 for the story (including photo evidence), only to later retract its agreement stating, "it might have been easier if [she] had come forward sooner." 
The emails Ms. Marroquin provided above, coincide with Henry telling Ms. Marroquin, that he would not only "deny the story," but "would go to the magazine to push back hard." The then-Chief White House Correspondent for Fox News asked Ms. Marroquin to swear via Snapchat to not release any images from their August 2015 sexual escapade.
Back on August 1, 2015, Ms. Marroquin, then 25, appeared on Henry's radar because she was dating a colleague of his at Fox News, inspiring Henry to reach out to her in a private Twitter direct message. Ms. Marroquin told True Hollywood Talk that she had never met Henry prior to him pursuing her:
"I had never met him before…I knew he was the Chief White House correspondent [for Fox News] at the time. I didn't exactly know what that all meant, because I wasn't in politics whatsoever."
It all began, according to Ms. Marroquin, with Henry sending her a smiley face in a private Twitter message, shown below: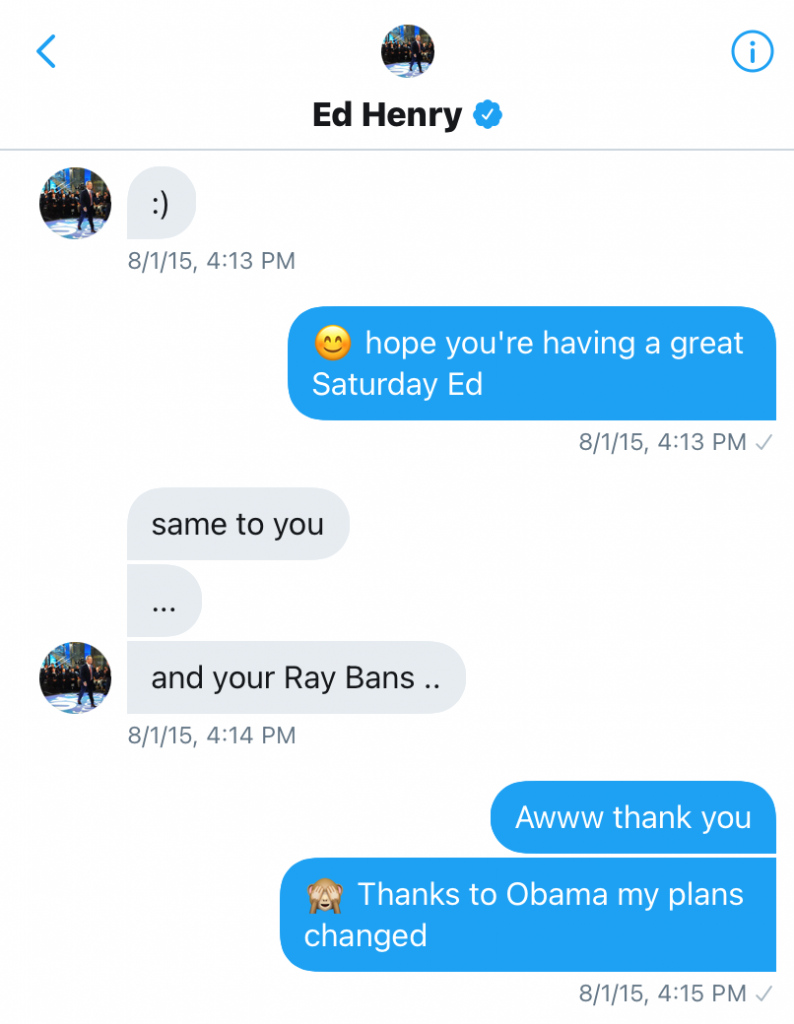 Ms. Marroquin revealed to True Hollywood Talk that she was trying to seek a mentor in the media industry. During that same conversation, Ms. Marroquin asked Henry to "meet up…just as friends of course," and that "maybe [he] c[ould] teach [her] a few things about the industry."

"I knew that he could mentor me in a way…I wanted to get into the media industry, so I asked him for some help…
"He then started commenting on a couple of my pictures, saying that I had a 'tight body.' He asked about the person I was dating, and he was very blunt. [Ed Henry] said that for the person's age [of the man I was dating], I must have given him amazing sex." 
— Roxie Marroquin
Throughout the conversation, the two discovered they both were going to be in Las Vegas at the same time. Henry, who was in Vegas "playing a fantasy camp with NBA guys at Team USA," asked Ms. Marroquin if he "should stay another nite," as shown below:
On August 12, the following day, Henry proceeded to ask Ms. Marroquin "what she wanted here," to which she replied "friends, silly. That's allowed, right?"
Henry said the only way they would be able to meet up is if Ms. Marroquin came straight to the Wynn Hotel in Las Vegas, but only if she "really really want[ed] to be friends….really really good friends," as shown below.
He then proceeded to give Ms. Marroquin his cell phone number, which we were provided, but have chosen not to release.
Mr. Henry and Ms. Marroquin Meet in Las Vegas
Ms. Marroquin told True Hollywood Talk she met Henry at the Wynn Hotel in Las Vegas in August 2015 where they had drinks. Their conversation allegedly transitioned into Henry saying, "…let's go back to my room because I don't want people to recognize me," Ms. Marroquin said. Agreeing to his request, she followed Henry back to his suite, where he allegedly proceeded to "touch her breast and vagina."
Henry allegedly immediately proceeded to the bathroom of his suite at the Wynn, where he asked Ms. Marroquin "if she wanted to get comfortable."
"[Ed Henry] made me a bubble bath with Mr. Bubble. I remember this because it was a pink, big bottle of bubbles, which I found odd. I was honestly kind of afraid and frozen. I wasn't sure what to do in the moment. I felt trapped, in a way, like, 'oh man, did I give this person the wrong impression? What happens if I don't do this?' It was a lot of emotions. So, I ended up getting in the bathtub. Fully nude. How this happens to a 25-year-old, I can't explain, besides fear of rejecting him," said Ms. Marroquin.
According to the now 30-year-old woman, Henry then "sat on the edge of the tub for maybe two or three minutes, and then proceeded to get naked and in the tub…he kind of just start[ed] touching my breast and vagina. He asked me to touch him, which I did."
After the two spent the evening together at the Wynn Hotel, Henry left the following morning. Soon thereafter, Henry allegedly began to panic after learning that Ms. Marroquin was ready to expose their one-night fling to the tabloids, as seen below:
Agreeing to Henry's demands, Ms. Marroquin met Ed Henry at the Washington Hilton in Dupont Circle in Washington, D.C.
"We met for breakfast. I sat down and put my phone down. [Ed Henry] made sure I wasn't recording the conversation. He asked me about In Touch Weekly and how much [money] they were offering me. I have no idea how he found out. But, he said that he could give me enough…he was Ed Henry, the Chief White House Correspondent for Fox News; I didn't think he wanted another scandal. I'm sure he knew that what he had done was wrong. I was a 25-year-old kid, and he was in his late forties, early fifties."
Ms. Marroquin, who did not record their encounter, says she simply "wanted the situation to be done and over with." Mr. Henry then allegedly asked Ms. Marroquin to meet him in one-week's time at the (now closed) CIRCA at Dupont, a block away from the Washington Hilton.
"I think he was alluding to [giving me] a form of payment, to pay me off. Hush money is what we would call it, right?….it was a friendly conversation, just very friendly, nothing, you know? I wanted to end on amicable terms," said Ms. Marroquin.
"[Ed Henry] texted me 'I'll see you soon.' That was all. And he never showed up. Instead, he sent this private detective to scare me. It caused me so much emotional distress."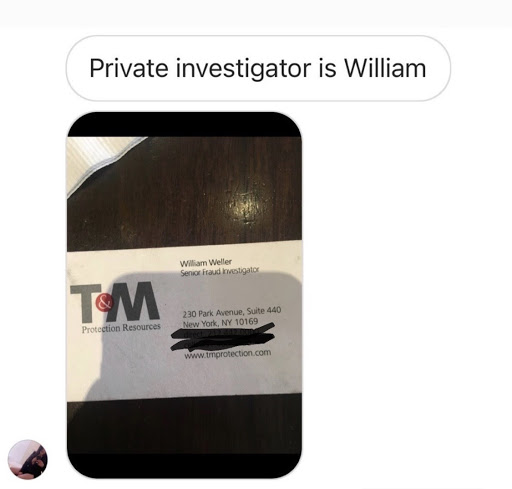 On May 10, 2016, Ms. Marroquin and her six-year-old son were allegedly approached by William Weller, a Senior Fraud Investigator at T&M Protection Resources, who Ms. Marroquin claims was hired by Ed Henry.
"…[Ed Henry] texted me saying, 'I'm here,' and I said, 'okay, I'm sitting down.' That's when this random guy sits down across from me and my six-year-old son. [The private investigator] said that I am blackmailing his friend, and they will press charges against me."
Ms. Marroquin, who had never met Weller, felt threatened by the presence of the unexpected private investigator Ed Henry allegedly hired to silence her. 
"I was so scared for my safety and for my son's. So, I paid for the meal, grabbed my son, and took an Uber to the safest place I could think of—The White House."
After arriving at The White House, Ms. Marroquin spoke with a nearby uniformed Secret Service agent for approximately 30 minutes, she claims, after informing him that "somebody was following [her]."
She revealed to True Hollywood Talk that her now 10-year-old son occasionally will ask "do you remember that day somebody was following us, so we went to that White House? He still remembers the traumatic incident to this day, Ms. Marroquin claims.
Due to the serious, ongoing sexual assault and harassment allegations that continue to pile up against the disgraced former Fox News personality, Ed Henry, Ms. Marroquin now feels it's safe enough to tell her story and refuses to live in fear.
DISCLOSURE:
At the beginning of this recorded interview, Ms. Marroquin told me that in no way was she forced to share her story, or otherwise coerced to speak with me. Ms. Marroquin gave me permission to record our conversation and to release all relevant images in hopes of being able to share her story.