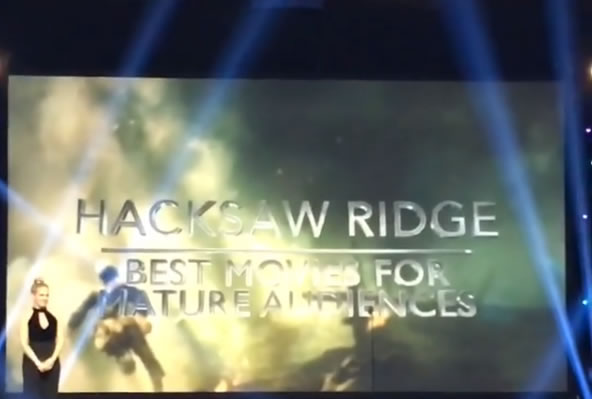 Awards season in Hollywood celebrates the many facets of movie making in Hollywood.  The PGA (Producers Guild of America) gives awards to its producer members, SAG (Screen Actors Guild) gives awards to Actors and the Oscars give accolades to Actors, Producers, Directors, Writer and other people involved in movie making.
The Movie Guide Awards give awards to films and filmmakers that promote positive, redeeming, uplifting and faith-based messages to their audiences. Movie Guide is a TV show, radio show and internet resource. The TV show is internationally broadcast, cablecast and satellitecast. The MOVIEGUIDE® radio program reaches more than 21 million monthly listeners in the USA and it is carried by ten countries around the world.  Every year at the Beverly Hilton Hotel the Movie Guide holds its awards show where it awards the best family-friendly movies and tv shows of the previous year
In the past years popular movies such as Frozen, Iron Man 3 and Captain America: The First Avenger have won awards.  Celebrities like Jennifer Lawrences, Andy Garcia, Bill Engval, Dolly Parton and Nick Jonas have seen walking the Red Carpet at the awards show.
This year a movie about WWII American Army Medic Desmond T. Doss, who served during the Battle of Okinawa and refused to kill people because of his faith.  Doss become the first man in American history to receive the Medal of Honor without firing a shot.  Directed by Mel Gibson the movie won "Faith & Freedom Award"
The Winners of the 2017 25th Annual Movie Guide Awards
Best Movie For Families – Miracles From Heaven
Best Movie For Mature Audiences – God's Not Dead 2
Epiphany Prize For Inspiring Movies – The Young Messiah
Epiphany Prize For Inspiring Television – Dolly Parton's Christmas Of Many Colors: Circle Of Love
Faith & Freedom Award For Movies – Hacksaw Ridge
Grace Award Actor – Adam Greaves-Neal, The Young Messiah
Grace Award Actress – Melissa Joan Hart, God's Not Dead 2
Grace Award Actor For Television – Devielle Johnson, A Time To Dance
Grace Award Actress For Television – Faith Ford, The Bridge Part 2