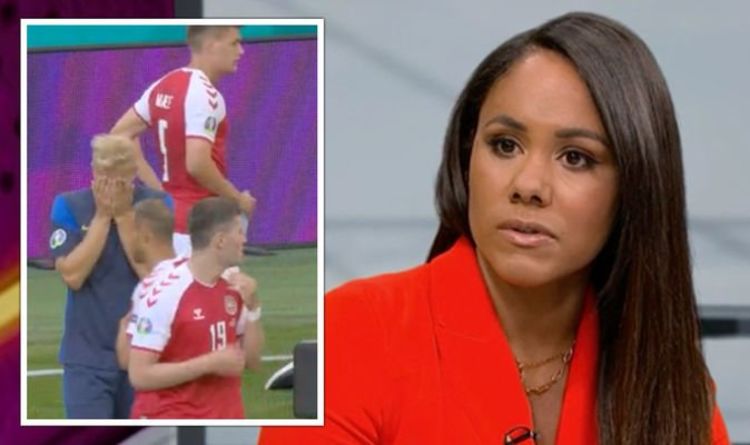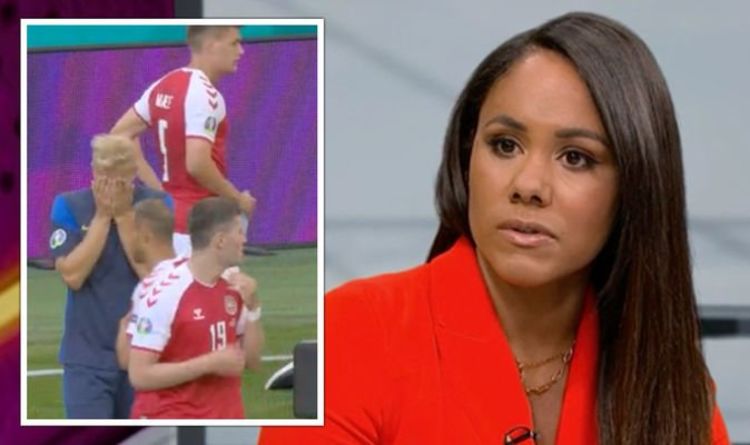 The game between Denmark and Finland was brought to a halt when Christian Eriksen collapsed on the pitch and medical ran to help him. The distressing scenes were discussed by Alex Scott and Gary Lineker as fans waited for news about Eriksen's condition.
Gary remarked: "Obviously it's impossible to get any update, any news at resent. We'll try and bring it to you if we get any. Let's hope it's good news.
"Alex, I mean, it's very difficult to know what to say isn't it, except let's hope he's okay."
"Like Cesc [Fabregas] said, I'm already getting emotional, I can't believe and everyone at home, what we're witnessing" Alex replied.
"Like you said Gary, I think football totally goes out the window right now.
READ MORE: GB News POLL: Is the BBC TV licence now less value for money?
He was put into the recovery position before doctors began CPR.
Eriksen's wife Sabrina was seen rushing to the pitch and was consoled by his team mates.
The BBC team reporting on the incident were praised online for their reaction to Eriksen's collapse.
One viewer posted: "Credit to Gary Lineker, Alex Scott and the rest of the studio, that must have been incredibly hard to be on air and they were measured and well spoken."
Published at Sat, 12 Jun 2021 17:17:00 +0000
Alex Scott fights tears as she reacts to Christian Eriksen collapse 'I can't believe it'