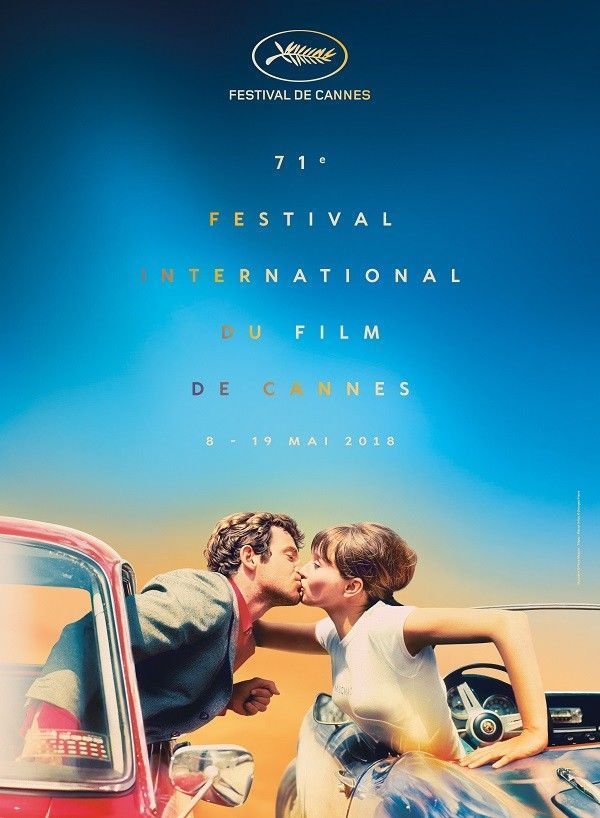 The 2018 Cannes film festival was held from May 8 – May 19, 2019 in Cannes France.  Founded in 1946 the Cannes Film festival is held annually in Cannes France.  The festival usually held in May at the Palais des Festivals et des Congrès.
This year the official festival poster featured Jean-Paul Belmondo and Anna Karina from Jean-Luc Godard's 1965 film Pierrot le Fou.
It is the second time the festival poster was inspired by Godard's film after his 1963 film Contempt at the 2016 festival. According to festival's official statement, the poster is inspired by and paid tribute to the work of French photographer Georges Pierre.
Solo: A Star Wars Story premiered at the Grand Amphitheatre Lumiere at the Palais des Festivals with a host of Storm Troopers greeting stars on the red carpet. The film directed by Ron Howard received a four minute stand ovation.  The new Han Solo Alden Ehrenreich walked down the carpet with Chewbacca and director Ron Howard with the rest of the cast that included Donald Woody Harrelson, Thandie Newton, Paul Bettany, Phoebe Waller-Bridge, Joonas Suotamo and Emilia Clarke.
http://gty.im/964458568
The movie Shoplifters directed by Hirokazu Kore-Eda won the coveted Palme d'Or.  The movie was about a dysfunctional band of outsiders is united by fierce loyalty and a penchant for petty theft. When the young son is arrested, secrets are exposed that upend their tenuous, below-the-radar existence.
http://gty.im/960304000
BlackKkKlansman a movie by Spike Lee about Ron Stallworth (played by John David Washington)  won the Grand Prize.  In the movie an African American police officer in Colorado Springs, Colorado manages to infiltrate the Klu Klux Klan over the phone.  He then sends in his Jewish coworker when he in person meeting is set up.
The Winners of the Festival are listed below:
Palme d'Or
Shoplifters, dir: Hirokazu Kore-Eda
Grand Prize
Spike Lee, BlacKkKlansman
Jury Prize
Nadine Labaki, Capernaum
Special Palme d'Or
Jean-Luc Godard, Image Book
Best Actor
Marcello Fonte, Dogman
Best Director
Pawel Pawlikowski, Cold War
Best Screenplay
TIE
Alice Rohrwacher, Happy As Lazzaro
Nader Saeivar, 3 Faces
Best Actress
Samal Yeslyamova, My Little One
Caméra d'Or
Girl, dir: Lukas Dhont
Short Film Palme d'Or
All These Creatures, dir: Charles Williams
Special Mention: On The Border, dir: Wei Shujun