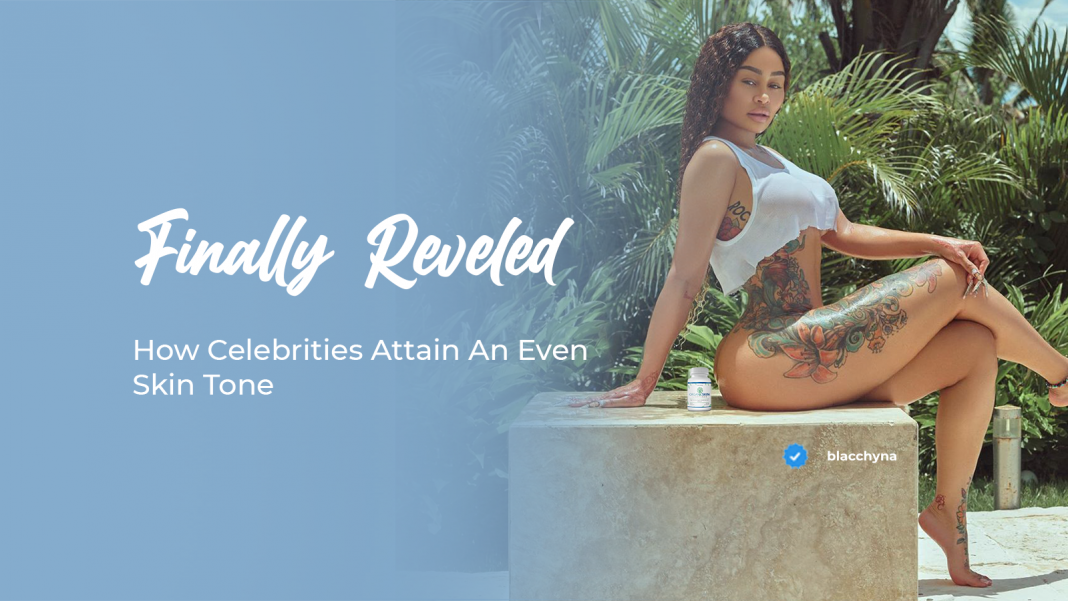 Celebrities Are All Over Natural Skin Lighteners, But One Brand Has All Of Them Flying To Beverly Hills
One of the most popular trends among celebrities is skin lightening or bleaching. But, many of the skin lightening options available to celebrities are far above our budget. These treatments include lasers and intravenous infusions of glutathione. But there's one company that not only caters to celebrities but all women around the world. Plus, they do it in a healthy, non-invasive manner. This company is Organic Skin Lightener. 
Organic Skin Lightener (OSL) is a company that's based in Beverly Hills. Celebrities have been flocking to their shops to get treatment from their top surgeons and dermatologists. Their lightening creams are a favorite for top celebrities such as Hazel E., Blac Chyna, and Jodle Joe. OSL products have also appeared in top magazines, including OK, InTouch, and Life & Style. 
OSL offers a variety of lighteners, from creams to pills, soaps, scrubs, lotions, sunscreens, plus so much more. The company also plans to release the world's first skin lightening gummies. 
Why Celebrities Use Lighteners
Most celebrities use lighteners to get fairer skin. Glutathione is the most effective treatment for safely lightening the skin by reducing pigmentation and evening out the skin. Glutathione has been used to treat various diseases such as liver disease, Parkinson's, heart disease, and prevent cancer. Glutathione is extracted from plants or animal extracts. It exists in our bodies at deficient levels. The team at Organic Skin managed to combine high volumes of glutathione with other powerful lightening ingredients such as Kojic Acid, Vitamin E, Green Tea, Hyaluronic Acid, and Active Retinol. This powerful combination makes OSL the most effective skin lightening product in the market. 
Why Lighten your Skin?
Lightening creams are effective in dealing with flaws that both men and women suffer from, such as blemishes and dark spots. This skin issue is caused by hormonal changes or frequent exposure to the sun. When you use the OSL cream, you get rid of dark spots safely. 
One common problem that most people face is skin discoloration. This condition is caused by melasma and can cause low self-esteem and anxiety. Skin flaws such as freckles and acne scars are also challenging to treat because most mainstream products have harmful ingredients that exacerbate the skin condition. 
Thousands of women have a history of breaking the bank, looking for products that will give them a flawless, radiant look. But, traditional skin lightening products often contain harmful ingredients such as mercury and hydroquinone. These ingredients are detrimental to your health and can lead to organ failure, skin cancer, and many other risks. Harmful products entered the beauty market when powerful corporations began flooding the market with cheap but dangerous products. 
But there is no need to despair. The truth is that there are brands that care for the well being of their clients. OSL is located in the most demanding location in the world. They set up shop in Beverly Hills! This is the one place where they could not risk selling sub-standard products. 
Lifelong Beauty 
One issue with most mainstream products is that your skin goes back to normal once you discontinue use. But this is not the case with OSL. The complex formula in their brand ensures that your skin remains flawless, radiant, and healthy for the long-term. This does not mean that you should discontinue using sunscreen. The company's team advises its clients to take advantage of their sunscreen as it contains glutathione. This is the only sunscreen in the market that includes the right ingredients necessary to keep your skin safe and healthy.
Organic Skin utilizes harmless products. Instead of using chemicals to hamper skin, the company uses a natural antioxidant called glutathione as it is powerful enough to hinder melanin synthesis actively. All their customers have so far reported noticeable changes within weeks. 
So, now you know the secret to flawless skin. Don't waste a single cent on cheap, chemical-rich products. When you use Organic Skin, you will be saving yourself the stress of looking for other products to heal the side effects of the cheap products. 
You deserve to live out your life with the best version of yourself, and Organic Skin is your best solution.