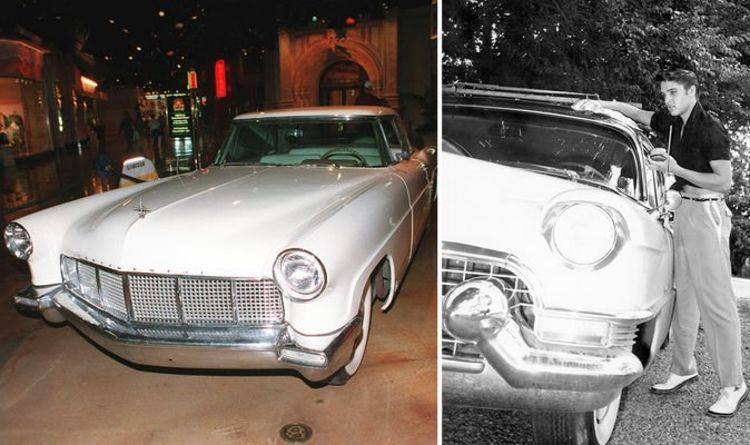 Elvis Presley's Lincoln Continental SECRETS shared in new Graceland video – WATCH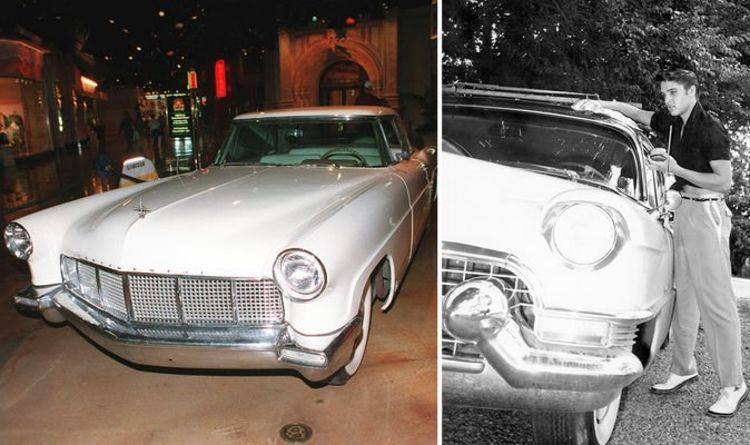 A number of Elvis Presley's amazing cars are on display at Graceland in Memphis, Tennessee. And now archivist Angie Marchese has shared some secrets concerning The King's famous Lincoln Continental. A new post on the official Elvis Instagram page reads: "Angie is back inside Presley Motors! Angie is here again to tell you about one of Elvis' cars that has a very cool story behind it."
The Graceland archivist said: "Elvis was driving a Lincoln on tour in Miami when the fans found him at the hotel.
"And they decided they were going to leave messages on his car, which included everything from using lipstick to pens, to whatever they could find to scratch messages in.
"So Elvis wakes up the next day, goes out to the car and obviously cannot drive it.
"It's completely covered in love notes and graffiti from the fans."
READ MORE: Elvis Presley's purple Cadillac SECRETS shared by Graceland – WATCH
Angie continued: "So he goes to the closest dealership, which happened to be a Mercury dealership, where they were actually selling Continentals.
"Now this was before Lincoln owned the Continental brand.
"So Elvis traded in that car that had all of the messages on it to the dealership for this Continental Mark II. At the time this was one of the most expensive cars that you could buy.
"It actually cost more than a Rolls Royce, [which were] averag[ing] at about $6000."
The Graceland archivist said: "It's got a really great story because Elvis buys this car, not here in Memphis, but in Texas.
"He actually flies him and his girlfriend at the time, June Juanico, from Memphis to Texas, under the name Clint Reno from Love Me Tender.
"And then buys this car in Houston and then drives it back here to Memphis. There's a couple of unique things about that story.
"Firstly, the car that he purchased was white. And when he brought it back here to Memphis, he took it to a local dealership."
She added: "The rumour is he actually took a handful of grapes smashing them on the hood of the car and said, 'This is the colour that I want it.'"
"He also had some extra-chrome added to it to give it that little 'pop'. Like this car really needed a 'pop'…
"The day the painter delivered back to him, they say that they sprinkled grape cool-aid on the floorboards of the car so that it even smelled like grapes.
"Elvis used this car extensively. Probably one of the most famous pictures of him driving through the front gate of Graceland in 1957 is him in this car with two fans taking photos of him. This car is a beast!"
Published at Mon, 28 Sep 2020 12:31:00 +0000