AUSTIN, TX — August 6, 2021 — Mechanophilia, possessed nuns, possessed children, hallucinations, ghostly hauntings, time travel, exorcism, cerebral expansion, heavy metal, friendship, yakuza, canine trauma, multiple serial killers, coprophagia, cannibalism, tender embraces, vampires, copious bodily fluids, superheroes, warm laughs, disco-dancing firemen and more, more, more! 
Yes, this can only mean one thing: Fantastic Fest is back.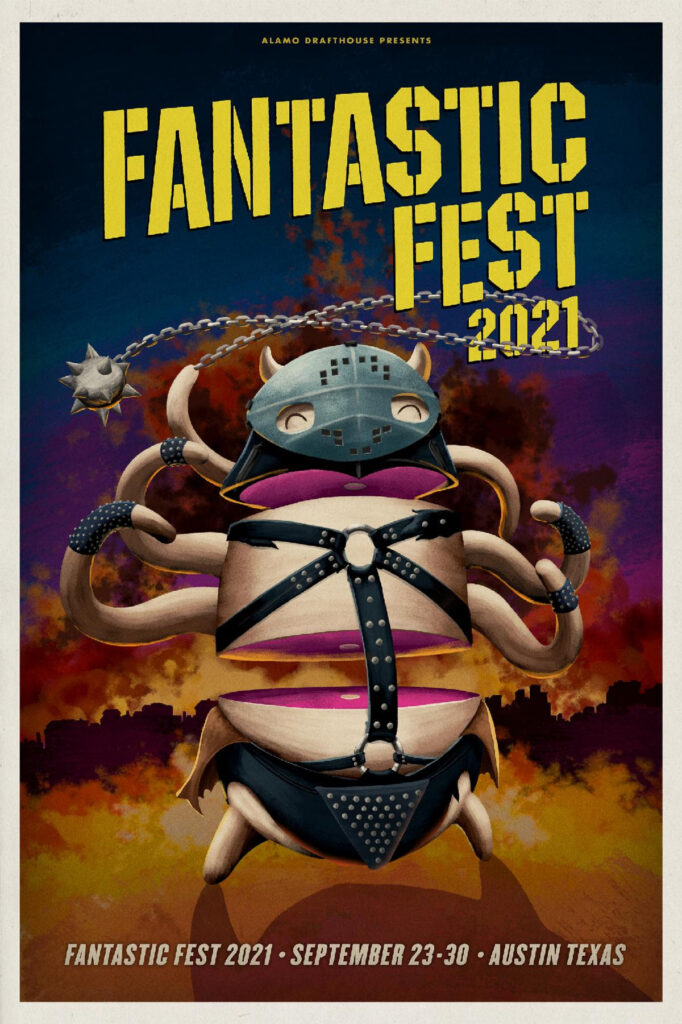 After 18 months of isolation and uncertainty, this year's "Post-Apocalyptic" edition of Fantastic Fest is here to remind us of the joy of cinema, community, and weird and wonderful movies.  The first wave of films is headlined by the truly extraordinary 2021 Palme D'Or winner TITANE from PARASITE distributor NEON. It might not have seemed possible to top her staggering debut RAW (Fantastic Fest 2016), but Julia Ducournau has somehow done just that. A poignant study on loneliness, isolation and gender identity wrapped in a constantly surprising world of body horror, muscle cars, violence, and disco-dancing firemen.
Fantastic Fest is so proud to share this singular vision. Fantastic Fest 2021's opening night party will be dedicated to the instantly iconic visuals of TITANE. Muscle cars will be on hand, and metallic-themed or "French firefighter" costumes are highly encouraged. TITANE opens in US cinemas on October 1. 
Mondo Records is also celebrating its 10 year anniversary at Fantastic Fest this year and will be on-hand with a very special TITANE soundtrack giveaway ahead of the official Mondo vinyl release later this year. Additionally, on opening night there will also be a Mondo Records pop-up featuring rarities from the vault. 
Additional studio premieres include A24's LAMB, winner of the Un Certain Regard Prize of Originality at Cannes (opening in theaters on October 8); BINGO HELL, part of the Amazon Studios and Blumhouse Television "Welcome to the Blumhouse" series; and Netflix's THE TRIP, starring Noomi Rapace in a delightfully twisted Norwegian mind-bender. The first wave of Fantastic Fest films features 39 titles, showcasing world, US and regional premieres, and two classic film sidebars. 
"We're thrilled at how the program is coming together," says Fantastic Fest Director of Programming Annick Mahnert. "For this Post-Apocalyptic edition, we've scoured the four corners of the globe to find weird, silly, terrifying, entertaining and fantastic movies directed by established and emerging filmmakers. Opening this year's fest with a Palme d'Or winner from a Fantastic Fest alum is a real treat. As always, we also try to find unforgettable repertoire titles, and we couldn't be happier about hosting the US Premiere of the new restoration of Andrzej Zulawski's POSSESSION. This first wave is but the tip of the iceberg and we cannot wait to unveil the rest of the program to y'all!"
For more information on the Fantastic Fest, please click here.