In the final season of HBO's original series, Game of Thrones, the world saw product placement go absolutely horribly wrong, but oh so beautifully right.
In this case, a $250,000 mistake put more coffee in Starbucks' cup than a year's worth of human-involved public relations. Remember when that Starbucks cup randomly appeared in the "The Last of the Starks" episode of Game of Thrones, sparking a viral Internet sensation of misplaced branding? While funny, yet confusing, that was a very important lesson for Hollywood.
For those who are not fans of GOT, what appeared to be a modern-day "Starbucks" coffee cup appeared in a shot during the series' final season. Actress and star, Emilia Clarke, who plays dragon queen Daenerys Targaryen, was blamed by many viewers for the prop, as it was sitting on a table right in front of her character. It was eventually confirmed by HBO that the misplaced coffee cup was from the set's craft services, which serves drinks and food to the cast and crew.
First, think about how wonderful that was for Starbucks. Even though it's safe to assume that Starbucks didn't exist in Westeros or the Seven Kingdoms at that point in time, Starbucks came out a winner, having not paid a single penny for what appeared to be its iconic coffee cups to mysteriously enter into a scene of Thrones. By the way, it wasn't an actual Starbucks cup, but the general public assumed that because of the cardboard takeaway cup being front and center, it had to be Starbucks.
Second, while it was originally believed to be around $250,000 in free publicity, ended up being significantly larger in free publicity. Stacy Jones, the CEO of the marketing agency Hollywood Branded, which specializes in product placement, told INSIDER that Starbucks would have had to pay anywhere from $250,000 to $1 million for just one of its containers to be "graciously" left on that table in front of Clarke. Later on, metrics from another monitoring platform estimated that PR value was closer to $2.3 million.
"This had to be one of the biggest, and most positive, PR values in the history of advertising," Jones told Business Insider. Forever will the Google search "Starbucks Game of Thrones" be associated with one another. That's marketing you can't buy. 
The Bond Case Study
For 007 fanatics, the James Bond series is more than just a secret agent kicking ass and taking names. It introduced a concept that today, we take for granted as consumers: brand integration. 
The Bond works birthed the most exquisite and technologically advanced marketing strategy for luxury. Forget the films, and instead, look to the novels. They introduced brand after brand, ranging from Gordon's Gin, Moreland Cigarettes, and Bentley. Oh, and how could we forget the Aston Martin Vanquish? But why is this significant?
When it comes to James Bond and the luxurious eyewear, apparel, and stylish whips he drives, they are inseparable. You cannot have one without the other. And today, that is exactly why brand integration is so essential, that we almost look past it daily, as we are streaming.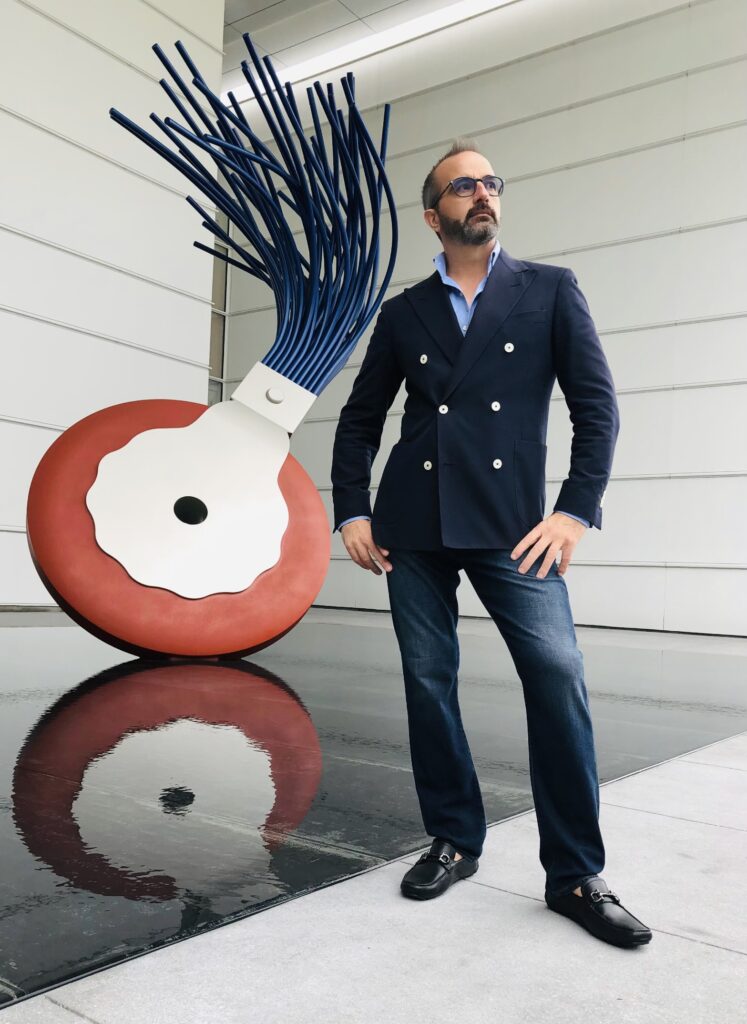 True Hollywood Talk spoke with renowned Hollywood brand executive, Lorenzo Rusin, on why after 25+ years in the industry, he still finds product placement so fulfilling and important to a work's survival.
"It's a really great question, because today with the ways in which we are absorbing content, primarily digitally, brands now have the ability to live on forever," Rusin told True Hollywood Talk. "Brands are forever immortalized in these works; a simple placement is all it takes, layered upon contract after contract."
When we think about product placement, especially for brands such as Starbucks, Audi, Gucci, Apple, and countless others, we don't think about the work that is required to also manage those brands. If Hollywood talent can have their own private branding managers, shouldn't these luxurious brands have their own private managers?
"Well, that's just it, they do," Rusin explained. "All the major brands, including fashion, are used frequently in works, and ones that you would typically read about or see in a magazine. They all have branding teams, from marketing, public relations, and others. And you have to, especially when companies own several others underneath it.
"When you place a product in a movie or TV show, you have to be tasteful," Rusin advises. "You can't just put a brand in. Two months ago, for example. I saw a movie, and it was a nightmare. I saw this product placement, which was terrible, because it was a salami or cold cut company, where the two individuals were sitting on the couch talking–but next to them, was this plastic container of salami next to them on the couch, which doesn't make any sense. Sometimes, you have placements that at times, aren't tasteful. You have to be realistic."
Rusin gave another example, this time where the placement revolves around a "hotel room" location. "You've been in a hotel room many times, so you know what it usually looks like. You wouldn't expect to see a plastic container of salami on the bed, but you may have other items, like a shopping bag. What I try to do is integrate specific placements in areas of the script. In this case, rather than having a shopping bag on the bed, I place it in the hands or on the arm of the actress/actor."
We asked the Hollywood media executive what he enjoys most when it comes to placing luxury items in films, to which he shared with us his affection for watches. As a watch aficionado, Rusin loves representing various watch companies.
"It's easier to place these products, because I know how to show the watch on-camera," he explained. "As you know, watches are used very frequently in films, in various ways. There are scenes in particular, where the placement of that watch is part of the action of that movie, helping the actress/actor accomplish a particular task necessary in fulfilling her or his role."
Just think back to Mr. Bond and the numerous collection of badass watches he always had around his wrist.
Rusin says he also enjoys working with automobile companies, boats, or airplanes. And finally, eyewear or sunglasses, which at times is more difficult. "There are some sunglasses companies, without revealing the brand itself, by just the design or some distinctions, you can pretty much guess the brand they are. I believe sunglasses are one of the easier placements you can do, and why? Think about it? Whenever you see a film or TV show, they always show the face of the actor/actress wearing it." Rusin, who travels internationally quite frequently, between the U.S. and either Europe or Italy, says eyewear is extremely to place in these works.
But at the end of the day, Rusin's day-to-day schedule is not just the glitz and glamour. It's definitely a grind, which requires commitment and dedication, with most days consisting of Rusin going to the gym and exercising to stay physically fit and mentally healthy. After his workouts, he spends a good chunk of his time on the phone with his clients, preferably over email and text.
"I'm a very motivated person," he says. "And the reason is, because I love what I do. I love the business. I'm very creative, and one of the reasons I love to do product placement, is because I like to see the end result; the idea. Whenever I have a product and come up with an idea, and often give tips to the directors, it's fun to see. I go to the office, to the film set, the studio–very ongoing.
But Rusin is also a father to two children, who both live with him. For individuals looking to become a branding agent or a product placement executive like Rusin, he encourages you to go work for a product placement company.
"The best thing is to work for such a company, and really show them your commitment. If you have a huge passion for entertainment and TV shows, it's a great business to be. It's not just about loving the particular film or TV show; you need to be extremely knowledgeable about the products, especially on the luxury side. Why? The luxury sector is the biggest sector you have, whether we are talking automobiles, boats, airplanes, eyewear, watches, etc. But if you're starting out, definitely apply and work for a product placement agency."