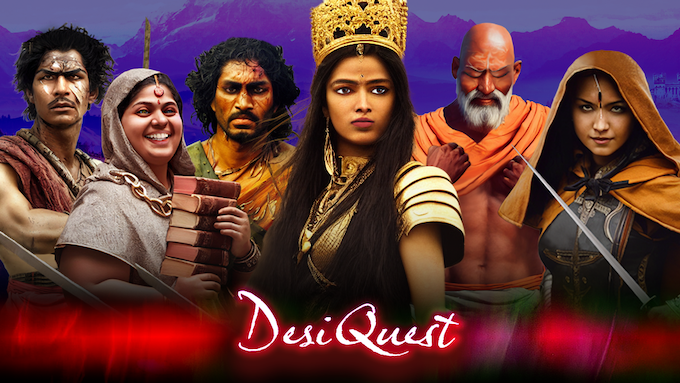 The comedy production company, EffinFunny, has long been celebrated for its focus on expanding representation in entertainment for marginalized groups. The team behind The Legend of Neil and Wizard School Dropout is now bringing audiences a new concept, DesiQuest, that touts an all South Asian cast.
The show's inspiration came from Jasmine Bhullar, known to Twitch fans as ThatBronzeGirl. After connecting with EffinFunny's Sandeep Parikh and sharing her vision for a D&D-inspired series, Parikh immediately signed on to help her vision come to life.
"Jasmine wanted to make a tabletop role playing game show, similar to the cult favorite Dungeons and Dragons, but inspired by South Asian mythos and traditions," says Parikh. "I was immediately energized by this idea that showcases the lore of our shared culture, rather than the Eurocentric concepts we're used to seeing in American entertainment."
"Being that this is the first of its kind with South Asians playing solely with other South Asians from across the diaspora, and digging deeply into character creation that will likely reflect their own experiences, this will end up being immensely emotional & cathartic," says Bhullar, who will be the Game Master and Executive Producer of the series. "But the cast being filled with improvisers will keep it digestible, fun and silly throughout."
No stranger in the TTRPG space, Bhullar has been seen on D&D live play series Critical Role, Dimension 20, and DnD Beyond.
The series is already in production with a talented cast confirmed. To take the series to the next level and produce it alongside their community, EffinFunny launched a crowdfunding campaign on Kickstarter this morning which has raised more than $20,000 in the few short hours since it went live. 
According to their press release, "they're calling on all Desis in the diaspora who want to see more of their own faces on screen, and to the TTRPG allies who want to help expand the horizons of the fantasy universes to include South Asian stories."
To support the project, visit the show's Kickstarter page.