This year's San Diego Comic Con (SDCC) was nothing short of exciting. Power Rangers alumni, Jason David Frank, known for his role as 'Tommy,' the Green/White Ranger in the Mighty Morphin' Power Rangers series, unveiled the four-minute debut trailer, alongside his daughter, Jenna Rae Frank, for their newest Kickstarter project, Legend of the White Dragon (LOTWD).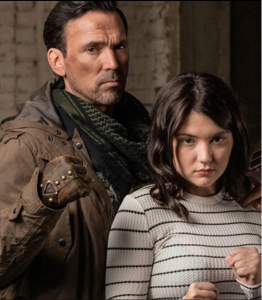 The film is a Power Rangers-styled project that seems to hint at Frank's daughter, Jenna, joining the Ranger realm as the newest Ranger.
Rumors have circulated for the past two years as to Jenna's role alongside her dad as a potentially new ranger. Well, now fans have a better idea as to what the Frank duo have been up to.
Both Jason and Jenna are seeking to raise $500,000 for the planned movie, which will unite several other fan-favorite franchise stars, such as Jason Faunt (Power Rangers Time Force), Johnny Yong Bosch (MMPR), Ciara Hanna (Power Rangers Megaforce), Chrysti Ane (Power Rangers Ninja Steel), and Yoshi Sudarso (Power Rangers Dino Charge).
Currently, Kickstarter has raised over $120,000 towards the project.
In the trailer, we see rebels asking Tommy to defend and fight against a mysterious figure in the Citadel of Angel Graves—believed to be possible Lord Zedd, or an evil Green Ranger. Tommy and his daughter (presumably Jenna's character), seem to be the city's only hope.
https://www.youtube.com/watch?v=LptJ6HQ70z8
Fans were extremely excited to see both Jason and Jenna at this year's SDCC, lining up to have their gear-signed and meeting the Ranger stars.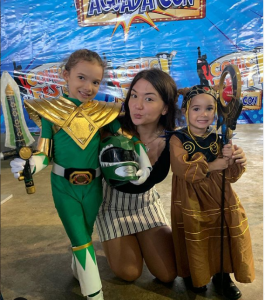 The Power Rangers alum and his daughter of recently been taking an active stand against online bullying, having recently accepted the #CYBERBYTE challenge, an anti-bullying movement started by internet attorney and Hollywood brand manager, Andrew Rossow.
They are the latest Power Ranger stars to join the movement, following Austin St. John (MMPR's Red Ranger), and Mike O'Laskey (MMPR's young Rocky, Red Ranger).