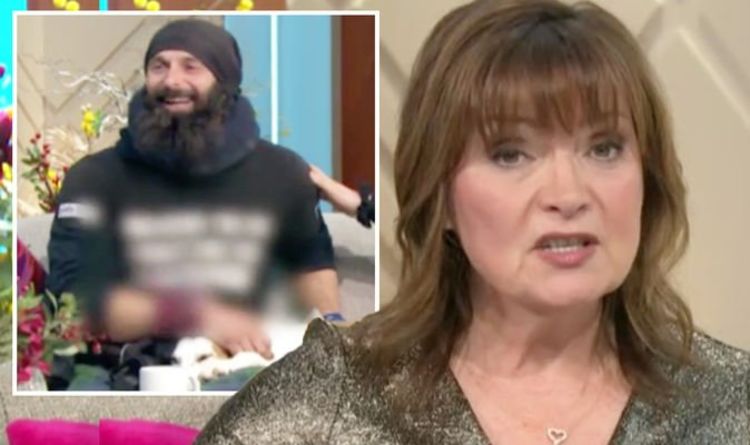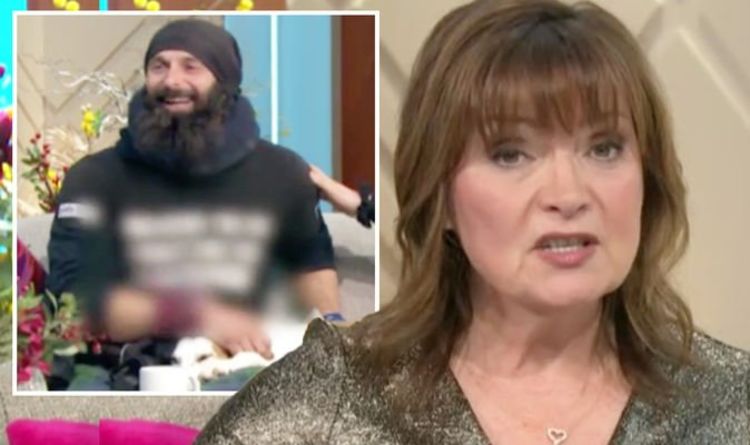 On Thursday morning, Lorraine Kelly welcomed former paratrooper Chris Lewis onto her self-titled ITV talk show to discuss all about his monumental fundraising efforts. Chris decided to walk the entire coastline of the UK for the charity SSAFA, an organisation that raises awareness and funds for those in the armed forces. However, many became distracted from the discussion in which Chris detailed his journey as well as how it led to him meeting his now-girlfriend as the message on his jumper was censored.
Chris, his girlfriend Kate and their pet dog joined Lorraine on the ITV show as they detailed their unlikely love story.
After hearing about Chris' fundraising efforts, his other half admitted she felt a desire to track him down and discover more about him.
The former paratrooper also detailed his journey from near-homelessness to charity hero as he discussed his life before taking on the monumental challenge.
When he first appeared on-screen the message "Walking the UK coastline for SSAFA" could be seen on his hooded top.
READ MORE: Steph McGovern addresses 'abuse' in BBC role: 'It was such a shock!'
However, as the interview continued, viewers spotted that the message had become censored and blurred.
And it didn't take long for viewers to express their outrage at the decision to censor the charity.
Twitter user @FlopsyPickle raged: "Why are they pixelating his jumper?! Wtf. It's a charity #Lorraine."
And @SofiaBSocial agreed: "Why would Lorraine's producers on @itv blur out someone's shirt that read 'walking the UK coastline for SSafa' after he raised money for the armed forces????? #lorraine."
A spokesperson for ITV explained: "In line with Ofcom rules on undue prominence, we are unable to feature specific logos for the duration of interviews. Unfortunately, these guidelines also apply to charities. However, Lorraine and Chris both referenced the charity on air during the interview."
During their discussion, Lorraine was keen to learn more about the relationship, as she probed: "How did you meet? How did you meet him, Kate?"
Kate revealed: "I was on my own sort of solo adventure on the Highlands, wild camping. And then it was the last night of my trip and I happened to make my way down these steps down to the bottom of a cliff and I saw this man – "
Chris then chipped in: "I like to tell a version where I was fighting a Scottish bear with a salmon."
The trio shared a laugh as Kate went on to delve further.
"Wasn't quite as heroic as that," she replied. "But yeah, I just saw this bearded, kilted man with wetsuit boots on and he captured my interest, I was immediately intrigued.
"And he was camping, he pitched his tent down there so I went down and I spoke to you only for about five minutes.
"Then I left and about 40 minutes later I decided to do a u-turn and come back."
Lorraine airs weekdays at 9am on ITV.
Published at Thu, 16 Dec 2021 09:59:00 +0000
Lorraine fans in uproar as paratrooper has armed forces charity jumper censored 'Baffled!'