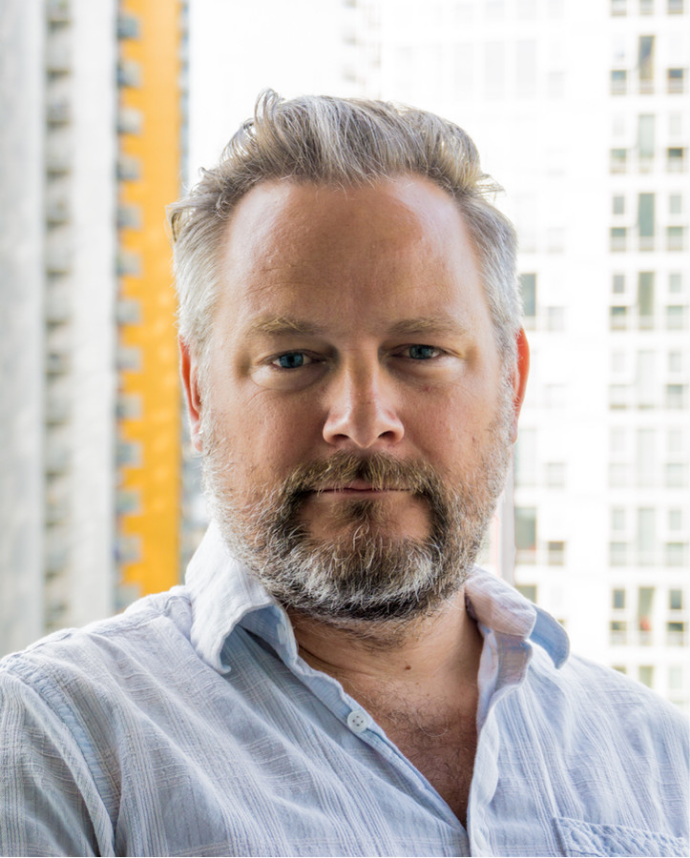 It can be a challenge for the multi-talented to focus on just one thing. This is true of the innovative Ollie Rankin whose creative mind and passionate spirit have led him on a journey of success in multiple fields.  Rankin is the CEO and Creative Director of Pansensory Interactive Incorporated. The company is involved with creating and producing interactive virtual reality narratives, content creation (VR/AR/MR/XR), consulting, and advising VR/AR startups in the education and entertainment sectors. In addition Rankin does on-set visual effects consultation and supervision, including for the TV series The Good Doctor and Altered Carbon.
Rankin is a highly experienced VR storyteller, public speaker, and VFX Supervisor living in Marina Del Rey, California. From an early age Rankin grew to despise social injustices and inequality. At only five years old he was involved in a march against the Apartheid system that was ravaging South Africa at the time. Later on, Rankin realized that he could use the powerful tool of virtual reality to combat bias and tribalism. Currently, he is working on a book proposing a new model for human society. Rankin believes this model will create a  more diverse, fair, and sustainable human society.
As a teen, Rankin discovered his love for computer programming and the creative industry. He went on to teach himself programming and attended The University of Auckland to study computer science. The young Rankin finished his university studies with first-class honors and joined Peter Jackson's Weta Digital. He got hired for his expertise in artificial intelligence and programming to work on the Lord of the Rings trilogy. For that project, Rankin was tasked with building virtual orc and elf brains and choreographing battle sequences.
All of this kickstarted Rankin's success in the entertainment industry he had just joined. His work with the new field of crowd and battle simulation opened up more opportunities the world over. Rankin quickly became the go-to man for studios in Japan, California, the UK, and Canada. 
Pansensory Interactive
When Rankin first began writing VR stories, the technology was not even out yet! Today, he has over 20 years of experience in his industry, 10 of them in VFX supervision. By 2012, Rankin was tired of telling other people's stories for a living. That year he founded Pansensory Interactive in Vancouver, British Columbia, Canada. The company's first product was a multiplayer mobile word game designed to be completely fair and to eliminate luck as a factor in the outcome. 
In 2015, Rankin re-focused on developing tech and original stories for VR. The pursuit of deeper involvement in VR technology took him to New York where he joined Uncorporeal, a pioneering startup developing volumetric capture technology for VR. The following year elections took place and the outcome caused him to return to his activist roots. At that point, Rankin wrote essays, political poetry, commentary, and engaged in community-building.
The year 2019 saw Downloaded, a hybrid live-action and interactive VR film that Rankin wrote and directed, premiered at the Venice Biennale. It was listed as a top 50 XR experience of the year.
From the Trees to the Stars
In 2008, Rankin's passion to make the world a better place compelled him to start a not-for-profit organization, which he called From the Trees to the Stars. The organization's main purpose is to share news and create original content advocating for improved social, political, and economic practices, striving for a more inclusive, sustainable, and progressive civilization. 
From the Trees to the Stars maintains a growing Facebook community, researches, and shares new developments, and promotes action against the climate crisis and social injustice. Over the past 13 years, Rankin has made a lasting impact on the world and is continuing to do so, with no intention of stopping.
As recently as June 3rd, Rankin gave a keynote called "The Future is for eVRyone!". During this speaking event, he encouraged his peers in the virtual reality industry to follow him in modeling a more diverse, fair, and sustainable world in their own lives, teams, products, and content.
Rankin's current project is working on a book that proposes a new model for human society based on diversity, science, fairness, and sustainability that he calls "Optimalism". Rankin believes the world can be better and is determined to be part of the change. His creative and technical talent, along with his stubborn idealism, have established him as a thought leader in the virtual reality media and entertainment industry.