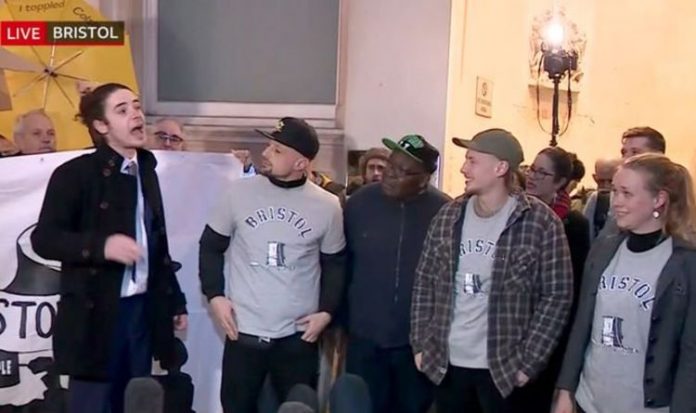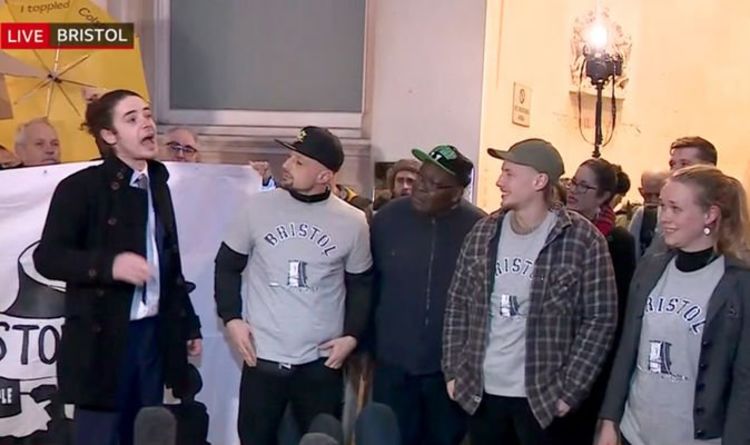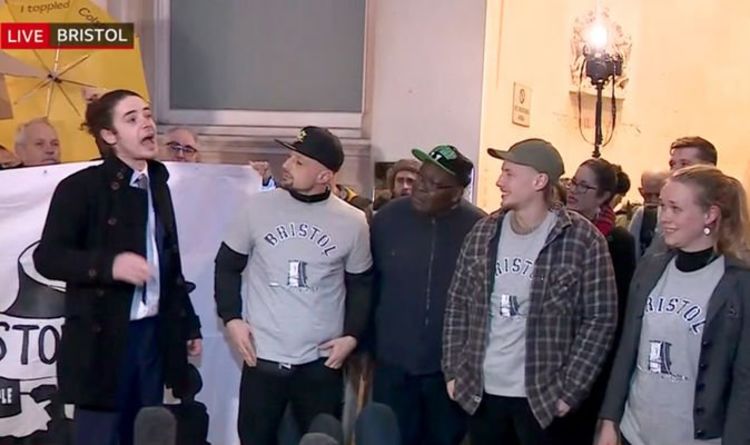 Celebrating outside of Bristol Crown Court following a two-week trial which saw four Black Lives Matter protesters cleared of criminal damage for toppling the statue of the slave trader, Sage Willoughby, 22, used the F-word to address Colston.
In a passionate speech following the clearing, the activist said the result, which saw the jury take three-hours to deliberate, was a "victory for Bristol, a victory for racial equality and a victory for anyone who wants to be on the right side of history".
He also referred to Edward Colston, a 17th Century slave owner, as a "f****** virtuous man".
He apologised for swearing during his speech.
But the BBC's Martine Croxall jumped in as he slammed how "I had warned you it might be a little bit ripe and it was!"
JUST IN BLM protesters who tore down Edward Colston statue in Bristol cleared of criminal damage
On June 7, 2020, Rhian Graham, 30, Milo Ponsford, 26, and Sage Willoughby, 22, were captured on CCTV passing ropes guarding the statue to the 17th Century slave trader.
Those ropes were later used to pull it down and throw it in the harbour.
A fourth protester, Jake Skuse, 33, was accused of orchestrating a plan to throw the statue in the drink.
The four defendants admitted to being involved in the incident but denied their actions were criminal.
READ MORE Pulling down Colston statue was 'an act of love', says toppler
The statue was hit with £3,750 worth of damage during toppling and later, the dunking in the harbour.
This included the removal of Colston's staff and a coattail, damage caused to the railings of Pero's Bridge totalled £350.
The prosecution had argued the case was a matter of straightforward criminal damage, adding the fact the statue was of Colston was "irrelevant" in the case.
But barristers for the defence argued Colston and his legacy was pivotal to coming to a conclusion on the case.
DON'T MISS

Bristol Crown Court was told how Colston was part of the enslavement and transportation of over 80,000 people, almost 10,000 were children.
Around 19,000 people died on ships travelling to the Caribbean and the Americas to be slaves.
Campaigns to remove the statue stretch back to as far as the 1920s.
TV historian and author Professor David Olusoga gave expert evidence for the four defendants and former Bristol Lord Mayor Cleo Lake also supported them.
Published at Wed, 05 Jan 2022 18:54:00 +0000
BBC forced to apologise as Colston statue toppler swears on air 'Warned it might be ripe'