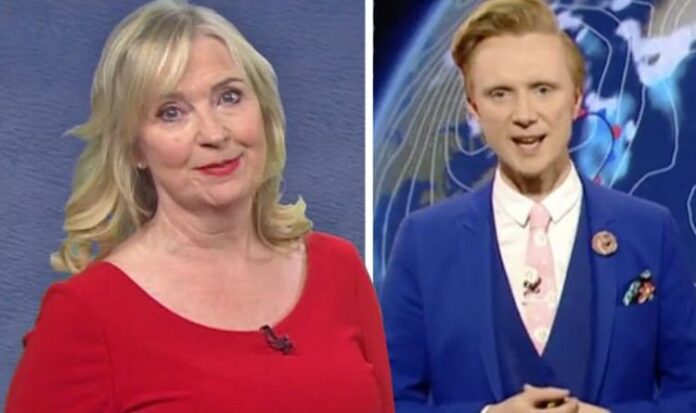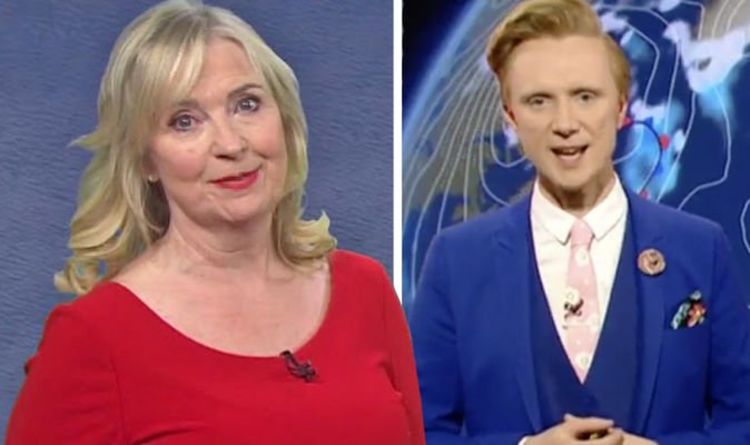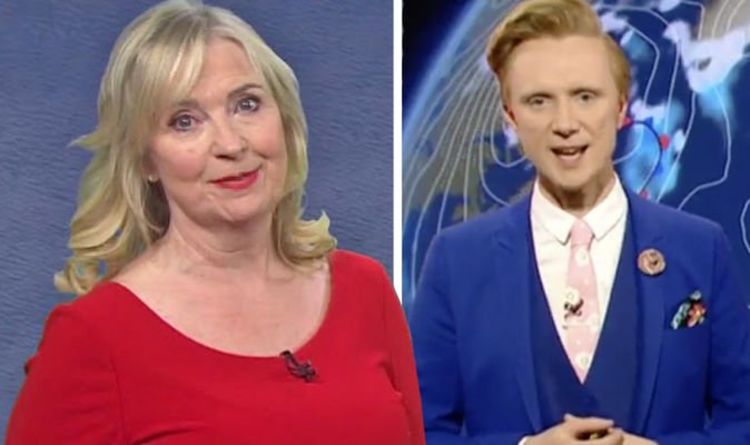 Carol Kirkwood has been a fan-favourite on BBC Breakfast, earning herself the prime weather reporting slot; Monday to Friday. Over the weekends, a variety of meteorologists deliver the forecast and yesterday was the turn of Owain Wyn Evans. For those tuning in to see Naga Munchetty and Charlie Stayt deliver the news, they were left with a spring in their step after the fun Welshman told them it was too early to put the thermals away. Does Carol have stiff competition as Owain ramps up popularity?
Naga said: "18 minutes past seven is the time, good morning, Owain is looking at the weather! Good morning."
"Hello, hello, both. Can you believe we're a week into Spring – meteorologically speaking. But it doesn't feel like that does it?" Owain replied.
Naga said: "Cold," and the weather reporter continued: "It's very cold – winter is very stubborn, reluctant to leave us darlings."
He then turned to the camera and told viewers: "If we look at the overnight lows, which is what we call them, which is the lowest temperatures which we saw overnight as the name suggests, we were getting down to minus eight celsius, minus six in places.
READ MORE: Charlie Stayt 'despairs' at Naga Munchetty's bad jokes
"So it was a really cold one and that means it is a cold start to the day today!
"Having said that, we are going to see a change as we progress through this coming week, temperatures will rise a bit but that does come hand in hand with low pressure – which we will see just in a moment.
"There's your headline for the weekend; it should be dry for most of us, it's quite a cloudy story and with cold air."
Many BBC Breakfast viewers took to Twitter to comment on Owain's weather report and how cheerful he was with his delivery.
While one fan added: "#bbcbreakfast thanks for that explanation of overnight lows. I really had absolutely no idea what that meant before."
"Worth watching the programme for you @BBCBreakfast loving @OwainWynEvans on breakfast news," one mentioned.
Someone else said: "Such a cheerful and upbeat update even if the weather is not so good! More of him please.@BBCBreakfast loving Owain Wyn Evans on the weather. He presents the weather like a story. Even a horrible forecast is fun to watch :-)."
Owain started presented the weather for BBC Wales Today in 2012, alongside several appearances across many BBC Nations and regions until 2015.
He then joined the weather and news presentation team for BBC Look North and then in 2019 he was announced as the new lead weather presenter for BBC North West Tonight.
Owain is a semi-professional drummer and last Spring, he produced a video of himself drumming the BBC News theme after presenting a weather forecast.
The video went viral and as a result, a year later and he has found himself a prime slot on the main BBC Breakfast show.
BBC Breakfast airs everyday at 6am on BBC One.
Published at Sun, 07 Mar 2021 07:08:00 +0000
Carol Kirkwood faces competition as Owain Wyn Evans a hit with BBC viewers 'More of him!'