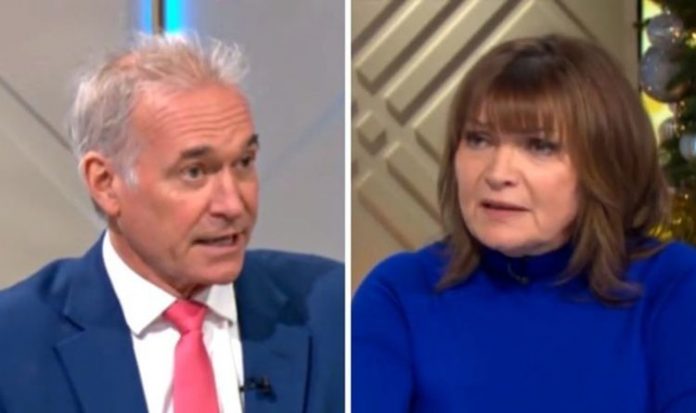 Doctor Hilary Jones appeared on Thursday's instalment of Lorraine to speak to host Lorraine Kelly about the latest Covid-19 measures. Under the newly announced restrictions, Britons are being advised to work from home but Christmas parties are still allowed to go ahead. However, Dr Hilary issued a brutal warning to ITV viewers that the public should act to a higher standard than the Government is asking.
The 68-year-old doctor explained to Lorraine: "People are being sensible most of the time."
Lorraine interjected: "And you can understand people's frustration, their complete frustration and anger and upset."
Dr Hilary continued: "Yes, totally, I mean the leaders should be leading by example they've got to do that.
"But actually my message to everybody else would be, 'Don't necessarily follow what the Government are saying.'


READ MORE: Emmerdale heartache as Priya Sharma discovers Manpreet is her mother?
"If you want to do the maximum for your own health protection and those of others just be more sensible than they have shown."
"It doesn't make any sense to me, it's very illogical," Dr Hilary added.
Lorraine also referenced the allegations that there was a Downing Street Christmas party held last December when London was in a Tier Three lockdown.
The Prime Minister has denied that a Christmas party ever happened, but his former press secretary Allegra Stratton, who was filmed joking about the alleged Downing Street Christmas party, has now resigned.
The Prime Minister told the nation: "We can't yet assume that Omicron is less severe than previous variants.
"So while the picture may get better, and I sincerely hope it will, we know that the remorseless logic of exponential growth could lead to a big rise in hospitalisations and therefore, sadly, in deaths.
"That's why it is now the proportionate and the responsible thing to move to Plan B in England while continuing to work closely with our colleagues in the devolved administrations, so we slow the spread of the virus, buy ourselves the time to get yet more boosters into arms, especially in the older and more vulnerable people."
Published at Thu, 09 Dec 2021 11:16:00 +0000
'Don't do what the government tell you!' Dr Hillary gives brutal warning to Britons