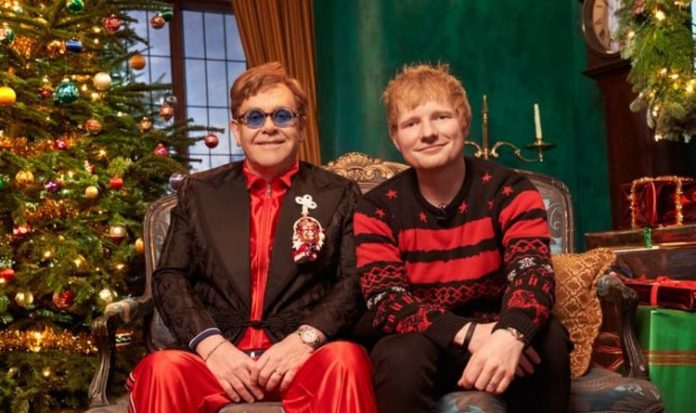 Ed Sheeran and Elton John have been teasing the release of their new Christmas song, Merry Christmas, for some time now. The duo have a great friendship behind the scenes, and considering they have more than 20 number one singles between, Merry Christmas was sure to be a smash hit.
And it seems the pair's track has gone down a treat with the British publish.
The song, Merry Christmas, tells of a wonderful, classic Christmas party that Britain would no doubt love.
And the release of the song today has drastically improved their odds on claiming the highly-coveted Christmas number one slot.
Yesterday, before the song had been released, Ladbrokes gave Ed and Elton's song 6/5 odds on claiming the top spot.
READ MORE: Adele gave career advice to 'fellow diva' before live performance
Today, now the track has been released, the odds have been slashed massively. Ladbrokes have today given Ed and Elton's Merry Christmas 4/5 on becoming this year's Christmas classic. However, they aren't guaranteed a win just yet. The firm's Alex Apati said: "Ed and Elton have re-established themselves at the head of the Christmas number one betting following the release of their new track, with punters seemingly now convinced LadBaby's time at the top of the festive charts could be coming to an end." Although the pair's music video includes British celeb royalty – including Mr Blobby, Michael McIntyre and The Darkness – they could still lose their top spot.
However, last year LadBaby confirmed they were "done" with the Christmas number one game.
He said: "I think this is the last one. We haven't got any more planned. We don't want to get to a point where people boycott it. The X Factor dominated No1s at Christmas for so many years and, by the end of it, people were boycotting them."
Whether they release a new song or not, they are in good company.
They are still in the running with the Hard A Word Pod at 6/1, and The Marsh Family with 12/1.
But coming up the rear is Adele with 16/1.
Adele's comeback this year has been monumental. She released her fifth studio album, 30, at the beginning of the month and has claimed the chart top spots with the record and her single, Easy On Me.
The London-born star has also just announced her Las Vegas residency slot, confirming that she will be hitting the stage once again very soon. Could this eventually lead to her getting the top spot for Christmas?
Ed Sheeran and Elton John's Merry Christmas is out now.
Published at Fri, 03 Dec 2021 09:53:00 +0000
Ed Sheeran and Elton John beat Adele to Christmas number one favourite