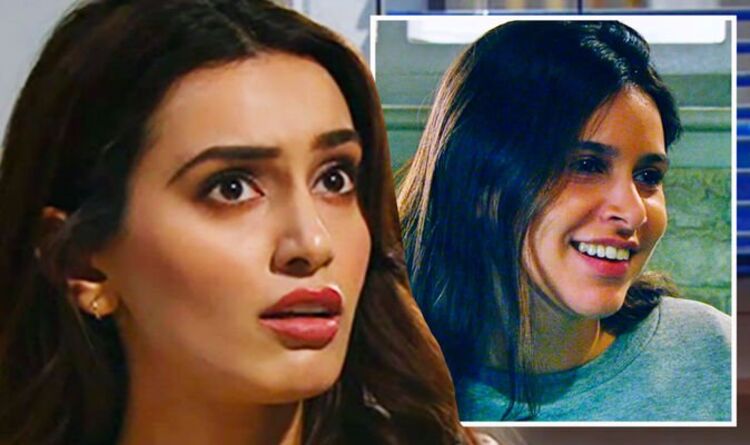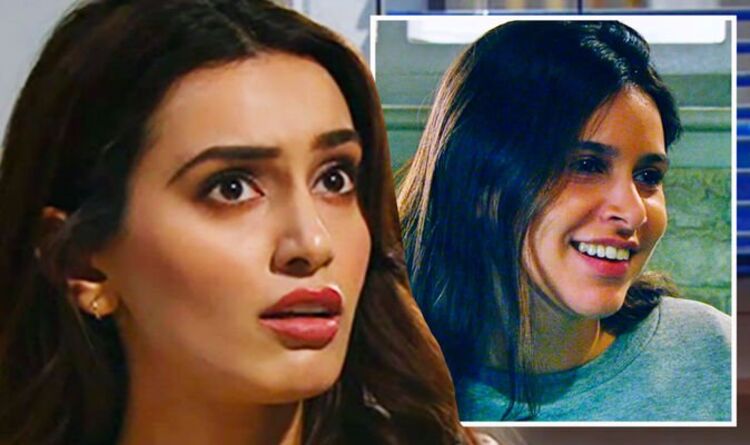 Aiesha (played by Shila Iqbal) is the daughter of Manpreet Sharma (Rebecca Sarker), who has been to hell and back in recent months on Emmerdale after discovering her sister Meena (Paige Sandhu) was a cold-blooded serial killer. With so much pressure on her mother's shoulders, many fans of the ITV soap might have thought the former villager would have made an appearance at some point to give some support. Unfortunately, there could be a heartbreaking reason as to why she hasn't been back to the Dales and it could be to do with something terrible which happened whilst Meena was on the run from the police.
Earlier this year, Meena's master plan to become a notorious serial killer came crumbling down around her as her secrets were unveiled a little too early.
Instead of being apprehended by the authorities straight away, the villain was able to hitchhike with a stranger and it was thought she was heading to Edinburgh.
When the police lost her trail some weeks later, they informed Manpreet it seemed as if her sister had fled abroad and this is where Aiesha could fit into the story.
Although she later returned to the Dales with the man who she hitchhiked with, she could have made a pitstop in Ibiza, Spain.
Not happy with letting Manpreet slip from her grasp unscathed, the villain could have set her sights on getting revenge.
READ MORE: Emmerdale theory: Meena Jutla to fall pregnant before she exits
Under the guise of wanting to catch up with her niece and with Aiesha none the wiser about what had happened in the village, Meena could have killed her with no problems at all.
The former Dales resident wouldn't have been suspecting her auntie to turn around and take her life, making the whole murder a lot quicker than some of Meena's other endeavours.
Not wanting anyone to get any thoughts about Aiesha being dead, the villain could have gotten rid of her body by burying her.
As Manpreet isn't as frequently in touch with her daughter as she would like to be, she would think nothing of not hearing from her for a couple of months.
However, with Meena's trial airing in next week's episodes, there are going to be some twists and turns on the horizon.
Aiesha would also be Meena's final victim, given when the villain returned to the village, she didn't manage to claim another life.
Despite holding Billy Fletcher (Jay Kontzle) and his new wife, Dawn Taylor (Olivia Bromley) hostage, she didn't manage to kill them.
Even though she shot Leyla Harding (Roxy Shahidi), again the killer failed to claim another life as her victim recovered from her injuries.
Harriet Finch (Katherine Dow Blyton) was also left for dead by the villain but she managed to come through, resulting in Meena being arrested.
With more than 20 charges to her name already, Aiesha's death and the burying of her corpse could be a few more charges the authorities will put on her head.
By the end of the week, Meena will be leaving the show in some capacity and she could very well be walking away from prison.
The actress who plays the villain, Paige, spoke out about the conclusion of her character's time in the Dales and teased she could get away with murder.
Paige explained: "She sees this trial as her chance to shine, for it to be all about her, and the last thing she wants is for everyone else to go up and have their say and she doesn't have the chance to.
"She also believes very strongly that every testimony has been pretty much great from the start and then ripped to shreds by the defence.
"But Meena believes that in her testimony, she's going to shine and convince the jury of her absolute innocence, and anything that the prosecution throws at her, she's smarter than them and she'll be able to outsmart them, just knock them back."
"In her mind, she just can't understand why she would be advised against it," the actress continued to tell Express.co.uk and other media.
"I think Meena actually does smashing.
"She does give the performance of a lifetime, especially with the defence. She blows it out of the park, she breaks down in tears, and she's very convincing. There's no hint of the mask slipping at all.
"Then for the prosecution, he does go for her but to her credit, she deals with his attacks better than anyone else. "I think she does manage to sway the jury – well in her mind, she manages to bat the prosecution away. I think she actually did a really good performance."
Emmerdale airs weekdays at 7:30pm on ITV, with an hour-long episode airing on Thursdays.
Published at Sat, 09 Apr 2022 05:00:00 +0000
Emmerdale theory: Aiesha Richards dead as Meena Jutla's final victim identified