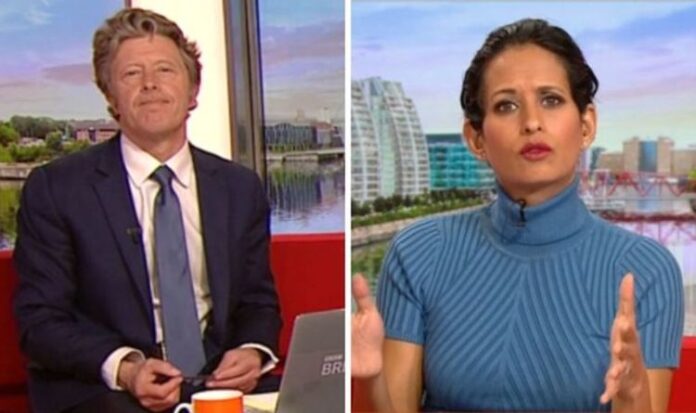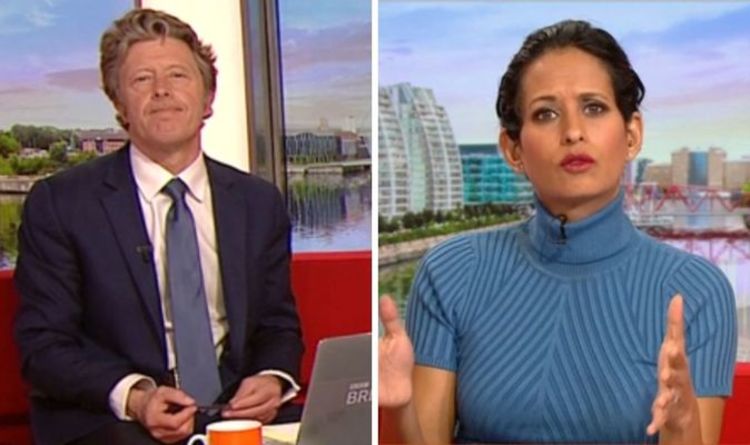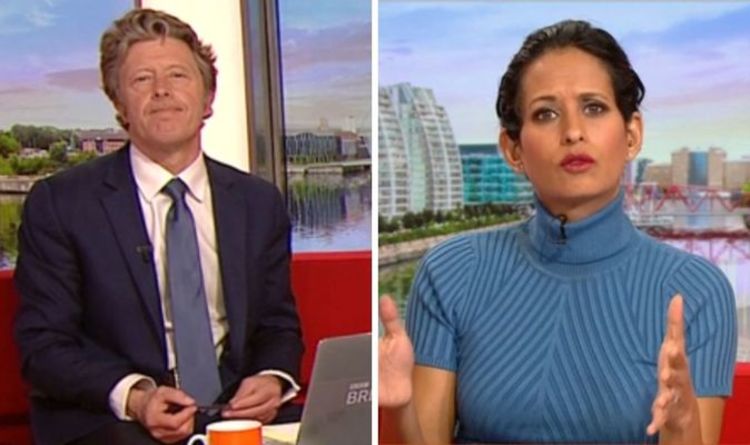 During Saturday's episode of BBC Breakfast, Naga Munchetty made a joke about her co-star Charlie Stayt after he admitted he had no idea about how long it takes to run 5km. As the duo were speaking to presenter Ben Boulos via video link, Ben told Naga that he could run 5km in 20 minutes. Naga seemed impressed with her colleagues running time, although, when it came to Charlie, he admitted he didn't have a clue and Naga didn't let him forget it either.
The duo spoke with Ben Boulos who was at Kempton Park in Surrey to watch hundreds of people take part in a 5km race.
It comes after the Government gave outdoor sports the green light, meaning running events are now able to go ahead.
"Hundreds of going to be here, as you say to do a marathon, a half marathon and 10km and a 5km and of course there are still concerns about making it Covid safe," Ben began.
"These cones along here as you can see on the ground will ensure people are distant as they begin their run."
READ MORE: Dick Strawbridge on Escape to the Chateau spin-off with son James
He continued: "The stewards as you can see, they've been trained there making sure that as people are warming up they maintain social distancing.
"People are being asked to bring their own water bottles and things like plastic sheets on the stewards desks to keep them safe as well."
Ben went on to interview Matt, the founder of the race at Kempton Park.
Ben pointed out that Matt had run for England and asked him whether he had any advice for people who want to start running.
Speaking his own experience of running in lockdown Ben explained: "Too much, too soon, too fast and I was injured."
"Ben, it's good advice, it is easy to get injured," Naga told him.
"Very impressed with your technique as you crossed the finish line. Fair play for admitting that you literally started as the camera tilted down to you."
Ben continued: "Come on Naga, don't spoil the illusion. I have been working on my PB (personal best). My latest one, 5km in about 20 minutes, that's not bad – not sure how it compares to yours though."
"That's very impressive," Naga replied. "Very impressive indeed.
"That's a good time Charlie."
Charlie chipped in: "Is it? I've no idea."
Before he could finish his sentence Naga interrupted as she lightheartedly mocked her colleagues' knowledge of running.
"I know you don't. It's a really, really good time," she jested. "5km in 20 minutes, is good."
BBC Breakfast airs daily at 6am on BBC One.
Published at Sat, 03 Apr 2021 08:41:00 +0000
Naga Munchetty in fitness dig at BBC Breakfast co-host Charlie Stayt 'You don't know!'