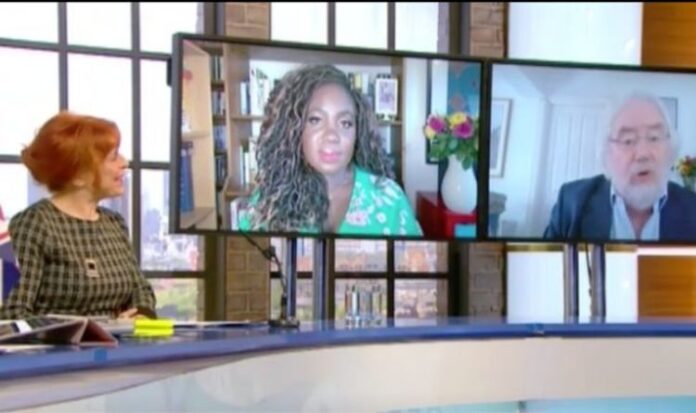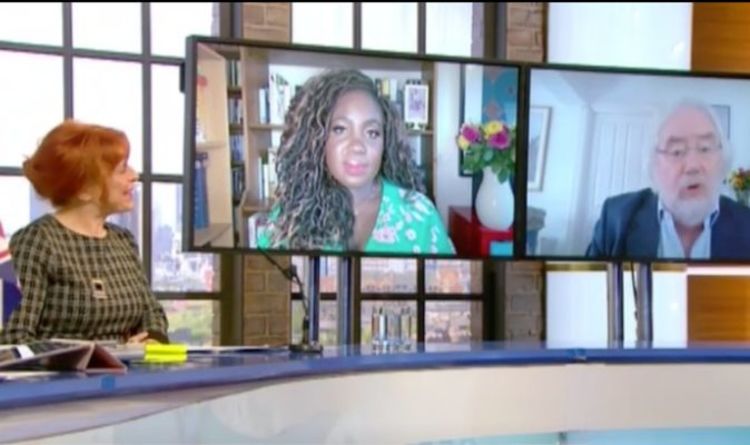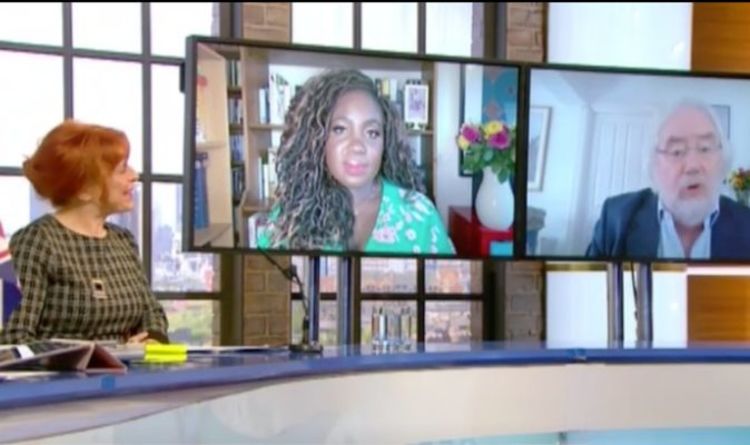 A furious debate over the Union flag erupted on Jeremy Vine on Friday as Dr Sarah Jarvis and Mike Parry locked horns over the connotations of the flag's use by politicians. The panellists fundamentally disagreed on whether the flag was a symbol of nationalism or not, with Dr Jarvis labelling the use of the flag as "patriot signalling". The debate over the flag comes as BBC Breakfast presenter Naga Munchetty was forced by BBC bosses to apologise after liking an "offensive" Tweet that criticised the flag.
Dr Sarah Jarvis was asked by host Jeremy Vine whether it is ok to have the British flag behind politicians.
The GP said: "No, I don't I would call it patriot signalling."
She added how "suddenly we are out of Europe" and that politicians have "got to have a flag got to prove that we are part of the party."
But speaking from home, panellist Mike Parry took a very different stance from Dr Jarvis.
JUST IN: Naga Munchetty scolded by BBC for liking anti-Tory tweets after mocking MP's Union flag
He replied; "What's wrong with that?"
She replied that because these politicians are public servants "they're meant to be there for everyone."
The physician continued by saying: "I've got a lot of patients who still feel racism very acutely and if a public servant like an MP can have it, why doesn't a GP have it?
"Would you feel comfortable if I had it in my consultancy room? Because I wouldn't."
READ MORE:'B in BBC stands for BRITISH' MPs demand action for Naga Munchetty and Stayt flag attack
Another read: "Should be done every time the Tories roll out one of the talking head ministers".
In an apology Munchetty said: "This do not represent the views of me or the BBC. I apologise for any offence taken. Naga."
Ms Munchetty and BBC Breakfast co-host Charlie Stayt had previously faced backlash after Mr Stay appeared to mock Housing Secretary Rober Jenrick over the "small" Union flag displayed behind him during a recent interview.
In the interview in question with Robert Jenrick, Secretary of State for Housing, Communities and Local Government, Charlie Stayt said: "I think your flag is not up to standard size government interview…measurements.
"I think it's just a little bit small. But that's your department really!"
Munchetty was heard giggling in the background and Stayt continued: "Just a thought."
When the camera returned to the studio Munchetty commented: "The picture of the queen," but she was interrupted as Stayt wanted to explain his remark: "You'll be aware, we've seen it [the Union flag] every day."
Published at Fri, 19 Mar 2021 12:12:00 +0000
'Nobody complained of EU flag' Mike Parry in furious clash with Dr Sarah over Union flag