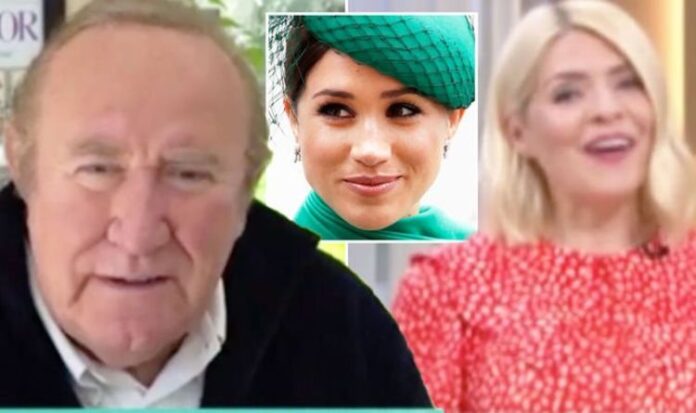 The Duchess of Sussex, Meghan Markle, has taken a step into the literature world with the release of her first children's book, The Bench. Penned to launch in June, the book became a topic of conversation on This Morning on Wednesday as Holly Willoughby and Phillip Schofield welcomed Nicola Thorp and Andrew Neil onto the ITV show to discuss the new career move following her step back from royal life with Prince Harry last year. However, it's safe to say Andrew wasn't particularly impressed with the move.
Since stepping back as senior members of the Royal Family, Prince Harry and Meghan have still remained prominent figures in the spotlight.
Most notably earlier this year, the two joined Oprah Winfrey for a tell-all interview which still dominates the news cycle to this day thanks to the claims made against the Royal Family.
And as such, Andrew blasted the "hypocrisy" in Meghan's new book and its focus on family life.
He began to Holly and Phillip: "She's not the first royal to have done this, of course – Fergie [Sarah Ferguson] did something similar."
READ MORE: 'Stops you from dying' Andrew Neil speaks out as over 50s to get boost
Andrew continued: "[It centres] on the relationship between fathers and sons or fathers and their kids,
"I'm not sure her interview with Oprah did much for that particular relationship between [Prince] Charles and Harry.
The This Morning guest also pointed out: "And I do think it's interesting she's got Duchess of Sussex plastered across the front page.
"I mean after having savaged the Royal Family in that interview with some really major complaints, most of which we can check factually turn out not to be true.
"Oh Andrew," Holly said before hinting the reception he gave was harsh.
Nicola then weighed in to defend the Duchess: "As for her using the title, I don't know, I don't care.
"If she'd just used Meghan Markle she'd have been criticised for that – just let them be."
Andrew isn't the only famous face to come out and slam Meghan's decision to pen her own book, however, with former GMB star Piers Morgan making his thoughts known.
After the news broke, Piers penned to his 7.9 million Twitter followers: "Is this a joke?! [laughing emoji]."
And in his column for the Daily Mail, Piers also wrote: "How the hell can Meghan 'I hate royalty but call me Duchess' Markle preach about father-child relationships when she's disowned her own Dad, and wrecked her husband's relationship with his?"
The outspoken broadcaster blasted the Duchess of Sussex for an "unlimited thirst for committing attention-seeking acts of gargantuan hypocrisy".
This Morning airs weekdays at 10am on ITV.
Published at Wed, 05 May 2021 10:23:00 +0000
'Prose is terrible' Holly Willoughby taken aback as Andrew Neil blasts Meghan Markle book