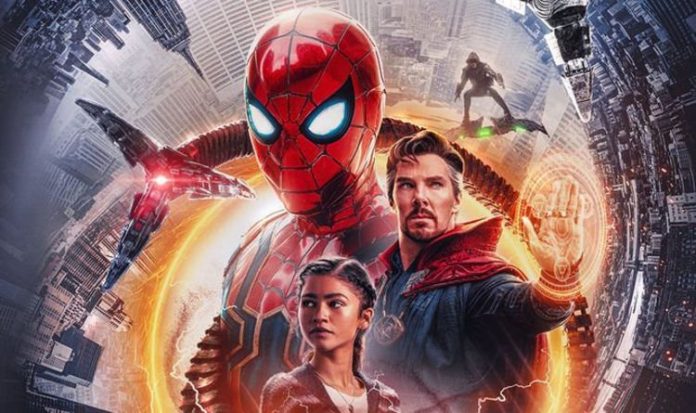 WARNING: THIS REVIEW IS FOR FANS WHO HAVE ALREADY SEEN THE MOVIE – MASSIVE SPOILERS FOR SPIDER-MAN NO WAY HOME AHEAD. The most hyped Marvel movie since Avengers Endgame is here and after a mostly average year for the MCU across their blockbusters and Disney+ shows, Spider-Man: No Way Home is a return to form for the franchise. Director Jon Watts wasn't kidding when he said Tom Holland's third outing as Peter Parker would be Spider-Man: Endgame.
Spider-Man: No Way Home's action kicks off right where its predecessor Spider-Man: Far From Home ended two years earlier. Jake Gyllenhaal's Mysterio framed the Web Slinger for his murder and revealed his identity to the world as Peter Parker. What follows next is a first act that feels somewhat familiar to the previous Holland Spider-Man outings.
Despite his difficulties, we're into relatively lighthearted territory early on with lots of chuckles. As had been speculated Charlie Cox's Matt Murdock does show up in a cameo scene as Peter's lawyer, accidentally showing off his Daredevil reflexes which will no doubt play a bigger role in the MCU going forwards.
Struggling with his new-found celebrity, Spider-Man heads to 177A Bleecker Street to seek help from Doctor Strange in the Sanctum Sanctorum. Here we learn that Wong is actually the Sorcerer Supreme since the former surgeon turned wizard had been blipped for five years.
The comic moments in scenes like this are a pure delight before the second act's geeky weirdness gets going, full of Easter eggs for the most devoted fans.
READ MORE: Eternals: Harry Styles 'signs five Marvel movie deal' as Starfox
As seen in the trailers, Doctor Strange casts a spell to make the world forget that Peter Parker is Spider-Man. However, it goes wrong no thanks to the bumbling teenager interfering last minute so his nearest and dearest didn't forget him.
As a result, Spider-Man villains from across the multiverse who knew variant Peter Parkers as the Web-Slinger, are transported to the MCU moments before their deaths. This is where it gets complicated unless you've seen the five non-MCU Spider-Man movies – three starring Tobey Maguire and two with Andrew Garfield.
These five villains are one apiece from each of the five Sony movies, with memories of what happened in those films. Like Avengers Endgame, this is a sheer delight for comic book movie fans but may go over the casual viewer's head. As a result Spider-Man: No Way Home is really a five-star film for Marvel devotees, but certainly a four for audiences members who catch the occasional outing.
Willem Dafoe's Green Goblin and Alfred Molina's Doc Ock are front and centre, a welcome return for their baddies who couldn't have been played so perfectly by anyone else. All the villains get their moments, with Jamie Foxx's Electro, Thomas Haden Church's Sandman and Rhys Ifans' Lizard being somewhat rebooted and redeemed from their three not so fondly remembered Spider-Man movies.
After capturing all five, Peter embodies the virtue of loving one's enemies, defying Doctor Strange who wanted to send them all back to meet their fates as they did in their original Sony movies.
Instead, we witness surreal montage scenes of the villains joining Spider-Man and May at their new apartment to work on redeeming them from what turned them evil in the first place. When asked why he would help them, Zendaya's MJ highlights the essence of Peter's heroism; "because that's who he is".
Tragically, Spider-Man's empathy backfires, with Green Goblin once again overtaking Norman Osborn's psyche with the other villains following likewise. In the ensuing battle, Goblin kills Aunt May in a desperately sad scene, as she echos Uncle Ben's words from the Maguire movies during her final moments: "With great power, comes great responsibility."
Having lost his parents, aunt and uncle, Tony Stark and false mentor Mysterio, perhaps this death was a tad too much for Holland's Peter. Hasn't he suffered enough? But being Spider-Man Endgame, No Way Home had to raise its stakes to devastating heights, which are felt aplenty. After much laughter, tears and action in the first two acts, there would only be more to come, including huge surprises in the final third.
DON'T MISS
Avengers 5 theory: Multiple Marvel variants will clash in Secret Wars [AVENGERS 5]
Avengers 5: Loki and Doctor Strange 2 writer on if Secret Wars coming [SECRET WARS]
Marvel DC crossover and Avengers 5 Secret Wars addressed by MCU boss [AVENGERS/DC CROSSOVER]
Since the release of the animated movie Spider-Man: Into The Spider-Verse, fans have been calling on Sony to make a live-action multiverse movie with Maguire, Garfield and Holland. Well, that wish has been granted. After months of rumours, the first two actors to play Spider-Man returned to offer their help.
The two original Sony Web Slingers are just as charming as ever, with all three getting on so sweetly as though the closest of brothers.
The three Spider-Men head to the Statue of Liberty to fight the five villains together in a spectacular battle, the most thrilling and satisfying since Avengers Endgame; full of nods to the non-MCU Spider-Man movies.
It's hard to believe that after their victory and sending them all back to their different universes that this will be the last we see of Maguire and Garfield's Peter Parker variants. Endgame and Loki already introduced the concept and a multiverse of madness is just about to open up in Doctor Strange 2.
In the meantime, saving the world this time around meant everyone had to forget who Holland's Peter was, including MJ and Ned. Nevertheless, this is a satisfying, if bittersweet, sacrifice for the superhero, who no doubt will work things out in his inevitable second MCU trilogy.
Fans should also stick around for a mid-credits scene with Tom Hardy's Venom and the first Doctor Strange in the Multiverse of Madness trailer which you can find out more about here.
But all in all, Spider-Man: No Way Home offers a spectacular end to Holland's first Marvel trilogy. The MCU hasn't been this good in over two years, so here's hoping this standard is maintained or even surpassed going forwards. Avengers 5: Secret Wars with the three Peter Parker variants you say? Yes please, we would love that.
Spider-Man: No Way Home is out now in UK cinemas.
Published at Wed, 15 Dec 2021 01:43:00 +0000
Spider-Man No Way Home spoilers review: Marvel's biggest and best since Avengers Endgame