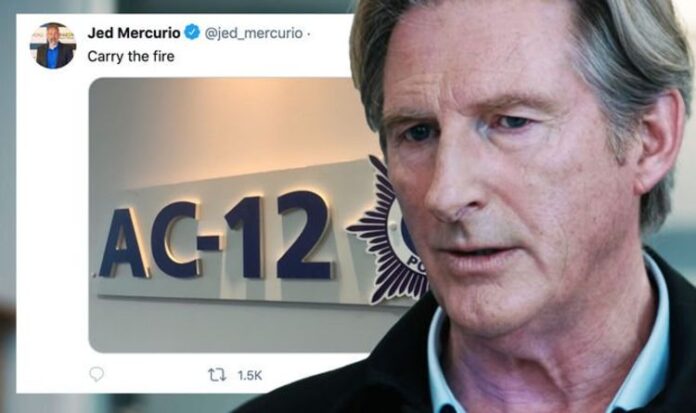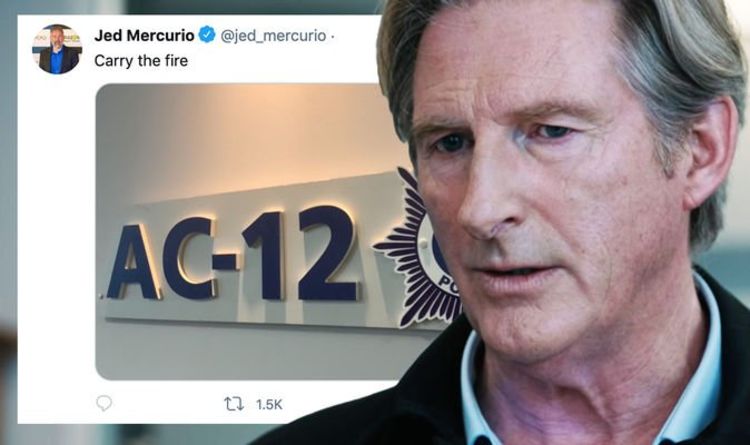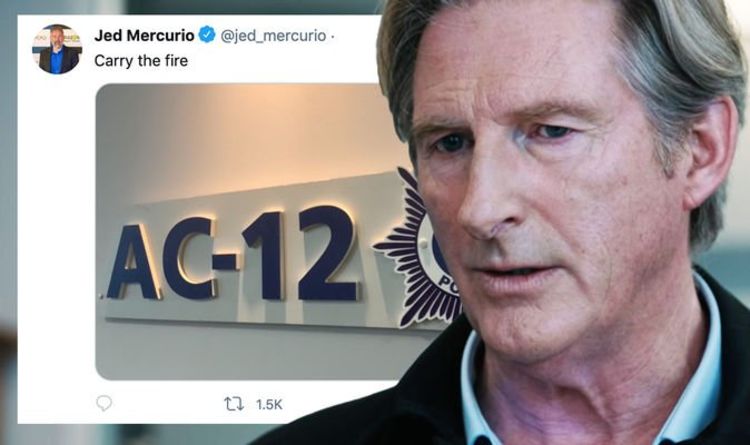 After Line of Duty season six came to an end, creator Jed Mercurio tweeted an image of AC-12 with the caption: "Carry the Fire." Many viewers were left baffled by the message but eagle-eyed fans will have noticed this phrase was uttered by Superintendent Ted Hastings (played by Adrian Dunbar) as he spoke to Patricia Carmichael (Anna Maxwell Martin) and confessed he was the reason John Corbett (Stephen Graham) was killed by the OCG (Organised Crime Group).
Hastings walked into Carmichael office and told her: "I'd like to make a statement on my involvement in the leak of information that led to the unlawful killing of a serving police officer, Detective Sergeant John Corbett.
"In an interview conducted by me on a convicted OCG member, Lee Banks, in Blackthorn Prison on the 12 March 2019…I disclosed that there was an informant in the OCG.
"I believe this information was passed on and whether or not it was deduced that Corbett was a UCO, he was murdered because of the consequences of my actions."
"What do you expect me to do with that information?" Carmichael asked.
READ MORE: Sturgeon shamed on GMB over plans for independence referendum
Meanwhile, Chief Content Officer of the BBC Charlotte Moore, has hinted the fate of line of Duty is still uncertain.
She said: "Addictive event television, Line of duty has kept the nation guessing for the last seven weeks, so it's no surprise last night's jaw-dropping finale set a ratings record.
"Jed Mercurio is a master of his craft, and I would like to congratulate him and the entire cast and crew for delivering such a incredible drama series.
"I'm looking forward to having a conversation with the team about where we go next and what the future of the series might be."
Fans were left divided over the final episode with some desperate for a new series while others were disappointed.
One fan posted on Twitter: "The ending of this latest series was only disappointing as its too easy a tie up for it to be the final ever episode, obvious there is more to it.
"This needs one last series to really resolve it completely and make its ending the ultimate television event it deserves to be."
Another added: "At 8.59PM last night we all wanted to enjoy the finale and then have S7. At 10.01PM we all thought leave it there."
Line of Duty seasons 1-6 are available to watch on BBC iPlayer now.
Published at Mon, 03 May 2021 12:56:00 +0000
Ted Hastings' hidden message PROVES Line of Duty will return to our screens for season 7