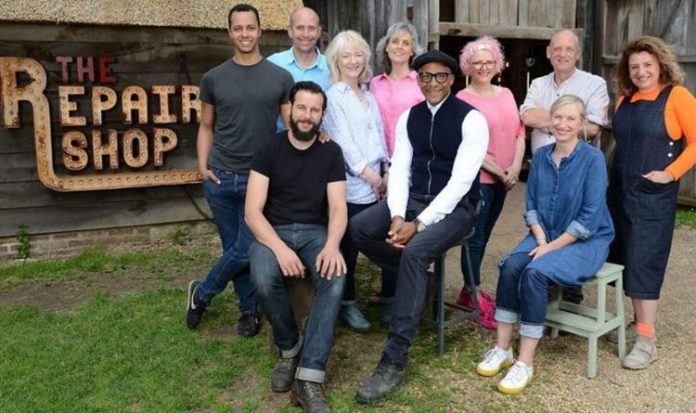 The Repair Shop's experts bring a wide range of skills to the BBC show. Led by Jay Blades, there are 11 experts in total, specialising in woodwork, painting, toy restoration, and beyond. As the experts do these jobs for a living, fans have been curious about just how much they could be paid for the unique skills.
How much are the experts paid?
Many of the experts have become household names since the show first premiered in 2017.
Of course, Jay has been the standout star, but the rest of the team have all brought their impressive talents and quirky personalities to the group.
Typically, craftsmen who specialise in dealing with such a niche field will be paid handsomely for their work.
This is because it is hard to come by, with only a few people operating to this level in the country.
READ MORE: Death in Paradise: Neville heartbroken as Florence rejects proposal?
However, the BBC has not confirmed how much the experts are being paid for their work or the series as a whole.
It is also impossible to measure their pay based on net worth, as Blades nor the rest of the team have disclosed this information.
Yet, it seems it isn't about the money for the inspiring lead-presenter, as he explained on This Morning it is about a group of people coming together to help another person, more than anything.
Jay explained: "The Repair Shop is all about being kind to one another.
Who pays for the repairs?
For viewers at home considering bringing in an item for the next series, one concern might be how much they have to pay for the privilege.
Well, as it turns out, the experts don't charge for the repairs or services seen in the series.
All the repairs seen are completely on the experts, once again proving the show isn't about the money for the stars.
While outside of the show, many of the repairs seen would cost a substantial amount of money, especially considering the level of quality provided, inside the BBC shop it's all on the house.
The BBC and series production company Ricochet cover the labour costs and materials used.
Rob Butterfield, the Head of Factual at Ricochet explained: "We don't charge for repairs.
"If people wish to make a donation to charity, we're very happy with that, but it's by no means necessary."
For any fans who have any cherished items stored in their attics, basements, or backrooms, they can apply to bring them in for the experts to have a crack at.
To apply, viewers should head to Ricochet.co.uk and fill out the forms for their chance to make an all-paid-for appearance.
The Repair Shop is available to watch on BBC One and BBC iPlayer.
Published at Fri, 03 Dec 2021 00:00:00 +0000
The Repair Shop salaries: How much are the experts paid?