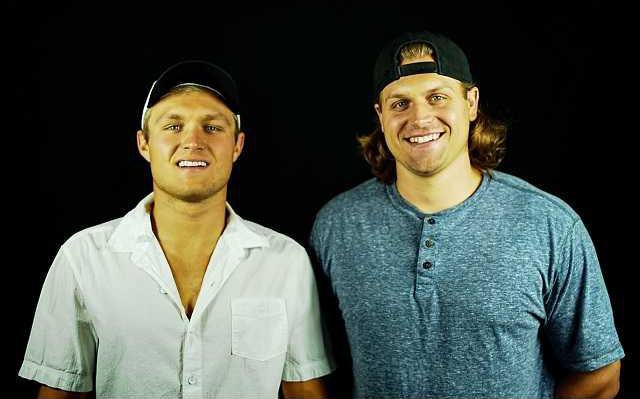 If you haven't read a good story recently, here's one about two young brothers who help businesses and personal brands tell their stories through visional content. It's all science—but not ordinary science. They are paying close attention to psychological concepts as to why we become who we become as human beings. Their process involves applying psychology to visually convey the physical manifestation of one's psychological state. These two men have such an understanding of human emotion that they have been able to grow their media agency to the point where they service clients from all over the country. 
"Understanding people is everything when it comes to storytelling," Eriksen says. "If you understand the desires of people, who they are, what they want—you better understand how to engage them emotionally through your characters, plot and visual presentation of your content."
They have also traveled to over 20 countries and have a unique cultural perspective to offer through their storytelling. 
From Swimming and Baseball to Making Films
Born and raised in Oakdale, California—the Cowboy Capital of the World, Eriksen and Soren Dickens were always into sports. While Eriksen excelled in baseball, Soren was an avid swimmer. Although they both got scholarships into college courtesy of their sportsmanship, injuries put an unfortunate end to their budding careers. Deep inside, however, there was another fire burning in their souls.
"After our sports careers ended, we needed something to fill that void. We had grown up making movies as kids, but that passion took a back seat to sports. With our sporting careers ended, we decided to get back into filmmaking and rekindle that passion," Eriksen explains. 
Coming from a small, conservative town with an economy driven by agriculture and manufacturing, filmmaking was something of a rarity. The brothers explained that filmmaking was considered both an outlier hobby and profession.
"You just don't see many, if any, filmmakers come out of Oakdale. People there associate filmmaking with Hollywood. And Oakdale is literally the opposite of Hollywood in just about every way," Soren says.
Creating a Different Kind of Storytelling
Eventually, both Eriksen and Soren ended up at Cal Poly, San Luis Obispo for college together, and it was there where they rekindled their love of filmmaking. In 2016, they launched Platinum Peek Productions out of Soren's dorm room and decided to pursue filmmaking as their career choice. The driving force, all this while, was to achieve the financial freedom to tell stories of their choosing through documentary filmmaking. Soren says, "Our main passion is telling stories through documentary style filmmaking, with our end goal to build a company large enough to allow us to finance our own independent films." 
Throughout the last four years, Platinum Peek has serviced businesses and entrepreneurs throughout the United States, telling their stories and helping them grow their brands. The duo also developed a brand called Peek Wedding Films in 2017 to offer a unique style of wedding videography. Besides making films professionally, the brothers have  also produced numerous short and full length documentaries as well as a few short narrative films. Eriksen has also published a book called "The Orchard's Offspring" which is available on Amazon.
Playing Individual Roles but Working as a Team
While Eriksen functions as the Creative Director and handles the majority of the storytelling, writing, and editing of the projects, Soren functions as the Director of Operations and handles the majority of business development and growth strategy. Soren also functions as the primary camera operator, drone pilot, cinematographer, and colorist—all while currently obtaining his Bachelor's degree in Business from Cal Poly, San Luis Obispo. As for Eriksen, he received his Bachelor's degree in Philosophy from Cal Poly, San Luis Obispo in 2017. He is also currently taking acting classes from Zac Efron's old acting coach in San Luis Obispo in hopes of becoming a better speaker and a more polished performer, as acting is a side passion of his. In addition to functioning as the Creative Director, Eriksen is also working on his Master's degree in Clinical Psychology from Pepperdine University.
Instead of getting sucked into the frenzy of storing up earthly possessions as is widely popularized in the film industry, the Dickens brothers are instead investing as many resources as possible back into their career. "We have avoided the rat race down in Los Angeles and prefer to stay on the outside with our heads down, building our own empire," they say. "Because of our upbringing in a small, rural community, we tend to shun the spotlight and typically shy away from sharing too much about ourselves. This is something we are working on improving—you know, the whole self-promotion thing!"
Both Eriksen and Soren speak fondly of their passion for connecting with people. "We value interpersonal relationships with people and believe human relationships are what life's all about. That is why our films are very character-driven." 
In 2019, the brothers were featured on numerous news stations in California while promoting their documentary, Dirty Toes—a character study on a young entrepreneur named Cameron Sluggett living with cerebral palsy. Just recently, the brothers were featured in articles on SwimSwam and Swimming World, the two largest news outlets in the swimming community, for their latest film entitled Magic in the Lane—another documentary, this time about American swimmer, entrepreneur and magician, Chuck Katis. The brothers are currently working on a documentary about the eradication efforts of polio in India, having just returned from a trip there to help provide vaccinations to children to prevent the spread of the hindering disease.  
The Platinum Peek way of telling stories has been immensely successful, and the future holds promising possibilities. To follow the Dickens brothers on their future endeavours, find them at @platinumpeek, @peekweddingfilms, @sorendickens and @eriksendickens. You can also check out their website to learn more: platinumpeek.com