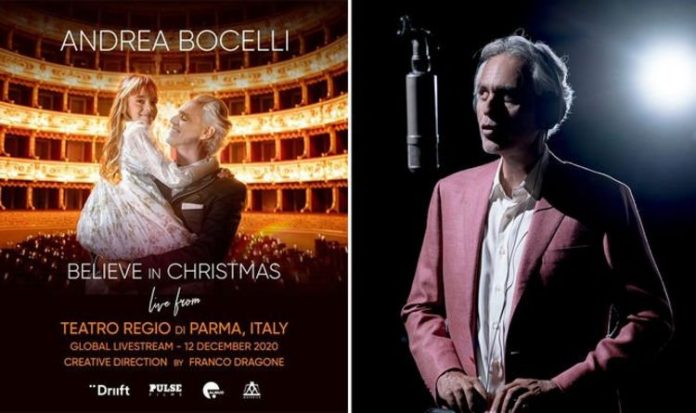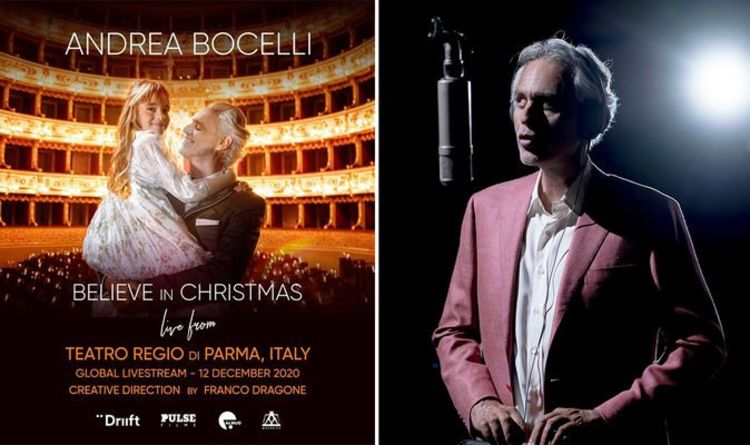 Andrea Bocelli announces livestream Believe in Christmas concert – How to get tickets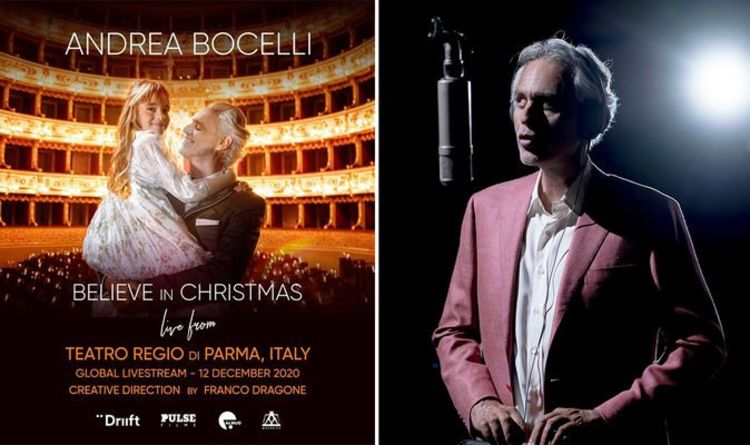 The incredible Italian tenor has announced a ticketed global livestream event in Believe in Christmas. Andrea Bocelli will perform live from the Teatro Regio di Parma opera house on December 12. UK fans can watch the one-off event featuring the 62-year-old with musicians and specials guests at 8pm GMT on the day.
For the event, Bocelli is teaming up with creative director Franco Dragone, who is best known for Cirque Du Soleil.
Tickets for Believe in Christmas go on sale on Friday, November 20 here.
While the event organisers note that the concert will not be available on-demand after it has taken place and can only be viewed live.
The festive performance follows Bocelli's breathtaking Music For Hope Easter performance during the first lockdown.
READ MORE: Andrea Bocelli opens up on Music For Hope lockdown performance
Bocelli spoke of how the loneliness of the empty 14th century building was a sort of "mirage".
He said: "There were really millions of us there, interconnected through music, and I gave my voice to both their prayer and my own.
"Our Christian Easter, with its message of love and redemption, seemed to me like the perfect time to take a moment to stop and reflect upon things, as well as offering a moment of hope."
Accompanied by cathedral organist Emanuele Vianelli, Bocelli sang Panis Angelico's, Ave Maria, Sancta Maria and Domine Deus before ending with Amazing Grace on the steps of the cathedral.
DON'T MISS
Andrea Bocelli: How Freddie Mercury paved way for Sarah Brightman duet [EXCLUSIVE]
Andrea Bocelli new album announced with UNHEARD Ennio Morricone track [NEW ALBUM]
Andrea Bocelli, Celine Dion, Lady Gaga's One World performance WATCH [VIDEO]
This week, Bocelli has also released his brand new album Believe, featuring two new duets with Alison Krauss and Cecilia Bartoli.
He said: "Regarding the duets, it was a great joy to intertwine my voice with that of the great Cecilia Bartoli, the most important mezzo-soprano of our time with her own thriving career.
"It was a great joy to have the opportunity to duet with Alison Krauss, a multi-talented, exuberant artist, one of the true icons of American music."
The tenor recorded with them remotely due to the pandemic, explaining: "In compliance with local health precautions, we opted to record the songs separately: Cecilia in Monte Carlo and Alison in Nashville. Of course, before and after, we got together over video calls several times to optimise the recording and sing "together", albeit at a distance!"
While on the album as a whole, Bocelli added: "This is an album I hold very dear to my heart."
"The fruit of a long internal journey even more so than an external, artistic one.
"It's a project with a purpose to put into words the musical dimension of spirituality by offering music that – at least for our intentions – can bring peace and harmony to those who listen to it."
Andrea Bocelli's new album Believe is out now.
Published at Sat, 14 Nov 2020 14:53:00 +0000