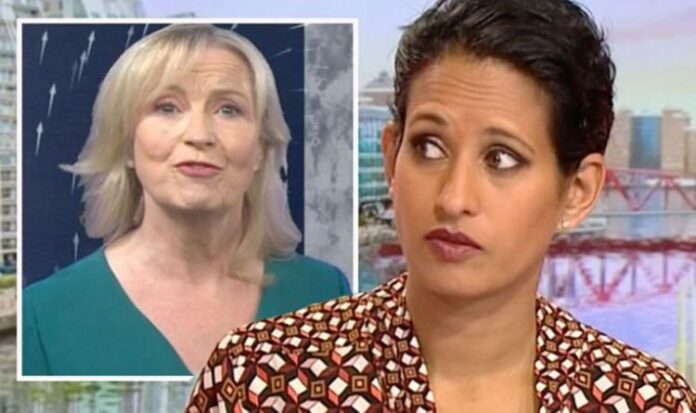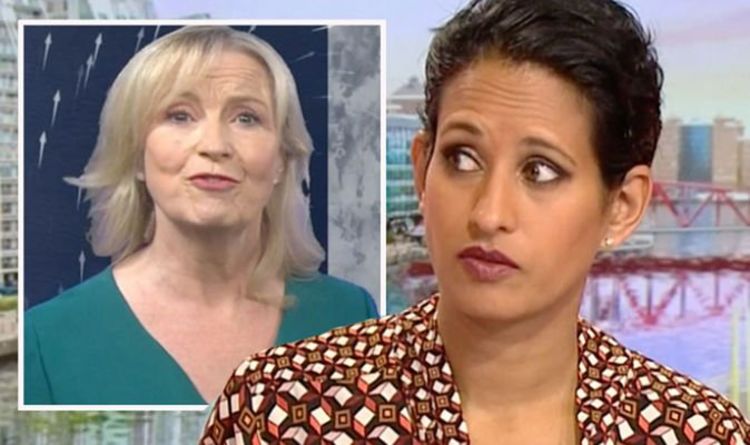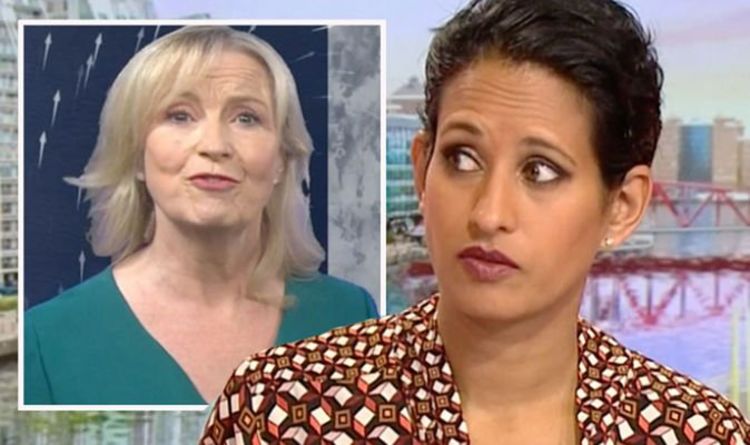 Naga, 46, and Charlie, 58, were on hand to host BBC Breakfast, taking on the reins from their co-stars Dan Walker, 43, and Louise Minchin, 52, who had presented the programme for the first half of the week. During Thursday's edition of the BBC news show, they interviewed Line of Duty star Adrian Dunbar, 62, ahead of the high-octane drama returning to screens on Sunday night. However, it was an awkward moment in this conversation that led Naga to tease her co-host and she couldn't believe it when Carol Kirkwood, 58, jumped to his defence.
In the throws of the interview with the actor, Charlie had asked: "Do you ever think, I've got a juicy line there, I'm going to give it some welly?"
Referring to the guest in his role as Superintendent Ted Hastings, the presenter said: "Can you finish the line for me? It starts with 'when did we stop…' – can you recite that line for me?"
Adrian replied in the tone of his alter-ego: "When did we stop caring about honesty and integrity?"
However, the broadcaster didn't seem impressed as he commented: "You've got to give it a bit more than that, you threw that one away, you threw that one away frankly."
"Yeah, yeah I did – I'll throw you away in a minute," the Irishman added, with Naga laughing at the awkward exchange.
READ MORE: BBC hit back at complaints over Meghan and Harry coverage
After wrapping up the interview, Naga asked her co-host: "Do you wear it a little bit as a badge of honour that Hastings threatened to throw you out – throw you away?"
"Yeah, yeah that works, that's good," Charlie replied as he tried to shut down the conversation with his fellow presenter.
Naga didn't give up as she then remarked: "It's quite a cool thing that you got physically threatened by Hastings."
Lining up to the weather forecast, the host asked the meteorologist: "Carol you understand where he was coming from though, Adrian Dunbar was coming from though don't you?"
Those watching at home also noticed the awkward exchange between Charlie and Adrian, with one writing: "Charlie really is a complete moron. Thankfully #adriandunbar isn't rising to their stupidity."
Another avid viewer of the show posted: "How dare Charlie speak to the great Adrian Dunbar like that! #BBCBreakfast."
Whilst a third commented: "Charlie Stayt: 'Awww, you didn't sell it. You threw the line away.' Adrian Dunbar: 'I'll throw you away.' Naga absolutely loved that. Brilliant."
"Charlie is having a shocker," a fourth shared.
In the midst of the interview, Adrian also spoke about what it was like to film the BBC drama in the midst of the pandemic.
The actor explained to Naga and Charlie: "We did it as if Covid wasn't happening and we found working practices that satisfy the insurers, really.
"If they adhere to the correct protocols then things will work out for them. Masks, hand sanitising, tested twice a week, temperature tests every morning…the whole lot.
"We got through it but it was our boss and showrunner Jed Mercurio who was very strict about things," he added.
BBC Breakfast airs weekdays at 6am on BBC One.
Published at Fri, 19 Mar 2021 05:00:00 +0000
'Come on!' Naga Munchetty blasts Carol Kirkwood for defending co-star Charlie Stayt