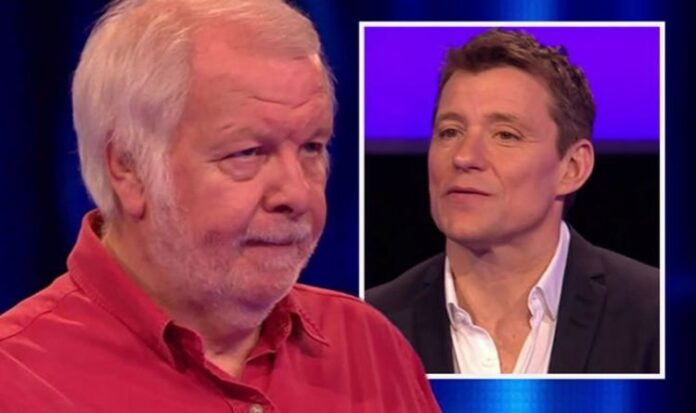 Ben, 46, was on hand to try and help four amateur quizzers get their hands on some money but it was contestant Bob who seemed to attract some attention on Tipping Point. The player was eager to get his hands on some cash, although he told the host of the ITV programme he "didn't know how to play" the game. As his competitors tried to knock him out, Bob innocently gave a running commentary of how the game was panning out but this seemed to annoy host Ben.
The moment came as the top player of the day, Alex, was getting ready to drop some counters into the massive, arcade-style machine.
As the tension rose in the studio, Bob – who didn't want to put his co-star off his game – could be heard muttering: "I probably shouldn't say anything."
In agreement, Ben replied: "That's probably for the best, Bob."
Unfortunately, despite the presenter's words of caution, Bob began talking just seconds after Alex had released one of the counters.
"This is crazy," he remarked as his co-star waited with bated breathe to see if he'd won any more money.
READ MORE: Tipping Point viewers slam 'ridiculous' addition to quiz show
Taking to Twitter, those watching at home reacted to the scenes, with one writing: "'I won't say anything' The most sensible thing Bob will say today #tippingpoint."
Another posted: "No Bob, don't say anything #TippingPoint," as a third commented: "'I know nothing'. Bob, do you realise you're even on #TippingPoint?"
As the game continued, Bob went head-to-head with Alex to try and make it through to the final.
One of the questions Bob was asked was about science and he told Ben it was pivotal he answered it correctly as his wife was a science teacher.
The latter was going to have to be on his A-game in order to walk away with the grand prize of £10,000.
In a tense final round, the contestant managed to send the star counter off the edge of the Tipping Point, securing himself the maximum jackpot.
Responding to the result on social media, one fan wrote: "What a comeback, well done Alex so well deserved."
Another posted: "Congratulations Alex lad you nailed it #TippingPoint," with a third commenting: "Alex, 10k won't last with four kids and a Mrs #TippingPoint."
Alex had secured the jackpot with all counters in play, therefore, Ben didn't need to ask if he wanted to risk all the money he had accumulated for three more coins.
The player was over the moon with the result as the presenter applauded him for his efforts.
New episodes of the game show are set to air in the coming weeks as part of the networks Spring schedule.
Ben has also been urging fans to apply online to take part in filming for even more new episodes.
Tipping Point airs weekdays at 4pm on ITV.
Published at Mon, 05 Apr 2021 16:18:00 +0000
'Don't say anything' Tipping Point's Ben Shephard urges player to 'stop' during tense game