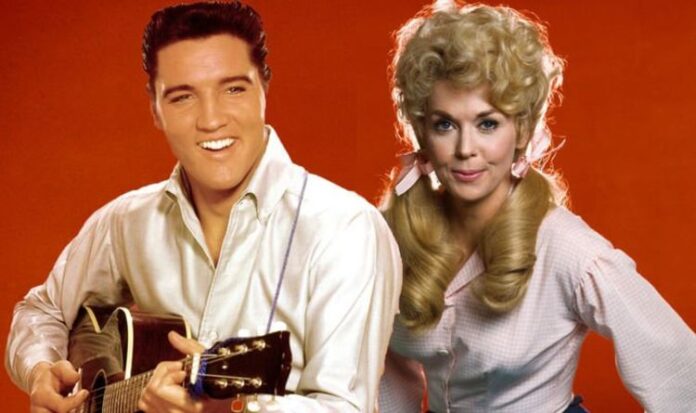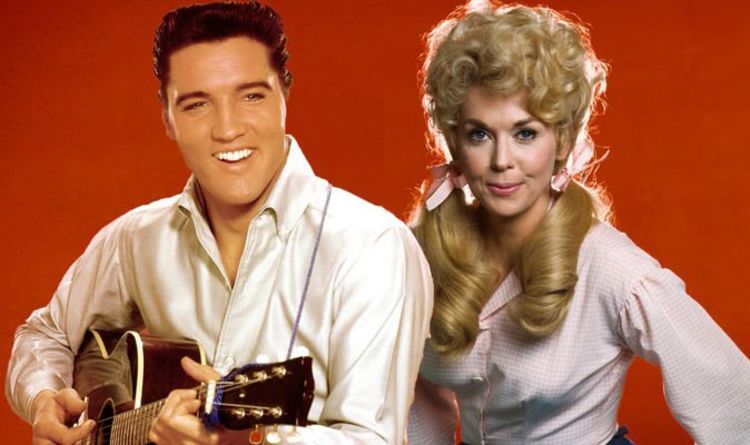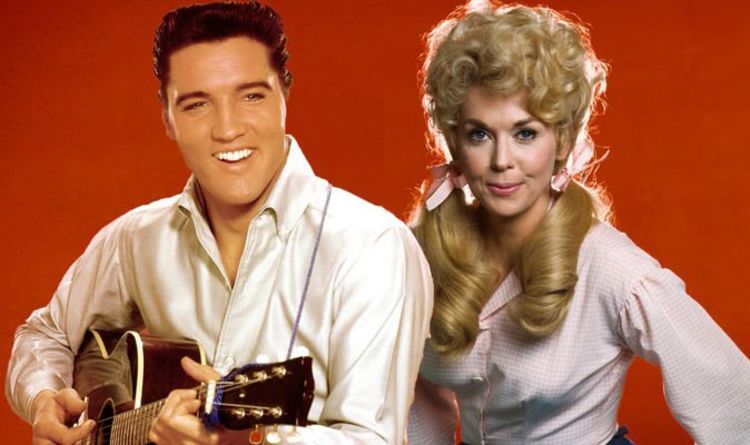 Donna was one of the biggest stars on TV in the 1960s playing Elly May Clampett. The hit show The Beverly Hillbillies was the top show in America for two years and hugely popular for all nine seasons from 1962-1971. During all that time, Donna only made one feature film, an epic musical with Elvis which showed a new side of the rock 'n roll star and allowed him to flex his comedic skills.
Frankie and Johnny was an unusual choice for Elvis. The lavish historical movie was set on a Mississippi riverboat with the singer and Donna playing the title characters.
Johnny is a charmer but a hopeless gambler and the whole plot revolves around a gypsy prediction that a woman with red hair will bring him the luck he needs.
Frankie, however, is blonde and does not take kindly to the arrival of the sexy red-head Nelly (Nancy Kovack). The film is a series of misunderstandings and mishaps, shoe-horned in between musical numbers that, unusually, stay away from Elvis' core sound.
READ MORE: Elvis Presley: Sinatra's songwriter asked the King not to sing My Way
Although it's fun to see Elvis embrace the vaudeville tradition on comic numbers like Petunia, The Gardener's daughter, the Frankie and Johnny was only a moderate hit at the box office and did not recoup its costs.
During filming, however, Elvis found a kindred spirit in Donna.
His friend and hairdresser Larry Geller later said that "several people thought sparks were flying."
The two stars would spend all their breaks huddled together in deep conversation, but this wasn't one of Elvis' typical on-set flirtations.
He had found someone who shared something deeply important to him that he couldn't find at home.
At Graceland, nobody shared Elvis' interest in Eastern spirituality. His last girlfriend Ginger Alden said Priscilla was openly dismissive of his cherished collection of books.
So he was thrilled to discover somebody in Donna who shared his interests and beliefs.
Geller added: "Both were studying the works of Paramahansa Yogananda and were close to the president Daya Mata."
Paramahansa Yogananda was an Indian monk, yogi, and guru. Although he died in 1952, he introduced millions to the teachings of meditation and Kriya Yoga through his organization Self-Realization Fellowship.
Elvis' fascination with all aspects of faith continued until the very end. On the night he died, he was reading The Scientific Search for the Face of Jesus by Frank O Adams in his bathroom.
Donna returned to more mainstream Christianity in her later years. She performed as a gospel singer and supported Christian school charities in the Deep South. She released several albums and wrote a children's book with Bible stoies.
In 1984, she graduated from Rhema Bible Training Center in Broken Arrow, Oklahoma, specialising in children's ministry.
But Elly May Clampett remained a part of her life and she attended state fairs and made public appearances in character for many decades, always with the trademark giant tumble of curls.
Donna hit the headlines one last time in 1993. She filed a $200 million lawsuit with Curt Wilson against Disney, Whoopi Goldberg, Bette Midler, their production companies, and Creative Artists Agency claiming that the hit movie Sister Act was plagiarized from their own book, A Nun in the Closet.

They turned down a million-dollar offer to settle and then lost the case.
She also sued toy manufacturer Mattel in 2011 after they produced an Elly May Clampett Barbie doll and used her image in character on the packaging. The case was settled out of court.
Donna continued travelling to fan conventions and to make speeches supporting her charity work to the end. She died on January 1, 2015 aged 82, from pancreatic cancer.
Published at Mon, 05 Apr 2021 14:55:00 +0000
Elvis and Beverly Hillbillies star Donna Douglas 'She gave him something missing at home'